Looking for an ultra lightweight portable table that suits your camping needs? The OEX X Lite Table might be the answer. But is this ultralight table as impressive as it sounds? Let's discover if this feather-light camping table provides campers, hikers, picnickers and backpackers alike, the on-the-go dining solution they're looking for.
A compact and ultra lightweight table for meal prep, dining and organising gear while in the great outdoors.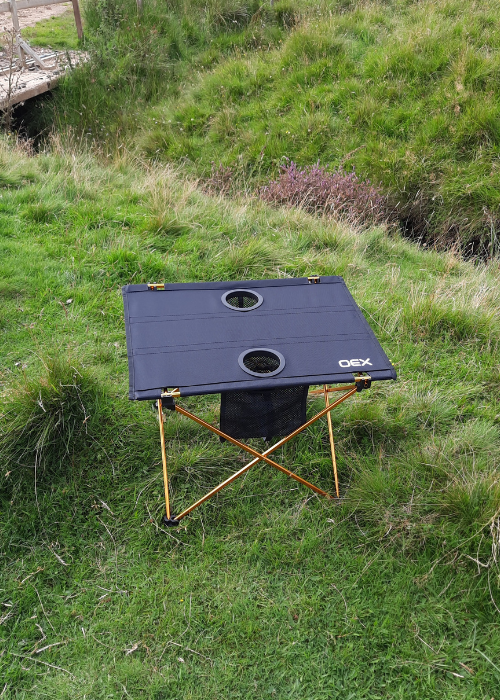 In this comprehensive review, we'll delve into the features, performance, value and our own experience using the OEX X Lite Table. So let's take a closer look and discover if this portable table will become part of your campsite furniture.
Price: £21.99 GBP List 🔥🔥🔥🔥🔥
---
Product Specifications:
OEX X LITE TABLE:
Dimensions: 57 H x 42 L x 40 w cm
Weight: 0.96 kg
Materials: Lightweight Anodised Aluminium Frame
Storage: Mesh storage pocket and 2 cup holders
Packaway Size: 60 x 12 x 7 cm
Load Capacity: 10kg
PROS AND CONS - Our Key Takeaways
| OEX X LITE CAMPING TABLE | 🔥🔥🔥🔥 |
| --- | --- |
| 👍: Ultra lightweight | 👎: Less max capicy load than others |
| 👍: Sturdy table top material | 👎: Slightly unsteady on uneven ground |
| 👍: Compact and portable in robust carry bag | |
| 👍: Super quick set up | |
At a Glance:
I'm a sucker for OEX outdoor equipment so I was really looking forward to trying out the X Lite Table to see if this would be a good match for the OEX Ultra Lite Chair as both are constructed with a similar design, where the legs or frame are wrapped up in the fabric of the product to save space.  
Once unrolled, we mucked about with the aluminium table frame to see how sturdy it felt and also had a good check of the fabric table top which appears incredibly robust and strong as did the heavy duty carry bag -  we were keen to try this outdoors and see how well it fared with our cooking gear on top.
Under The Microscope - putting the OEX X Lite Table through it's paces.
In order to give the OEX X Lite Table a thorough testing, we took it out to the foothills of the Southern Uplands on a lovely warm and breezy day.
We put the OEX X Lite Table through our rigorous testing criteria to evaluate it's overall performance and functionality, design and construction, our own user experience and value for money and overall, the X Lite excelled on the Value for Money, gaining a 5 out of 5, giving them an average 4 out of 5 fireside rating.
Under the Microscope - Our Testing Criteria
| Benchmarks | Our Fireside Rating |
| --- | --- |
| Performance and Functionality | 🔥🔥🔥🔥 |
| Design and Construction | 🔥🔥🔥🔥 |
| User Experience | 🔥🔥🔥🔥 |
| Value for Money | 🔥🔥🔥🔥🔥 |
Performance and Functionality 🔥🔥🔥🔥
The OEX X Lite performed extremely well on rough and uneven ground, staying firm and in place. Once up and erected, it proved to be a stable platform for us to cook on, as a meal prep area, organising gear and serving as a dining table.
It's main function is to provide an ultra lightweight table for campers, hikers and backpackers and it's ideally suited to this use. It's compact enough to fit easily into your backpack without over-sacrificing on space and is perfect for car camping as you can easily store it the boot of the car without any hassle.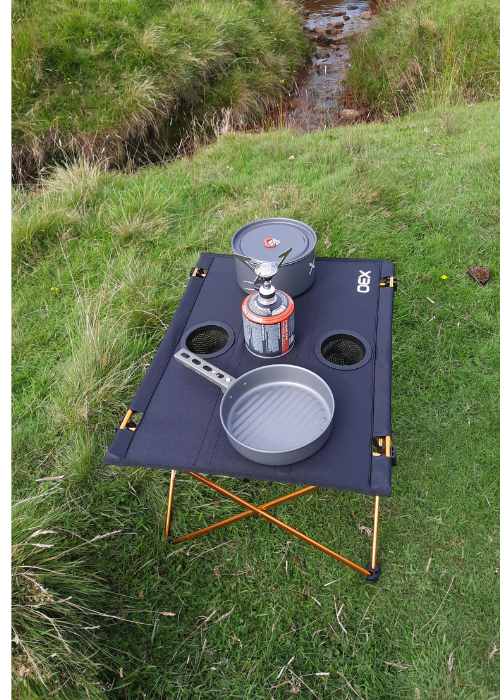 However, it's important to note that this table has a limited weight capacity and is not suitable for heavy loads so consider what your needs are and whether this style of table will suffice.
Design and Construction 🔥🔥🔥🔥🔥
The OEX X Lite has been cleverly designed to give you a robust and sturdy camping table that weighs less than 1kg. It comes rolled up in the tough carry sack which certainly looks like it will last and unrolls to give the table top and the leg struts. The leg struts fold out intuitively and only need the top bar clicking into place to secure them. The anodised aluminium frame feels robust although its incredibly light and the table top is made from incredibly strong fabric.
The table comes with 2 cup holders and a small mesh pocket which proves incredibly useful and the tough, robust fabric is easy to wipe down and clean. What works well is that the fabric table top stretches taut and creates a rock-tight platform to accommodate all your cooking gear.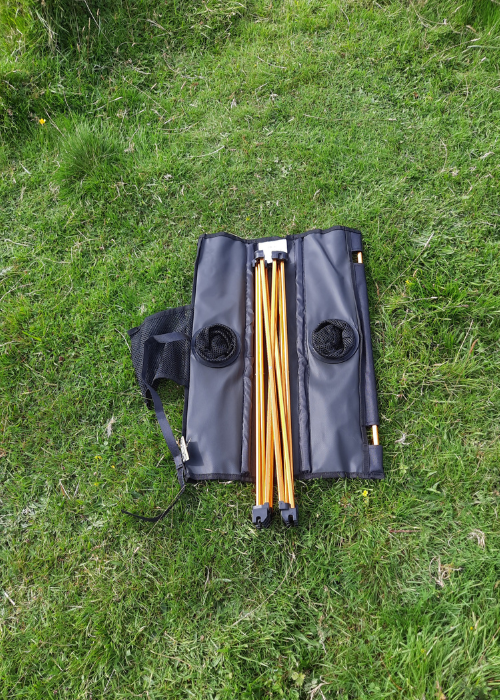 The table is designed to carry a maximum of 10kg and we put roughly that amount on it without any concerns although I would be hesitant to over load it.
User Experience 🔥🔥🔥🔥
The OEX X Lite table was very simple and quick to use once you work out how to clip the table top onto the leg struts - make sure the poles are at their slimmest point otherwise you will spend a good few minutes trying to bend and stretch for nothing!
The table, once up, was extremely lightweight and we were concerned as to whether it could hold up to all our cooking gear, food, water and all the other small bits and pieces that seem to come with you on every trip! But it performed really well - not only does the fabric table top create a solid and stable platform (mainly due to the 2 integrated long poles that sit the length of the table), but the legs and frame, which are ultra lite, also provide a very sturdy base.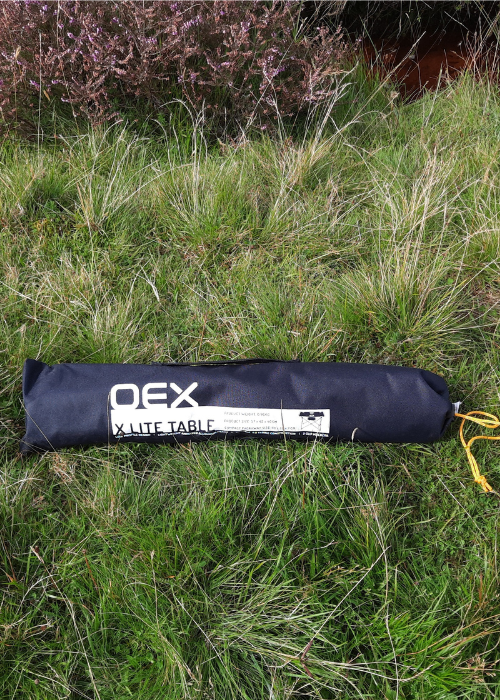 We used both the Campingaz Bistro gas burner and the Coleman Fyrelite stove to cook a quick meal and the table proved to be more than capable of holding the stoves, cooking pots and pans and all our food without any issues.
Comparison 🔥🔥🔥🔥
When compared to other ultralight camping tables, such as the Naturehike Camping Table, the OEX X Lite Table shines in terms of it's quick set up, stable design, generous height and exceptional value. It may not have the higher weight capacity, but at half the price, it's well worth it.
Value for Money 🔥🔥🔥🔥🔥
The OEX X Lite Table offers excellent value for its price point, especially for backpackers and campers looking for an ultra-light and portable table. Considering how well constructed and solid the OEX X Lite is, it's exceptionally good value but bear in mind that if you require a table with a larger surface area or a higher weight capacity, this might not be the one for you.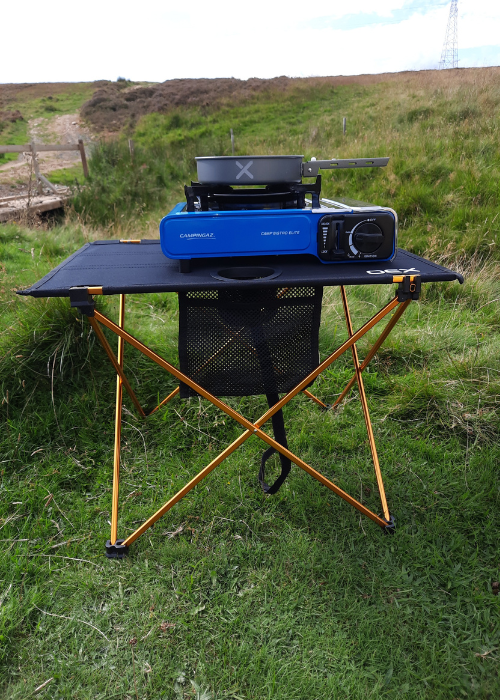 Got some questions about the OEX X Lite Table? We've got you covered! Check out these frequently asked questions for valuable insights, tips, and practical information to help you make the most of your OEX Table.
Can I use the table as a platform for a camping stove?
We did with both the Campingaz Bistro stove and also the Coleman FyreLite single burner stove with no issues. It would not be recommended to cook for extended periods of time but to heat up water for coffee or boil rice, it's perfectly fine.
Will the table legs rust?
The OEX X Lite table is made from lightweight anodised aluminium which resists rusting and is a durable and robust material.
How much weight can this light weight table hold?
OEX recommend a maximum of 10kg for the X Lite table. We tried it with a camping stove, pots, pans, cups etc and it managed very well. It's not built to withstand huge amounts of weight but it can comfortably accommodate most of your cooking gear.
Our Final Verdict on the OEX X LITE TABLE: 🔥🔥🔥🔥
We loved the OEX X Lite Table as it doesn't try to be anything more fancy that it's basic function of providing a stable platform to be able to cook, prep, organise gear and dine on. Having loved the OEX Ultra lite chair, I was hoping that this table would mirror the same great design, fabrics and construction and I wasn't disappointed. It's incredibly light, folds up and down with ease and comes in a robust carry bag which makes this the perfect companion for my Ultra Lite chair and stool! For those looking for an exceptionally well priced, ultralight table, then this is the one.
Remember to visit our website for more information and to explore other camping gear recommendations: Cooking Equipment
We independently purchase and test the products displayed. When you purchase through our links, we may earn a small commission.