Cooking in the great outdoors can be both a challenge and a delight. A hot cup of tea warming your hands whilst listening to the wind in the trees and the rain softly falling can be a magical experience so having a stove that delivers is all part of making that experience happen. Can the compact Coleman Fyrelite give you those outdoor memories - read on and see how we fared out on the beautiful Megget shores.
A compact and lightweight camping stove designed to provide a portable cooking solution for campers, hikers and backpackers.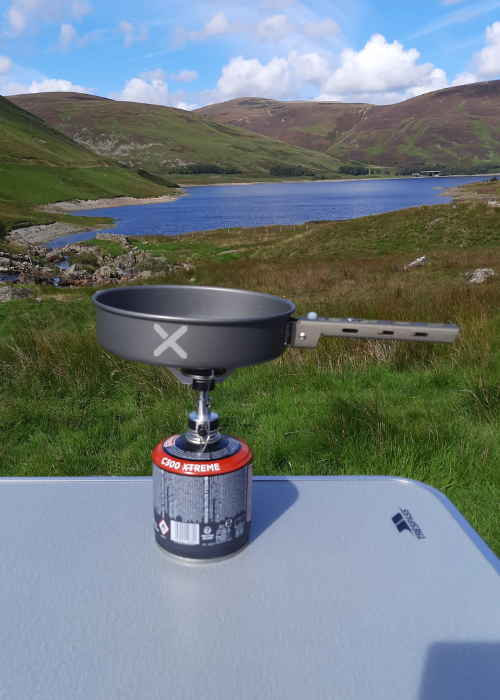 In this comprehensive review, we'll delve into the features, performance, value and our own experience using the Coleman Fyrelite Stove. So let's take a closer look and discover if this single burner will become part of your camping gear essentials.
Price: £22.99 GBP List 🔥🔥🔥🔥
---
Product Specifications:
COLEMAN FYRELITE STOVE:
Weight: 77 grams
Dimensions: 4.3 x 8 x 5 cm
Material: Aluminium
Heat Output: 3600 watts
Fuel Type: Isobutane-propane canisters (C100, C250, C300, C500)
Gas Consumption: 246 g/h
Boil Time: 1 Litre < 3 min 25 sec
Ignition: Manual
PROS AND CONS - Our Key Takeaways
| Coleman Fyrelite Stove | 🔥🔥🔥🔥 |
| --- | --- |
| 👍: Ultra portable and lightweight | 👎: Struggles in windy conditions |
| 👍: Solid and sturdy pot supports | 👎: Would benefit from windbreak |
| 👍: Fuel efficient | 👎: Fiddly to screw head onto stove |
| 👍: Low price point | |
At a Glance:
The Coleman Fyrelite Stove is most definitely compact and portable. Packed in it's handy carry pouch, the head and base units are lightweight and seem solidly constructed. The pot supports don't fold down which is a shame as this does help save on space and also make the stove less awkward to pack but for it's price point, it looks to be a promising stove.
Under The Microscope - putting the Coleman Fyrelite Stove through it's paces.
In order to give the Coleman Fyrelite Stove a thorough testing, we took it down to the shores of Megget Water for a spot of lunch on a beautiful afternoon.
We put the Coleman Fyrelite through our rigorous testing criteria to evaluate it's overall performance and functionality, design and construction, our own user experience and value for money and overall, the Fyrelite just scraped by with a 4 out of 5 fireside rating.
We ranked 3 on User Experience and Design as there are definitely elements that could be improved upon but, on balance, it's price point probably outweighs these smaller issues.
Under the Microscope - Our Testing Criteria
| Benchmarks | Our Fireside Rating |
| --- | --- |
| Performance and Functionality | 🔥🔥🔥🔥 |
| Design and Construction | 🔥🔥🔥 |
| User Experience | 🔥🔥🔥 |
| Value for Money | 🔥🔥🔥🔥 |
Performance and Functionality 🔥🔥🔥🔥
How does the Coleman Fyrelite Stove perform when put to the test?
The primary function of the Coleman Fyrelite stove is to provide a reliable way of preparing hot beverages or a small meal for solo campers, backpackers or hikers and to this extent, it fulfils it's brief. In a sheltered area, it performed well, giving an even and sustained heat across the pan and boil time for a small kettle was relatively speedy.
However, in windy conditions, or in an exposed area, even a light breeze would compromise the performance of the stove. A common issue with many small, lightweight stoves is that they struggle to maintain a consistent flame so it's essential to choose a sheltered cooking spot in such conditions or to bring a windbreak with you.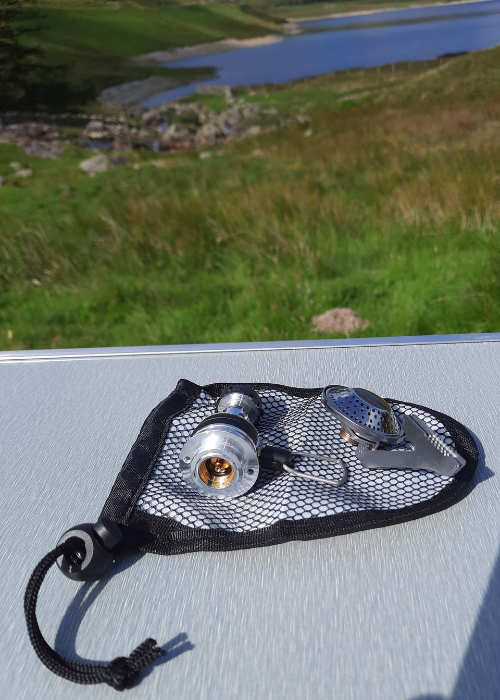 Design and Construction 🔥🔥🔥
The Fyrelite Stove's design is simple yet effective. Its compact size and lightweight build make it an ideal choice for those aiming to reduce pack weight and require a small stove for hot beverages.
A slight fault in design is that the pot supports don't fold down against the body of the stove which would make it far more practical and easy to store. As it is, it can be a fiddle to get the supports into their allotted space without having to unscrew the cap again. Once in place, they give robust support for a small kettle such as the Trangia 0.9l or a small frying pan such as the OEX Grouppa.
User Experience 🔥🔥🔥
Using the Coleman Fyrelite Stove was a slightly tricky and fiddly process until you get the hang of where the pot supports are supposed to sit when screwing the head into the base. Once mastered, it's pretty straightforward to open out the pot supports into their allotted positions and then screw the stove into the gas canister below.
The flow of gas was good and certainly we found that it gave an even heat across the pan which meant no burnt spots. However, I'm not sure this would be true in the wind - we were lucky and the breeze was minimal, but in windier conditions, it would have suffered without some form of windbreak.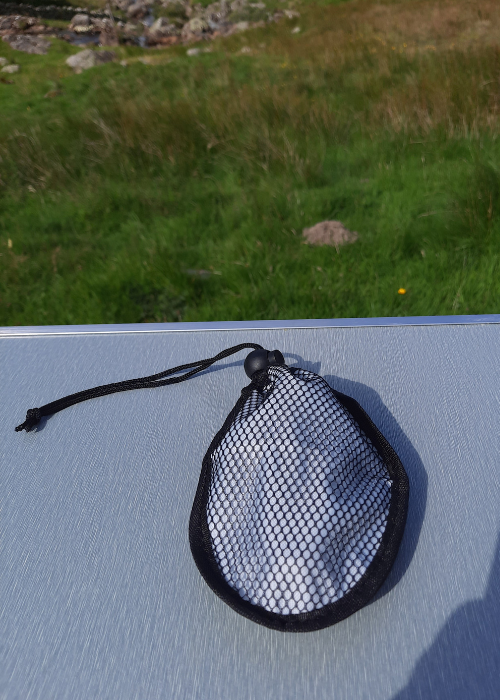 We gave the Fyrelite a quick test with some scrambled eggs and it didn't take long for them to cook and we felt the stove was reliably strong and strudy enough to cope without any real concerns. But this stove is ideally suited to those looking to brew a quick cup of tea or a hot snack and is not built to cope with large pans of water or cooking for more than one or two people.
Comparison 🔥🔥🔥
How does the Coleman Fyrelite Stove stacj up against similar products on the market?
When compared to similar mini stoves on the market, the Coleman Fyrelite holds its own. It may not have the power of the MSR PocketRocket 2 but it does an reasonable job at a fraction of the price. However, like most stoves in this category, it struggles in windy conditions. It's essential to consider your camping environment when choosing this stove. For fair weather or sheltered cooking, it's a reliable choice but if you're looking to take this mountainside, you will need to bring a windbreak or risk a cold cup of coffee!
Value for Money 🔥🔥🔥🔥
Does the Fyrelite Stove deliver value for it's price?
The Fyrelite offers good value for its price point. Its portability and relatively quick boil time make it an attractive option for backpackers or hikers looking for a lightweight stove to make a speedy cup of tea on. While it may have limitations in windy conditions, unless you invest in a windbreak, its overall performance makes it worthwhile for it's price point.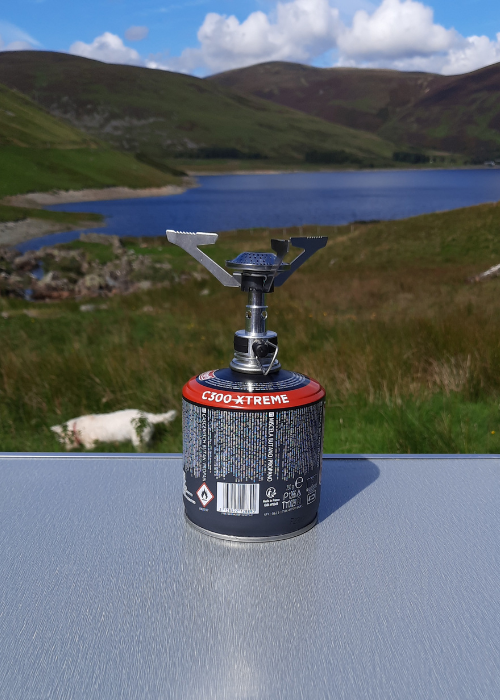 Got some questions about the Coleman Fyrelite Stove? We've got you covered! Check out these frequently asked questions for valuable insights, tips, and practical information to help you make the most of your Coleman Stove.
Is the Coleman Fyrelite Stove suitable for high altitude camping?
We don't think the Fyrelite would perform at it's best during high altitude camping without some form of windbreak or protection from the elements.
Can I use the stove with other types of fuel canisters?
Coleman recommend only using the Fyrelite with the following canister sizes: C100, C250, C300 and C500. It is not advisable to use any other size of canister due to potentially damaging the stove.
Can I clean the Fyrelite?
The stove itself cannot be disassembled so it's important to not let the jet become blocked. Regular maintenance should help resolve that problem.
Our Final Verdict on the COLEMAN FYRELITE STOVE: 🔥🔥🔥🔥
The Coleman Fyrelite Stove is a well-suited solo stove for campers, hikers and backpackers looking to lighten their load without sacrificing hot meals or drinks when on the go. It's not as robust or as heat efficient as some of it's rivals but it comes at a very reasonable price and it does perform adequately so if you're looking for a simple, functional stove that you can use to make a quick cup of tea when hiking, then this seems a solid choice.
Remember to visit our website for more information and to explore other camping gear recommendations: Cooking Equipment
We independently purchase and test the products displayed. When you purchase through our links, we may earn a small commission.