Your guide to choosing not only the perfect camping chair but the one best suited to your outdoor needs.
In the world of outdoor gear, the humble camping chair reigns supreme. Nothing beats collapsing into your camping chair, under the stars with your campfire crackling nearby, and giving your body a well deserved rest after a long day out in the fresh air.
But how to ensure that you have the right chair for the right experience with so many versions out there? Well, we've tested, sat on, curled up on, eaten on, fallen asleep (with or without the dog) on a whole heap of camping chairs so with all this experience under our belt, read on and we'll help you select a chair that suits not only your needs but also your surroundings so you make the most out of every outdoor adventure.
Types of Camping Chairs
Camping chairs come in various shapes and sizes, each designed for specific purposes. Here are some common types:
Folding Chairs:
These are the classic camping chair, known for their versatility, portability, and ease of use. They are often the most competitively priced so they appeal to budget-conscious campers as well as car campers and picnickers who prioritise comfort and convenience.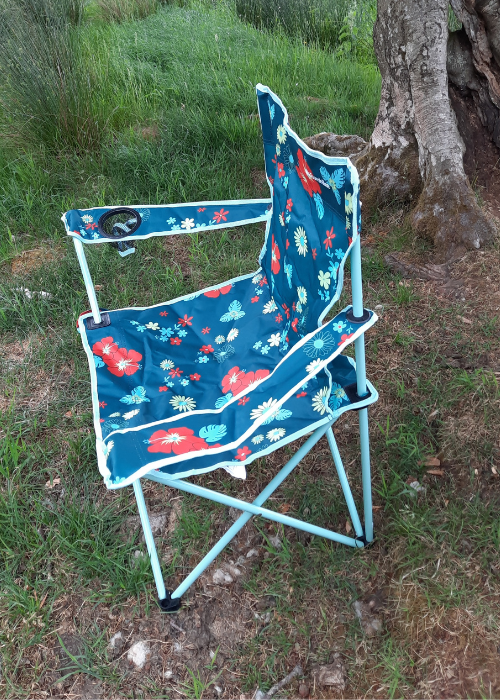 Many of the camping outlet stores have their own in-house branded folding camping chair such as the Eurohike Chair, the Hi-Gear Kentucky Classic to the Highlander Camping Chair. Most of the main supermarket chains also do a range of classic camping chairs which are great value and are often on offer for 2 chairs for the price of 1.
Folding chairs come in a range of styles, from basic models suitable for a quick sit-down to more elaborate designs with padded seats and multiple recline positions. Many of the newer versions favour a "bucket" style seat such as the Hi-Gear Vegas XL camping chair or ones which have larger and wiser seats such as the Outwell Gillam XL camping chair which are perfect for car campers who prioritise comfort and convenience.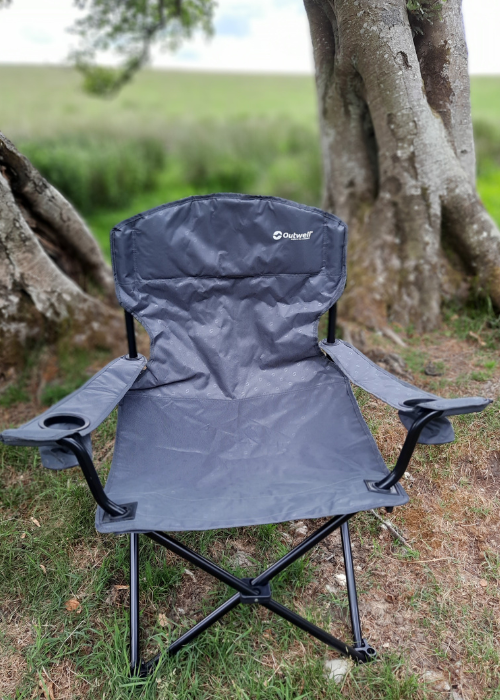 Backpacking Chairs:
Backpacking chairs are designed with portability in mind. They are lightweight, compact, and easy to carry, making them ideal for hikers and backpackers. These chairs are designed to slip easily into your backpack and provide a quick seat solution for when you need a cup of tea stop or for when you can finally put your backpack down for the night. One of our all time favourites is the OEX Ultra-Lite Camping chair which we have used from summer through to winter and it's perfect for slipping into your backpack or slotting away into the boot of the car. A more high-end version of this is the Helinox Chair Zero which weighs less than half a kilo!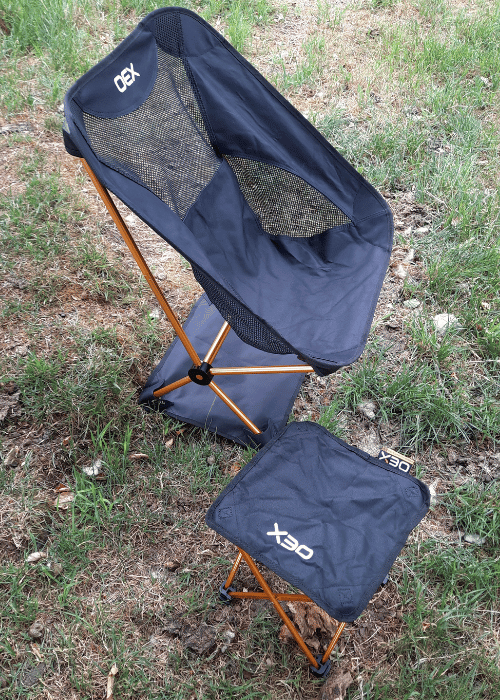 Consider factors like weight, packed size, and ease of setup when choosing a backpacking chair. Some models even offer the comfort of a high backrest and sturdy frames despite their portability. If you want to try extra light, consider opting for a lightweight stool for minimising space in your backpack.
Director's Chairs:
Ideal for car camping or caravanning as these chairs tend to be bulkier, heavier and are not so easy to carry. These chairs are ideal for campers who like to have a side table at hand which is perfect for dining, reading, or setting up your camping kitchen.
Director's chairs differ from classic folding chairs as they have a more rectangular shaped seat with a higher back panel and often cut out sections on the lower back panel which is great for ventilation during summer but not so comfy during the colder months. The Coleman Director's deck chair, pictured below, is a perfect example of the cut out back panel. The longer seat means you have more space to stretch out into and they often come with padded armrests for added comfort.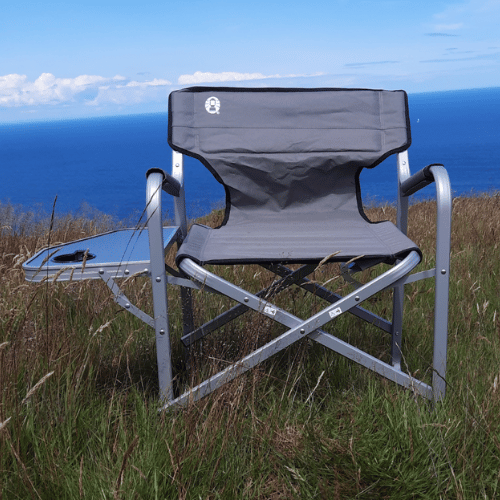 Rocking Chairs:
Rocking chairs are the ultimate in luxury camping. This style of chair is perfect for campers who want to add a touch of homely comfort to their camping experience and are well suited to car campers or caravanners who don't have concerns about bringing added weight.
Rocking camping chairs are not cheap as they are designed specifically for the outdoors so bear this in mind when selecting what suits your camping style best. Consider models with padded armrests for extra relaxation such as the GCI Outdoor Freestyle Rocker.
Uses for Camping Chairs
Now that we've identified the types of camping chairs available, let's break down their uses based on your camping style:
Car Camping:
When you have the luxury of space and weight isn't a major concern, you can prioritise comfort. Opt for folding chairs or lounge chairs with features like extra padding and cup holders. Make comfort a top priority as you will likely be spending plenty time outdoors in it and having a seat that you can relax into and use for several hours at a time without becoming sore or restless is vital.
Wild Camping:
For campers who venture deep into the wilderness, and off the beaten track, weight and portability are key. Look for backpacking chairs that are lightweight, compact, and designed for portability without compromising on comfort. These chairs offer a comfortable seat wherever your adventures take you, without weighing you down. There are now some ultralight versions available which weigh less that half a kilo and are extremely packable which gives you more room in your pack.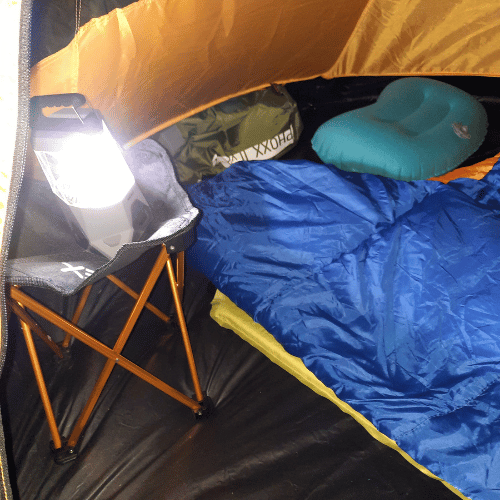 Caravanning:
If you're camping beside a lake or river with your caravan, director's chairs with side tables are great options as they provide an extra shelf for putting your drink or meal on which makes eating outdoors a lot easier! They are generally heavier and bulkier than your classic fold up chair but as they often come with extra padding and more rigid arm supports, they are great for curling up in and enjoying the view.
Picnicking:
For a picnic in the park or a lakeside lunch, or even further a field, portable and lightweight folding chairs are perfect. They are easy to carry, quick to set up, and provide a comfortable spot to enjoy your meal. Look for models with built-in straps or carrying bags for added convenience. If you are travelling by car and your picnic spot is close by, then you can opt directors chairs with built in side tables.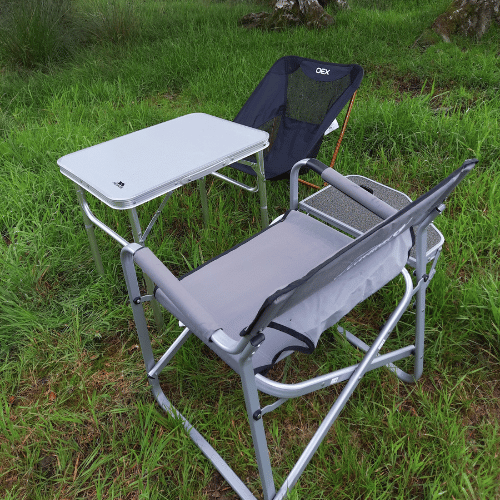 Consider Your Needs: What's your camping style?
Before you start shopping, it's crucial to consider your specific needs and camping style. Here are some questions to ask yourself:
Where Will You Use It?: Are you primarily a car camper, or do you venture into the mountains? The type of camping you do will influence your chair choice.
Comfort vs. Portability: Are you willing to sacrifice a bit of comfort for a more lightweight and portable chair? Conversely, are you ready to lug around a more substantial, but cosier, chair? The weight of your camping chair matters more than you might think, especially when you are carrying it from one spot to another.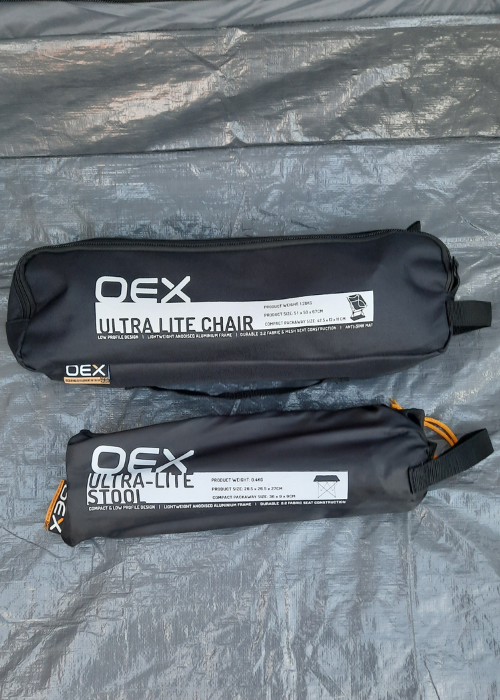 Special Features: Do you want extra features like a cup holder, side table, or even a built-in cooler? These can add convenience to your outdoor relaxation. Some chairs come with built in canopies to protect you from the sun but these all add weight so consider if this is the right option for your style of camping. Pockets are an excellent addition as a handy place for sun screen or insect repellent or your mobile phone and keep your campsite organised.
Materials and Durability: The materials your chair is made of will determine it's comfort and durability. If you're backpacking, aluminium or titanium frames are the lightest options while steel offers more strength but adds weight so would be better suited to car campers or caravanners. Look for chairs with durable, ripstop nylon or polyester fabric as this will stand up to the rigours of outdoor camping and if you plan on camping in summer, opt for a chair with mesh back panels for added breathability. Reinforced stitching will help keep your chair in good condition for years to come.
Weight Capacity: Most chairs typically support weights from 100kg to 250kg but if you're taller or looking for a larger chair then there are plenty XL options out there for extra space to relax and feel comfortable in.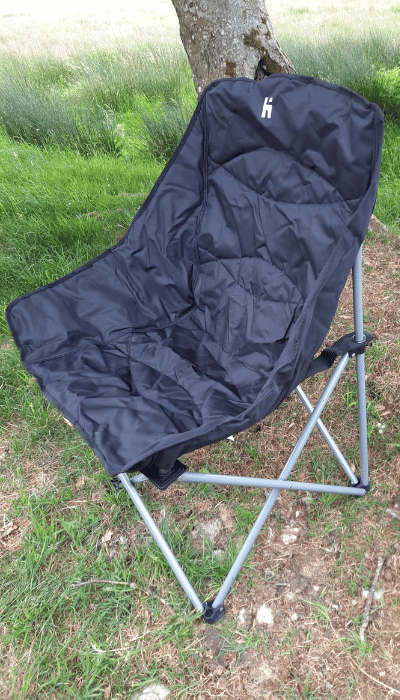 Comfort and Support: The bottom line is that you want to be able to spend a decent amount of time in your camping chair without becoming uncomfortable so take this into consideration when choosing your chair. Maybe extra padding on the arm rests or on the back panel or even a higher back to support your neck are all crucial factors to giving you the comfort level you require. Do these extras mean too much weight or will the chairs be too bulky to carry from car to base camp? Weigh up what works best for you and what your expectations are from your chair. Low slung chairs are great for a more natural seating position but they are not the easiest to get out, so if you have sore knees or are tall, you might be better suited to an upright chair.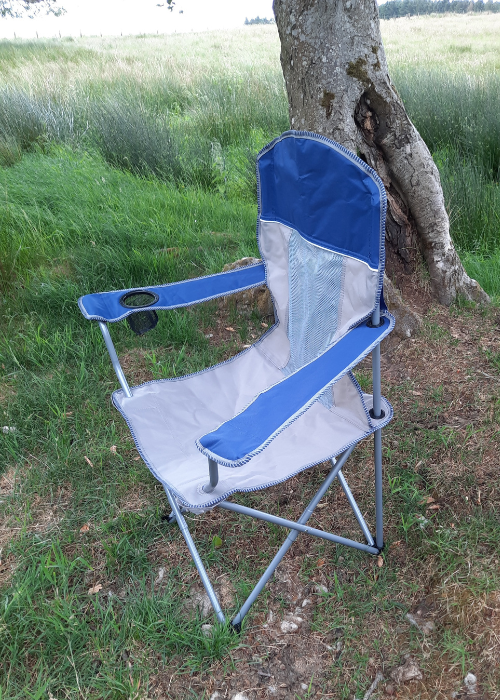 In the world of camping gear, choosing the perfect camping chair is akin to selecting your favourite camping spot – it's all about personal preference and the experiences you seek. Whether you're a minimalist backpacker, a car camper, or an outdoor enthusiast who loves a touch of luxury in the wild, there's a camping chair out there for you.
So, as you prepare for your next outdoor adventure, consider the type of chair that suits your needs, the materials that offer durability, and those extra features that will enhance your relaxation. With the right camping chair by your side, kick back and enjoy nature at it's finest.
Remember to visit our website for more information and to explore other camping gear recommendations: Camp Time.
We independently purchase and test the products displayed. When you purchase through our links, we may earn a small commission.