There is something incredibly decadent about cooking on a small gas stove out in the foothills: the beautiful view, the fresh air and the smell of coffee brewing all make for a perfect day. But to make the magic happen, you need a stove that delivers. The Campingaz Bistro Elite certainly looks the part but did it meet expectations? Read on to find out how well it perfomed in the beautiful foothills of the Southern Uplands.
A great compact and portable camping stove that gives enormous bang for it's buck!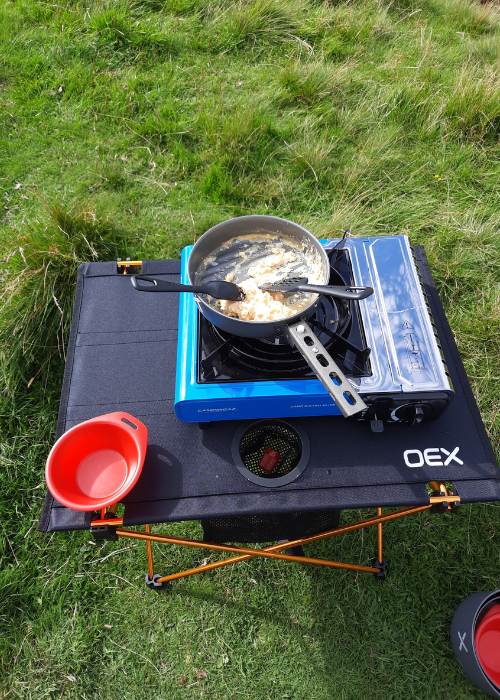 In this comprehensive review, we'll delve into the features, performance, value and our own experience using the Campingaz Bistro Stove. So let's take a closer look and discover if this portable stove will become one of your regulars.
Price: £19.00 GBP List 🔥🔥🔥🔥🔥
---
Product Specifications:
CAMPINGAZ BISTRO ELITE STOVE:
Dimensions: 34.3 L x 28.4 w x 13.3 H cm
Weight: 1.6 kg
Materials: Stainless Steel
Fuel Type: Liquified Petroleum Gas
Heat Output: 2200 watts
Gas consumption: 160g/h
Boil Time: 6 mins 25 secs
Ignition: Integrated Peizo
Run Time: 1 hour 20 mins
PROS AND CONS - Our Key Takeaways
| Campingaz Bistro Elite Stove | 🔥🔥🔥🔥 |
| --- | --- |
| 👍: Excellent price point | 👎: Limited wind protection |
| 👍: Generous pot range | 👎: Cartridges not included |
| 👍: Sturdy and stable | |
| 👍: Compact and portable | |
At a Glance:
The Bistro Elite comes in a hard shell carry case which is extremely useful as it can be easily stored in the car and it makes it hassle-free to transport from car to campsite. The single ring stove looked to be sturdy and well constructed and simple to use so we were keen to take it out and see how well it performed.
Having tried several smaller single burners and also a similar gas stove, we were interested to see how effective it was in windy conditions as this seems to be a recurring theme for most gas burners that have no integrated windbreak.
Under The Microscope - putting the Campingaz Bistro Stove through it's paces.
In order to give the Campingaz Bistro Stove a thorough testing, we took this portable stove for a day out in the Southern Uplands. One of our favourite camping spots is Tam Waldie's Brig which is semi-sheltered from the winds coming off the hills but exposed enough to give the Bistro Elite a good run for it's money.
We put the Bistro Elite through our rigorous testing criteria to evaluate it's overall performance and functionality, design and construction, our own user experience and value for money and overall, the Bistro Elite performed well across all categories and excelled in Value for Money giving them a 4 out of 5 fireside rating.
Under the Microscope - Our Testing Criteria
| Benchmarks | Our Fireside Rating |
| --- | --- |
| Performance and Functionality | 🔥🔥🔥🔥 |
| Design and Construction | 🔥🔥🔥🔥 |
| User Experience | 🔥🔥🔥🔥 |
| Value for Money | 🔥🔥🔥🔥🔥 |
Performance and Functionality 🔥🔥🔥🔥
The Bistro Elite Stove proved to be a reliable performer during our camping trip. It easily fulfils the function of a portable cooking platform and although it wasn't the quickest stove to boil or cook on, it did the job required. It's simple design is functional, with no extra bells or whistles but this makes for hassle free cooking and it's just a fun stove to have with you on a beautiful day outdoors.
It's performance would be hampered in windier conditions as there is no integrated windbreak so you would need to consider the environment you were planning to cook in but it performs incredibly well as a car camping stove to make a cup of tea or fry some eggs in!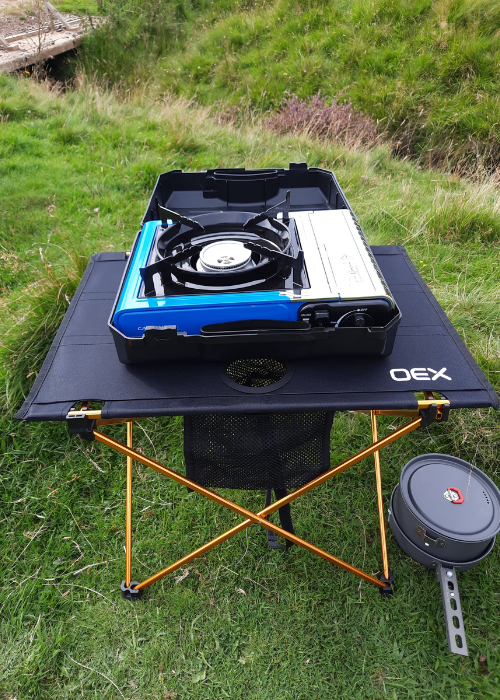 Design and Construction 🔥🔥🔥🔥
The purpose of the Bistro Elite stove is to provide a portable, stable and efficient cooking platform for campers, picnickers and those who enjoy eating outdoors and it certainly fulfils this brief.
The design of the Bistro Elite is simple with a side compartment for inserting the gas cartridge and an integrated Piezo ignition to light the stove. There is a dial for adjusting the flame and the single ring gives plenty pot coverage so perfectly capable of using large pans on this. The stove is certainly sturdy and stable and can easily accommodate large pans but the limited wind protection is a design consideration to keep in mind and campers would benefit from using a windbreak in non-sheltered areas.
User Experience 🔥🔥🔥🔥
It was really good fun using the Bistro Elite stove and a very straight forward process once you've inserted the gas cylinder. It's the perfect stove for car camping as it easily slips in the boot of the car and is not too heavy to be carried to your camp spot. Coming in the hard shell carry case is handy as you can always use this as a small table when empty.
The boil time and cook time is slower than single burner stoves such as the OEX Etna mini stove and the Coleman Fyrelite but for some reason, I don't feel as rushed cooking on these types of stoves so it really doesn't bother me and I enjoy the process more. The adjustable flame worked well so there wasn't any issues with hot spots and burnt eggs but it did take it's time for a cup of tea.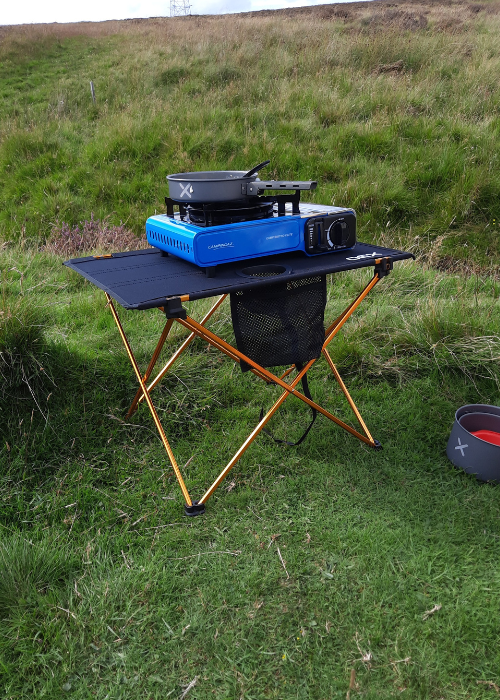 The ring sits up from the base of the cooker so it is susceptible to wind and this will impact how long it takes to boil or cook on your stove. It wasn't particularly windy on the afternoon that we first trialled the stove, but the any gusts of wind did affect performance so we will use a windbreak when using the next time.
Comparison 🔥🔥🔥🔥
The Bistro Elite compares well against most other single ring stoves on the market and this is probably due to Campingaz's reputation for building well constructed and useful cooking platforms. Campingaz is a trusted brand in this niche and the Bistro Elite is a great example of a budget friendly stove that works well and performs as well as to be expected for it's price point.
Value for Money 🔥🔥🔥🔥🔥
Nowadays, there is not much you can buy for under £20 of any value but this little camping stove certainly makes every penny count. Yes, you do have to pay for the cartridges separately which can cost but they generally come in a pack of 4 which will last. The stove may not have the quickest boil time nor be the lightest on the market but it's great for car camping and for rustling up a hot meal when outdoors for the day.
Got some questions about the Campingaz Bistro Elite Stove? We've got you covered! Check out these frequently asked questions for valuable insights, tips, and practical information to help you make the most of your portable stove.
How does the Bistro Elite cope in windy conditions?
The Bistro Elite, like many of its counterparts in this range, does suffer in windy conditions as the burner ring sits up from the stove so wind can easily catch the flame. Using a windbreak shield or cooking in shetlered areas would help this.
Can I use the Bistro Elite in extreme cold conditions?
The Bistro Elite is not designed for extreme cold as it's primary purpose is to provide a portable cooking solution for outdoors within a certain temperature range. Below this, the extreme cold will affect the gas canisters and the overall performance of the stove.
Can I use other fuel canisters with this stove?
Campingaz recommend using only Campingaz CP 250 (220g) fuel canisters to gain optimal performance from you stove which are readily available from most camping stores and supermarkets.
Our Final Verdict on the CAMPINGAZ BISTRO ELITE STOVE: 🔥🔥🔥🔥
The Campingaz Bistro Elite stove is a great budget friendly gas burner for campers, picnickers and anyone who enjoys cooking outdoors on the go. It's incredible price makes it an attractive option for weekend use at the beach or even for festival goers wanting to rustle up a quick meal. It's easily stored in the boot of the car and is perfect for car camping. It does have it's drawbacks such as slow boil time and vulnerability in windy conditions but for any budget-conscious camper, you can't ask for more than this for it's price.
Remember to visit our website for more information and to explore other camping gear recommendations: Cooking Equipment
We independently purchase and test the products displayed. When you purchase through our links, we may earn a small commission.