Are you tired of lugging around heavy and cumbersome camping chairs that break your back and take up far too much space? Look no further! The OEX Ultra Lite Portable Camping Chair and Stool provide everything you need to sit comfortably, all wrapped up into two, tiny packages.  Discover why this chair and stool really are your backpack's best friend!
These lightweight camping essentials are perfect for avid adventurers seeking a reliable seating solution on the go.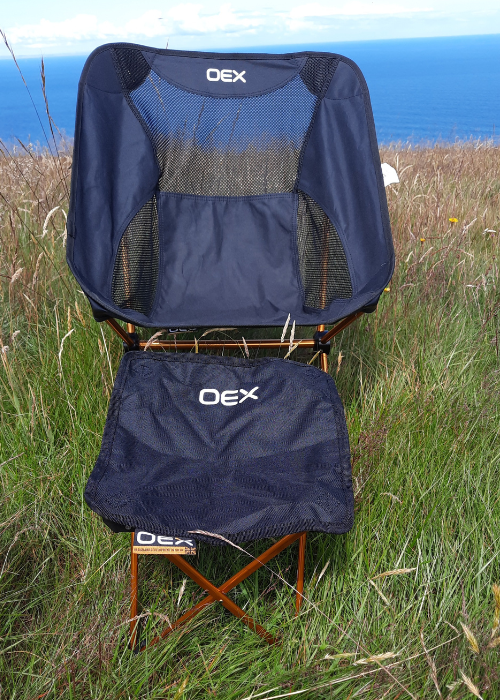 In this comprehensive review, we'll delve into the features, performance, value and our own experience using the OEX Ultra Lite Chair and Stool. So let's take a closer look and discover why they will become a firm favourite on your camping gear essentials list!
Product Specifications:
OEX Ultra Lite Portable Camping Chair:
Weight: 1.28 kg
Dimensions: 51 x 50 x 67 cm
Materials: Lightweight Anodised aluminium frame, durable fabric
Weight capacity: Up to 100 kg
OEX Ultra Lite Camping Stool:
Weight: 0.4 kg
Dimensions: 26.5 x 26.5 x 27 cm
Materials: Anodised aluminium legs, durable fabric
Weight capacity: Up to 80 kg
PROS AND CONS - Our Key Takeaways
| OEX Ultra Lite Camping Chair and Stool | 🔥🔥🔥🔥 |
| --- | --- |
| 👍: Ultra lightweight & compact design | 👎: No extra features such as cup holders or pockets |
| 👍: Excellent weight capacity | 👎: Slightly higher price point |
| 👍: Sturdy construction and design | 👎: Some users may find the seat height lower than preferred |
| 👍: Easy to set up and pack down | |
At a Glance:
Both the OEX Ultra lite Chair and the Stool come packed in an incredibly compact format.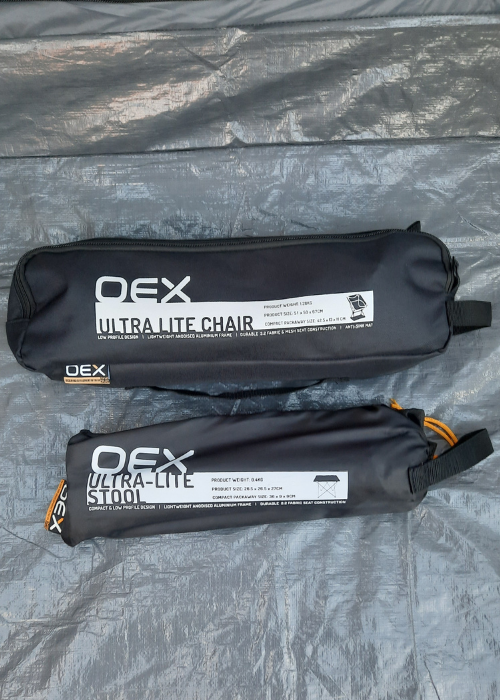 The Ultra Lite stool is exactly that - ultra lite at only 0.4 kg's and incredibly slimline. It pops neatly into it's carry bag with a loop handle and takes up near to zero space in the car or your backpack.
The OEX Chair is more robust, coming in at 1.28 kg but again, this weight is negligible considering the fact that you have a comfortable and functional camping chair in a compact packaway bag.
Both the camping chair and stool will prove to be essential items on our camping gear list as they offer a light-weight and space saving solution on the go.
Under The Microscope - putting both the OEX Camping Chair and Stool through their paces.
In order to give both the chair and stool a thorough testing, we took it out to the dramatic sea cliff tops surrounding Fast Castle to see how well they would both hold up to the strong winds blowing in from the sea and both fared extremely well.
We put the chair and the stool through our rigorous testing criteria to evaluate their overall performance and functionality, design and construction, our own user experience and value for money and overall, both the OEX Camp Chair and Stool performed well on all 4 benchmarks giving them a 4 out of 5 fireside rating.
We ranked Value for Money as a 3 as there are much cheaper options out there that may offer the same functionality but we don't believe they offer the same quality construction and build which is why we gave 5 out of 5 for design and construction.
Under the Microscope - Our Testing Criteria
| Benchmarks | Our Fireside Rating |
| --- | --- |
| Performance and Functionality | 🔥🔥🔥🔥 |
| Design and Construction | 🔥🔥🔥🔥🔥 |
| User Experience | 🔥🔥🔥🔥 |
| Value for Money | 🔥🔥🔥 |
Performance and Functionality
OEX is one of my favourite UK outdoor equipment brands because everything they design and develop is made with the British weather in mind. I rate their products as they are durable, practical and have been designed to last in rain, sleet, snow, wind and the cold (all of which you can experience in one day on the hills of Scotland!) and having spent many years outdoors in the West of Scotland, these attributes are crucial. Both the Ultra Lite Chair and Stool did not let me down.
From a performance point of view, we were really impressed at how comfortable the Ultra Lite Chair was, even for our taller testers who may have had to get down lower to the ground than others, but still found the deep seat could accommodate their weight well. The chair provided excellent back support and you could shift around easily without feeling you were going to wobble over thanks to its sturdy frame construction. The chair doesn't have any extra features such as a cup holder or pockets, but it's main aim is to be as portable and functional as possible and that's exactly what it does.
The Ultra Lite Stool is exceptionally lightweight. It fits easily into a backpack or attached with a carabiner. When set up, the 10cm x 10xm seat gives plenty of room for you to perch on and is perfect for those quick tea breaks. It may not be the comfiest stool for long periods of time, but for short breaks, it performs extremely well.
Design and Construction
The OEX Ultra Lite Chair is designed to be as compact and portable as possible. Packed into a robust carry sack with a loop handle both at the top and side of the bag, the whole chair fits neatly inside. Once unwrapped, the chair is made up with a separate chair base, seat cover and sink mat.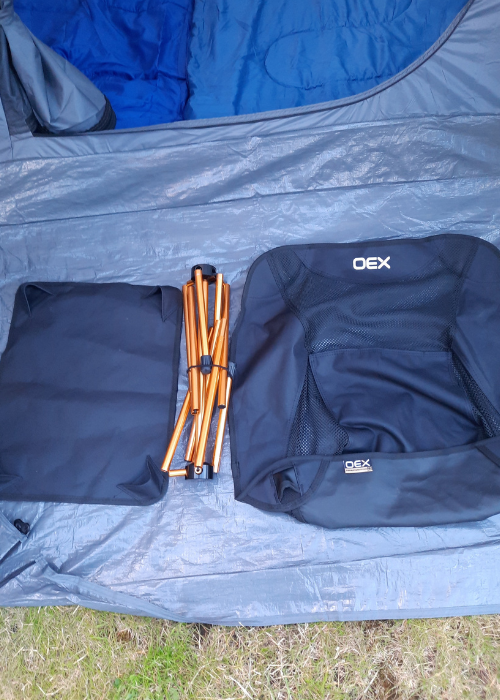 The legs of the chair frame click open in a similar way that collapsible tent poles work, by naturally slotting into each other which creates an extremely strong and robust chair frame. The chair cover slots over the frame easily and neatly to give a snug fit. One clever extra is the "sink mat" which not only protects your tent floor but also gives you an extra grip on uneven ground adding to the stability of the chair. It's just as easy to wrap all the components back up and tuck them back into the carry sack.
The fabric of the chair and stool has been designed to be both comfortable yet durable, and the chair features additional side mesh panels for warmer weather. Both the stool and chair have good grip on the base to give a feeling of stability, especially the stool, so you avoid the feeling of tipping over. All of this is accomplished with minimal weight so the end products are ultra-lightweight, compact and functional.
User Experience
Setting up the OEX Ultra Lite Chair and Stool takes seconds. The stool simply pulls out into it's square format and can be securely positioned on the ground to give as much stability as possible. The seating available on the stool is adequate and robust and there is some cushioning where the seat connects to the legs support to cushion your bottom.
The stool sits much lower than a standard camping chair so getting up and down might pose a challenge for those of us who are not as supple as we should be! Having sat on it for over an hour, I missed the back support a chair offers and was hankering for a shot in the Ultra Lite Chair but, as stools go, this one was solid, secure and as comfortable as you would expect.
The Ultra Lite chair was really comfortable with a "bucket" style seat which allows you to push right back into the chair and it's ergonomic design ensures that your back has the support required. The chair has a surprising amount of stability considering how light it is and allowed us to move and comfortably shift positions without any wobbling or fear of tipping over.
The chair has a great design where all the components are wrapped up together in a tough fabric carry sack. It's easy to put together and we love the fact that it can all be packed back down into a portable carry sack. Another clever use of the carry sack is to pack it with a jumper or jacket and you have an instant pillow for the night!
The compact packaway size of both the stool and chair make it effortless to carry them from one camping spot to another, taking up very little space in your rucksack. Equally, they can easily be stowed in the car with minimal effort and brought out then you just need a handy perch.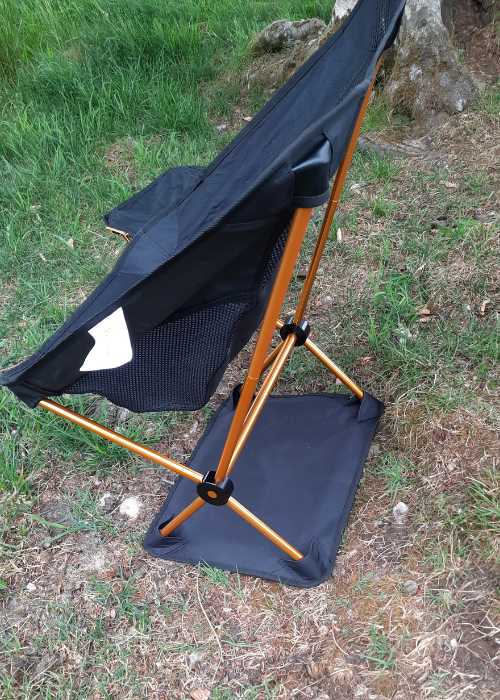 Comparison
Compared to similar camping chairs and stools on the market, the OEX Ultra Lite series stands out in terms of its lightweight and compact design, durability, and overall comfort. While it may have a slightly higher price point than some alternatives, such as the Trail Hawk Camping Chair, the quality construction and clever design of the OEX ultra lite series, make it a solid option for backpackers and campers looking for a robust yet light weight and portable seating solution.
Value for Money
Depending on which outlet you buy this from, the OEX ultra lite Chair and Stool are not the cheapest models of ultra-lightweight portable camping chairs on the market. They are, however, extremely well constructed with robust fabrics and a really solid base on both the stool and the chair so they will last. Having used them both in fields, cliff-tops, and forests, they hold up extremely well and they have both become essential items on our camp list.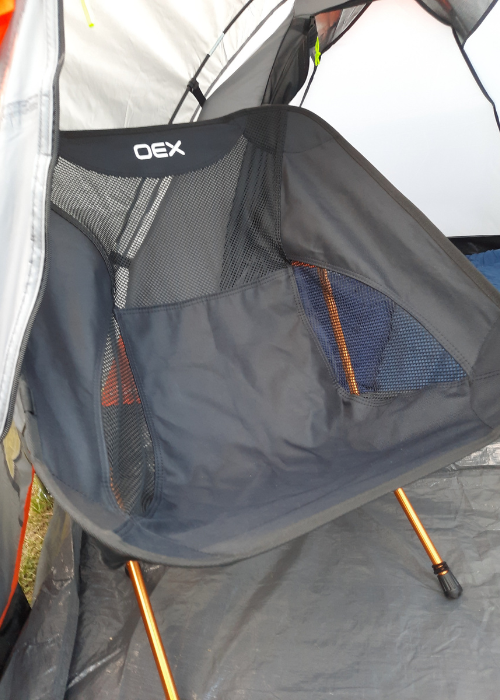 Got some questions about the OEX Ultra Lite Chair and Stool? We've got you covered! Check out these frequently asked questions for valuable insights, tips, and practical information to help you make the most of your camping chair.
Can I use the OEX Ultra Lite Chair and Stool for backpacking trips?
The lightweight and compact design of both items make them perfect for backpacking. They can easily fit into your backpack without weighing you down, allowing you to enjoy a comfortable seat wherever you go.
Are the chair and stool suitable for tall individuals?
While the seat height may be slightly lower than desired for taller individuals, the ergonomic design still provides ample back support and comfort. However, we recommend trying the chairs for yourself to determine the best fit for your height.
Can the OEX Ultra Lite Chair and Stool withstand rough outdoor conditions?
Yes, the OEX Ultra Lite Chair and Stool are built to withstand outdoor use. The sturdy aluminium frames and durable fabric materials ensure they can handle rugged terrains and varying weather conditions, providing you with long-lasting performance.
Our Final Verdict on the OEX Ultra Lite Camping Chair and Ultra Lite Stool:
The OEX Ultra Lite Portable Camping Chair and Stool are great additions to your camping gear collection as they are the perfect "go-to" for when you need an ultra light and compact chair to stow in your backpack. With their lightweight and portable design, comfortable seating, and durability, these camping essentials offer the perfect mix of functionality and usability. While the weight capacity may not suit everyone, the overall performance, value, and user-friendly experience make them an excellent choice for camping, backpacking, or any outdoor activity where portability and space are paramount.
Remember to visit our website for more information and to explore other camping gear recommendations: Camping Chairs.
We independently purchase and test the products displayed. When you purchase through our links, we may earn a small commission.