Are you on the hunt for a cookset that gives you the versatility you need to rustle up some proper nosh out in the wild? Look no further than the OEX Grouppa Cookset. This 4 person dining solution on-the-go gives you the real-world performance you've been looking for.  Stacking inside itself for easy storage and ultra-lightweight, this cookset will appeal to backpackers, campers and anyone who loves to cook a meal under the stars.  
A compact, clever, cooking set that stacks inside itself, designed with outdoor cooking in mind.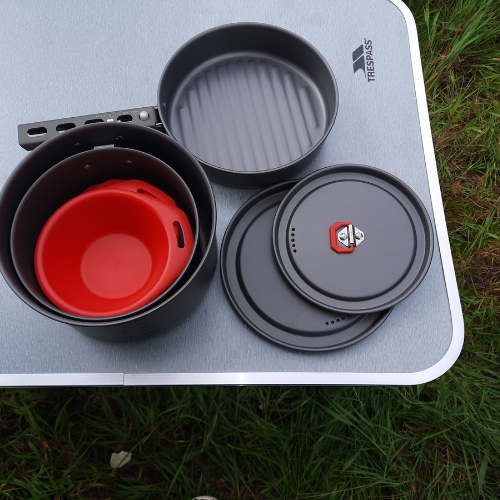 In this comprehensive review, we'll delve into the features, performance, value and our own experience using the OEX Grouppa Cookset. So let's take a closer look and discover if this 4 person cooking set is the outdoor dining solution you're looking for!
Price: £29.71 GBP List 🔥🔥🔥🔥
---
Product Specifications:
OEX GROUPPA 4  PERSON COOKSET:
1 x 1500ml Hard Anodised Pot: 168 x 94 mm diameter
1 x 1000ml Hard Anodised Pot: 145 x 80 mm diameter
1 x Hard Anodised Frying Pan: 175 x 42 mm diameter
1 x Hard Anodised Universal Gripper
4 x Bowls: 127 x 113 x 43 mm
Materials: Hard Anodised Aluminium with stainless steel plastic covered handles
Weight: 0.65kg
Carry Sack: Yes, mesh carry bag with toggle
PROS AND CONS - Our Key Takeaways
| OEX Grouppa Cookset | 🔥🔥🔥🔥 |
| --- | --- |
| 👍: Ultra lightweight | 👎: Tricky to unclip gripper handle |
| 👍: Durable and well built | 👎: Slightly small sized bowls |
| 👍: Efficient heat distribution | 👎: Higher price point |
| 👍: Handy mesh carry sack | |
At a Glance:
Unveiling the OEX Grouppa cookset, the immediate stand-out for us was it's ultra-lightweight design. Stacked up inside it's mesh carry sack, the entire cookset weighed a mere 0.65 kg.
Unpacking it was like a game of pass the parcel as each layer revealed something else tucked away! The larger 1500 ml pot houses the smaller 1000 ml pot which in turn houses the 4 bowls and the universal gripper. Nestled below this, sits the generous sized frying pan which were looking forward to trying out on both a single burner stove and also on the camp fire.
Under The Microscope - putting the OEX Grouppa 4 person Cookset through it's paces.
In order to give the OEX Grouppa Cookset a thorough testing, we took it out for breakfast and lunch, trialling it on a single burner stove, a more solid portable gas stove and on the camp fire.
We put the cooking set through our rigorous testing criteria to evaluate it's overall performance and functionality, design and construction, our own user experience and value for money and overall, the OEX Grouppa performed well under all the benchmarks giving them a 4 out of 5 fireside rating.
We ranked 4 across the board as it performed well under each criteria but a 3 on Value for Money as there are plenty of cheaper options out there and we also struggled to unclip the universal gripper.
Under the Microscope - Our Testing Criteria
| Benchmarks | Our Fireside Rating |
| --- | --- |
| Performance and Functionality | 🔥🔥🔥🔥 |
| Design and Construction | 🔥🔥🔥🔥 |
| User Experience | 🔥🔥🔥🔥 |
| Value for Money | 🔥🔥🔥 |
Performance and Functionality 🔥🔥🔥🔥
Throughout our various outdoor cooking scenarios, the OEX Grouppa Cookset didn't disappoint. The pots and frying pan efficiently distributed heat, ensuring our meals cooked evenly from scrambled eggs to a rice stew. The anodised aluminium material gives you the toughness and durability you need when cooking either on an open fire or on a gas stove and the whole cookset stands up well considering it's minimal weight.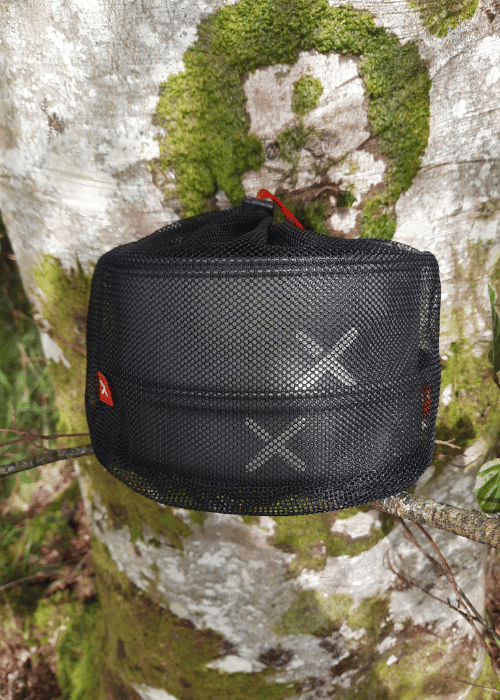 The whole cooking set performed well under the various tests and although the bowls could have been a more generous size, we felt that it accommodated the needs of 4 people well.
Design and Construction 🔥🔥🔥🔥
The overall design of the OEX Grouppa Cookset is well thought out to give maximum functionality and to be as compact and as lightweight as possible. From a space saving aspect, being able to stack all the items inside of each other makes so much sense and we even found there was spare room to pop the PocketRocket, the penknife and cooking utensils in the carry bag.  
The anodised aluminium gives the cooking set some durability and certainly, it held up well under the gas stove, a single burner and the fire without any noticeable damage. The dimensions of the cookset are generous and are adequate enough for 4 people.
The one design flaw we found was the universal gripper. It's tricky to clip onto the frying pan and quite fiddly to do and you run the risk of losing the little screw. Trying to un-clip it is even harder but once it's on, it provides a stable handle. It would have been an added bonus to have a hanging handle on the pot so you have the option to cook over a fire.
User Experience 🔥🔥🔥🔥
Using the OEX Grouppa Cook Set was really fun - it was like a set of Russian dolls with the smaller one stacked inside the other and unpacking it all showed how compact and lightweight the whole set was.
We decided to trial the frying pan on the single burner to see if it easily toppled or felt unstable and we found that the MSR PocketRocket 2 worked well in tandem with the frying pan. There was an even heat distribution and the eggs cooked as well as one would expect.
We decided to trial the largest pot on the more stable portable gas stove to reduce the risk of spills and again, the efficient heat distribution made cooking up rice and sauce a quick process. We then placed the smaller pan into the embers of the fire as there is no handle to hang it from to boil some water for tea and the pot stood up well against the flames.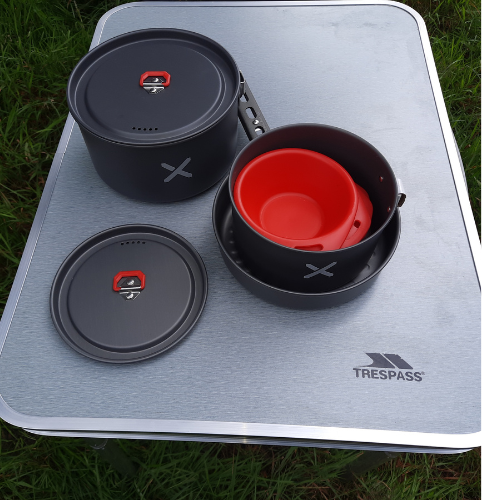 The bowl size was slightly disappointing as they are not big enough for soup and when cooking up a rice dish, my teenage son needed at least 3 bowlfuls to feel semi-full. They worked great for scrambled eggs but are not deep enough to fully satisfy the hunger pangs after a day out on the hills.
Comparison 🔥🔥🔥🔥
In comparison to other outdoor cook sets, the OEX Grouppa stands out for its balanced combination of performance, it's ultra lightweight design and it's compact storage. While it might have a smaller pot volume compared to some counterparts, its efficient cooking capabilities make it an attractive option for backpackers and campers looking for small-group outdoor cooking.
Value for Money 🔥🔥🔥
The OEX Grouppa Cookset is by no means the cheapest on the market. There is a huge range of budget and even branded cooksets that come in with a lower price tag. It may be at the higher end of the price range, but it is a solid set for cooking outdoors with that does pretty much what it's meant to do and will suit those who are looking for a compact and lightweight cooking set that can be used time and time again.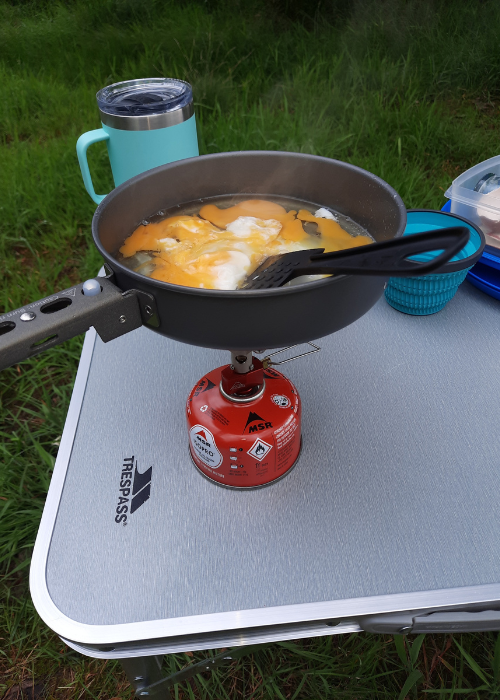 Got some questions about the OEX Grouppa 4 Person Cookset? We've got you covered! Check out these frequently asked questions for valuable insights, tips, and practical information to help you make the most of your cookset.
Is the OEX Grouppa Cookset suitable for backpacking?
This cookset is well suited for backpacking purposes. With 2 pots and a frying pan, it gives you all the options you require whilst backpacking from making a cup of tea to getting the rice on for dinner. It's not overly bulky and as everything stacks inside itself, it makes a great backpacking companion.
Can the OEX Grouppa Cookset be used with a camping stove?
We trialled the frying pan on the MSR PocketRocket 2 and it proved to be no problem at all. The pan sat well on the support arms of the stove and there was no wobbles during cooking. If using the pots to boil water, I would be inclined to look for something sturdier than the PocketRocket such as the Trespass Portable Stove which would distribute weight more evenly.
How easy is the OEX Grouppa Cookset to clean?
Being aluminium based, the whole set was easy to clean even after scrambled eggs. We were able to use a scrubber without causing any damage to the surface of the pots and equally the frying pan. Warm, soapy water is all you need.
Our Final Verdict on the OEX GROUPPA 4 PERSON COOKSET: 🔥🔥🔥🔥
The OEX Grouppa Cookset proved itself as a reliable and efficient cooking companion for our outdoor adventures. Its lightweight design, even heat distribution, and non-stick frying pan make it a valuable addition for solo or small-group camping trips. While the pot volume and the small bowl size might be limiting for larger groups, or those with larger appetites, its overall performance and functionality make up for this and it's durable construction means we will be using this on many camping trips to come.
Remember to visit our website for more information and to explore other camping gear recommendations: Cooking Equipment
We independently purchase and test the products displayed. When you purchase through our links, we may earn a small commission.