Cooking outdoors can present plenty of challenges but is an extremely rewarding experience if you have the right gear to make the magic happen. The OEX Etna Mini stove with it's compact and lightweight build certainly looks the part but did this tiny, powerhouse stove give the results we were searching for? Read on to discover how well this portable gas burner fared on the shores of the Forth.
With it's tiny footprint and powerful performance, the OEX Etna Mini is aimed at being the go-to cooking companion for solo campers who appreciate minimalism.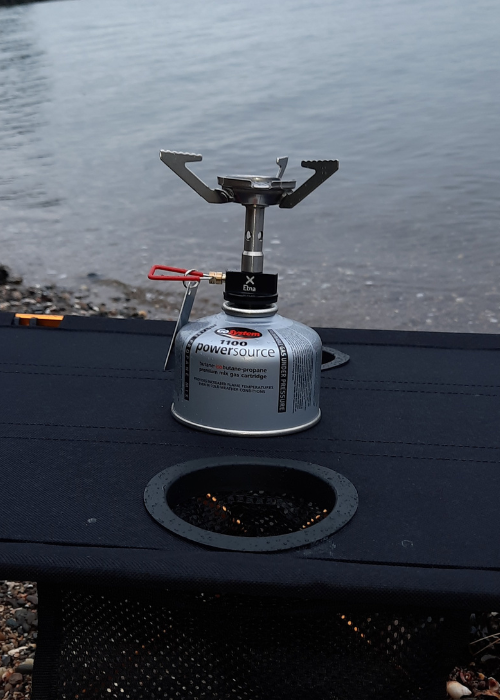 In this comprehensive review, we'll delve into the features, performance, value and our own experience using the OEX Etna Mini Stove. So let's take a closer look and discover if this solo burner will become part of your outdoor gear collection.
Price: £22.95 GBP List 🔥🔥🔥🔥
---
Product Specifications:
OEX ETNA MINI STOVE:
Weight: 75 grams
Dimensions: open - 107 mm diameter  x 85mm height
Material: Aluminium
Heat Output: 3200 watts
Fuel Type: Isobutane-propane canisters- 230 g
Gas Consumption: 229 g/h
Boil Time: 1 Litre < 3 min 25 sec
Ignition: Manual
PROS AND CONS - Our Key Takeaways
| OEX Etna Mini Stove | 🔥🔥🔥🔥 |
| --- | --- |
| 👍: Large support range of 107 mm | 👎: Suffers in windy conditions |
| 👍: Extremely lightweight and portable | 👎: Long time to cool down |
| 👍: Foldable pot supports | |
| 👍: Good price point | |
At a Glance:
The OEX Etna Mini Stove is as light as a feather. It comes in a handy, waterproof carry pouch which looks and feels robust. The actual stove is in one piece and literally fits in the palm of your hand. We were pleased to see the folding pot supports as this makes a difference for pack size and if popping your stove inside a pot to minimise space.
We were interested to see how well the Etna fared, without a windbreak, in wind and non-sheltered areas to compare it's fuel efficiency and productivity against some of the others mini stoves we've trialled so looking forward to taking this down to the beach.
Under The Microscope - putting the OEX Etna Mini Stove through it's paces.
In order to give the OEX Etna Mini Stove a thorough testing, we took it down to the shores of the Firth of Forth one evening for a late night cup of tea.
We put the OEX Etna Mini through our rigorous testing criteria to evaluate it's overall performance and functionality, design and construction, our own user experience and value for money and overall, the Etna performed well across the board giving them a 4 out of 5 fireside rating.
Under the Microscope - Our Testing Criteria
| Benchmarks | Our Fireside Rating |
| --- | --- |
| Performance and Functionality | 🔥🔥🔥🔥 |
| Design and Construction | 🔥🔥🔥🔥 |
| User Experience | 🔥🔥🔥🔥 |
| Value for Money | 🔥🔥🔥🔥 |
Performance and Functionality 🔥🔥🔥🔥
The OEX Etna Mini performed extremely well and certainly proved it's worth. We were impressed with the large support range the arms provided at 107 mm which allows you to use a decent size kettle and pot without any concerns.
From a functional point of view, the Etna Mini does exactly what you would expect from it. It's primary purpose is to provide a lightweight, reliable and efficient cooking solution for campers, hikers and backpackers and it fulfils this brief well.
From a boil time of about 2 and 1/2 minutes using the Trangia 0.9l kettle for about half a litre of water, the Etna Mini works efficiently in conditions without wind. It's important to note that when we tried this mini stove out, it was an exceptionally calm evening and there wasn't a breath of air. Had it been windier, this mini stove would have been struggling to produce the same efficiency so it would be wise to use with a windbreak to maximise it's performance.
Design and Construction 🔥🔥🔥🔥
The design of the Etna Mini Stove is incredibly straight forward - it's a one piece single burner with a large support range providing backpackers and campers an ultra lightweight and portable cooker for on the go. It's well constructed frame is robust and sturdy although the pot supports take time to cool down after extended use.
It's effective but only in sheltered areas - this stove, like many of it's competitors in this range, struggle in windier conditions and require a windbreak to maximise performance. It's important to consider where you will be using this stove and in what conditions otherwise you may find yourself with a very lukewarm cup of coffee!
User Experience 🔥🔥🔥🔥
The Etna Mini is more than easy to use as it comes as one piece which only requires screwing it into the gas canister. Coming in it's well designed and waterproof carry pouch, the stove felt well constructed, if a little stiff, and robust.
Folding out the pot supports, you can see that they offer a generous support range and this proved to be the case with both our kettle and pan. Lighting the stove was simple and the spindle valve control allows you to adjust the flame as required.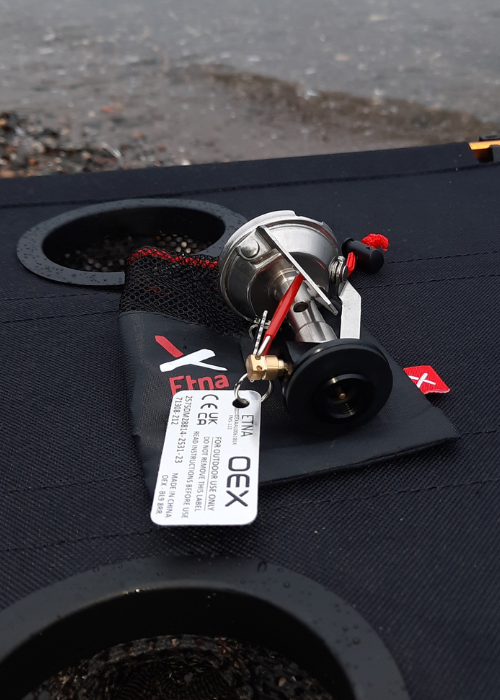 The Etna is designed for solo users and it's incredibly lightweight and portable which makes it perfect for making a quick-ish cup of tea but don't expect miracles - it will do the basics but isn't deigned for much more than that.
Comparison 🔥🔥🔥🔥
The Etna certainly performed better than the Coleman Fyrelite in terms of fuel efficiency and boiling speed. However, the conditions were dramatically different when using each stove: the Etna was on the beach during the evening when there wasn't a breath of air to be had compared to the Fyrelite which was on the shores of Megget Water with a breeze coming in off the loch. Both these mini stoves really require an additional windbreak for them to perform at their best.
Value for Money 🔥🔥🔥🔥
The Etna Mini Stove offers good value for its price point and is comparable to most other mini stoves on the market give or take a few pounds. Its efficient performance and compact design make it a solid option for backpackers and campers looking to optimise their gear.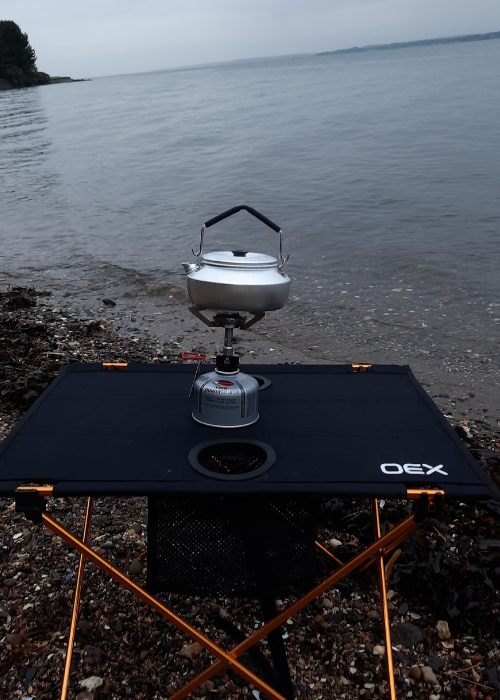 Got some questions about the OEX Etna Mini Stove? We've got you covered! Check out these frequently asked questions for valuable insights, tips, and practical information to help you make the most of your gas stove.
Can the OEX Etna Mini Stove cope in windy conditions?
Like many similar mini stoves, the OEX Etna struggles in windy and non-sheltered conditions. Using a windbreak is a great way to get the best out of your mini stove.
Can this stove handle larger pots and pans?
The OEX Etna is built for solo users and works best with lighter and smaller sized pots and pans. It easily supports the Trangia 0.9l kettle and is well matched with OEX Grouppa cookware.
Can I use this stove with different types of fuel canisters?
OEX recommend using the Etna Mini with the following sizes of canister: It's not advisable to use anything out with these specifications.
Our Final Verdict on the OEX ETNA MINI STOVE: 🔥🔥🔥🔥
The OEX Etna Mini Stove is a great little solo burner - sturdy, well built and efficient. It's a perfect choice for solo campers, hikers and backpackers looking for an ultra lightweight and portable gas stove that can make a cup of tea and a hot meal in decent time.  However, like the majority of mini stoves, it is susceptible to windy conditions and it's efficiency is compromised as a result of this so it's advisable to invest in a lightweight windbreak that will give you the best experience from your Etna Mini Stove.
Remember to visit our website for more information and to explore other camping gear recommendations: Cooking Equipment
We independently purchase and test the products displayed. When you purchase through our links, we may earn a small commission.