Looking for an ultra lightweight portable table that suits your camping needs? The Eurohike Compact might well be the one for you! This low-slung mini table certainly packs a punch and is perfectly proportioned for solo campers to kids looking for their own dining space round the camp fire. If you're looking for a table with unbeatable value then read on to see how well the Eurohike Compact Camping Table fared.
A compact, portable low slung mini-table, with ample space for alfresco cooking and dining.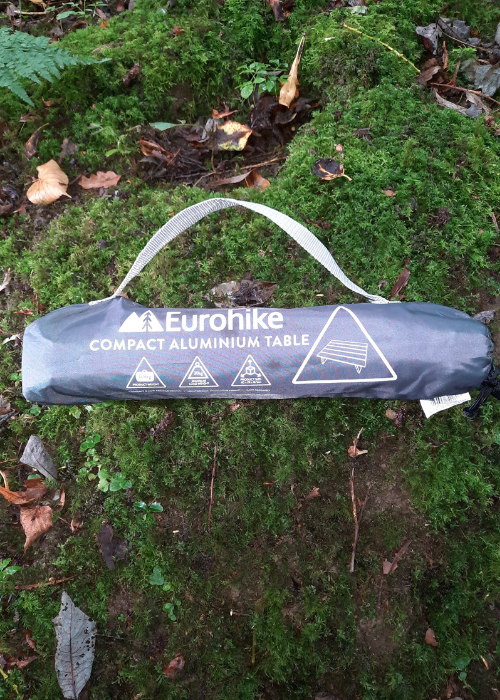 In this comprehensive review, we'll delve into the features, performance, value and our own experience using the Eurohike Compact Table. So let's take a closer look and discover if this portable table will become part of your campsite furniture.
Price: £10.00 GBP List 🔥🔥🔥🔥🔥
---
Product Specifications:
EUROHIKE COMPACT TABLE:
Dimensions: 16 H x 40 L x 28 w cm
Weight: 760 g
Materials: Aluminium Frame with slatted table top
Packaway Size: 60 x 12 x 7 cm
Load Capacity: 30 kg
PROS AND CONS - Our Key Takeaways
| EUROHIKE COMPACT TABLE | 🔥🔥🔥🔥 |
| --- | --- |
| 👍: Ultra lightweight | 👎: Low to the ground which might not suit all users |
| 👍: Amazing price point | 👎: Slightly unsteady on uneven ground |
| 👍: Hard wearing aluminium frame and table top | |
| 👍: Super quick set up | |
At a Glance:
The Eurohike Compact Table comes in a handy drawstring carry bag and is extremely lightweight. Once we had pulled the table out it's bag, which was quite a snug fit, the table looked fairly robust and sturdy so we were keen to see how such a small table fared whilst outdoors.
We were interested to see how much weight the table could cope with and how sturdy the legs were in differing terrains and also how quick it took to assemble the table and whether such a low table would suit our camping needs.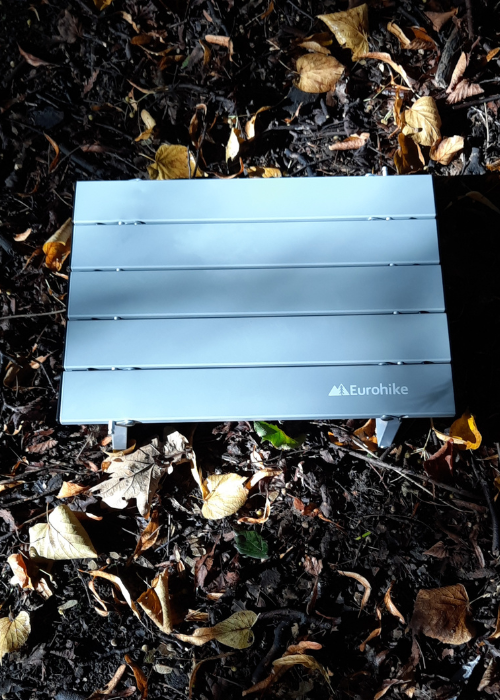 Under The Microscope - putting the Eurohike Compact Table through it's paces.
In order to give the Eurohike Compact Table a thorough testing, we took this to various locations with differing terrain and used different gear on the table to determine how well it would perform.
We put the Eurohike Compact Table through our rigorous testing criteria to evaluate it's overall performance and functionality, design and construction, our own user experience and value for money and overall, the Eurohike excelled on Value for Money, gaining a 5 out of 5, giving them an average 4 out of 5 fireside rating.
We gave a 3 out of 5 rating for Design and Construction as the assembly of the table with bars being slotted through the table top is a bit fiddly and it can take time to align the holes so the bars slide in easily.
Under the Microscope - Our Testing Criteria
| Benchmarks | Our Fireside Rating |
| --- | --- |
| Performance and Functionality | 🔥🔥🔥🔥 |
| Design and Construction | 🔥🔥🔥 |
| User Experience | 🔥🔥🔥🔥 |
| Value for Money | 🔥🔥🔥🔥🔥 |
Performance and Functionality 🔥🔥🔥🔥
This compact table performed very well on different terrains and in different weather conditions. We used it in the forest on the muddy, mossy ground and it felt secure and balanced. We also used it out on the foothills, on the banks of a small burn and again, it performed well on hillocky turf and in the rain.
The table is perfect for a solo camper as there would be ample space for any kind of cooking gear and as it doubles up as a dining table, it serves several useful purposes. For a cooking/prep table, it suits those that have no issue with being ground level and have low slung camping furniture to match, but this may not suit all users and some may prefer a taller table for less back ache! It's perfect for kids to use as a dining or play table both inside and outside the tent.
Design and Construction 🔥🔥🔥
The design of the Eurohike Compact Table is highly simplistic. It's essentially a slatted table top, with collapsible legs which lock and two bars which slip through the slats to hold the table in place. The table is only 16cm high so this gives you an impression of how close it is to the ground. It is a bit of fiddle trying to poke the bars through the slats and make sure they are aligned which i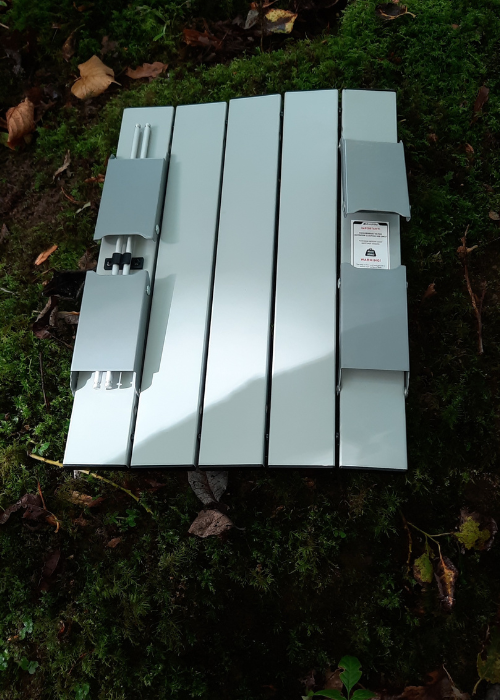 The surface space of this table is really quite generous considering how small it is and there is ample space for your cooking gear, even a small portable gas stove such as the Trespass Gastro fits on with no bother. The table is designed to give you a platform to prep, cook, eat or drink off and is perfect for low slung camping chairs or as a kids dining table.
User Experience 🔥🔥🔥🔥
The Eurohike compact table can be a bit fiddly to put together until you get the hang of it and how to insert the bars between the slats. They come neatly tucked under one of the collapsible legs and the idea is to thread them between each slat to give the table it's strength. This sounds easier than the reality as they can be sticky to get through and to align correctly.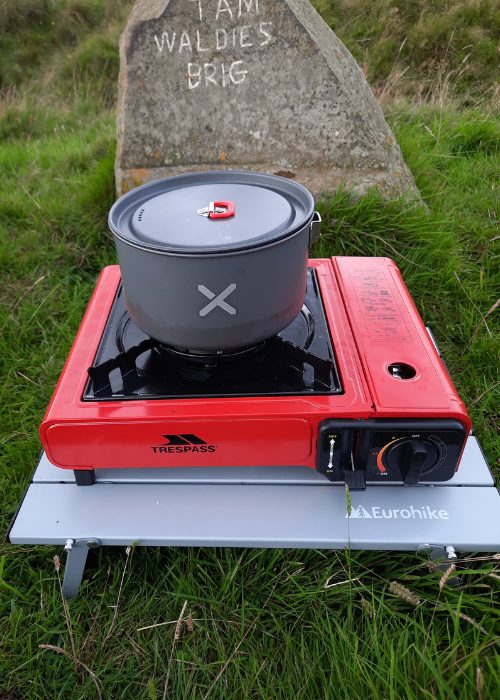 Once set up, this table has a multitude of purposes. It can be used as a table to compliment low slung camping chairs, a dining table for kids, and if you are using it for cooking purposes, you can pop it on the boot of the car and use it to prep your meal or cook from there without issues of wind.
Because the table is so low to the ground and the legs are squat and sturdy, we found the table coped well on uneven terrain and was able to support weight evenly which made it a great platform to cook on.
Comparison 🔥🔥🔥🔥
There are a multitude of portable camping or picnic tables out there and depending on your style and your needs when outdoors, this compact table can be a great addition to your camping furniture. Size-wise, it's much smaller and lower to the ground than the majority of compact and portable camping tables such as the OEX X LITE and the Trespass Portable Camping Table, but it offers a sturdy and inexpensive platform to use outdoors.
Value for Money 🔥🔥🔥🔥🔥
Nowadays, there is very, very little that you can buy for £10.00 so whichever way you look at this, it's value for money! For a compact and sturdy table which should last well, there really isn't much else out there that competes within this price bracket so for any budget-conscious camper or alfresco dinner, this little table is a no-brainer.
Got some questions about the Eurohike Compact Table? We've got you covered! Check out these frequently asked questions for valuable insights, tips, and practical information to help you make the most of your lightweight table.
Can I use the table as a platform for a camping stove?
As the table top and the table frame are made from aluminium, we used the Trespass Gastro gas stove with no issues at all and the low legs of the table give a much sturdier platform to cook on.
Will the table legs rust?
As the table frame is made from durable aluminium and is weather proof to a certain degree, it should resist rusting.
How much weight can this table hold?
Eurohike recommends no more than 30 kg weight on this particular table. My 5 year old son did decide to use this as a seat (not recommended by Eurohike - my son just decided he wanted it as his own camping seat) and he weighs about 23 kgs and the table held up well.
Our Final Verdict on the EUROHIKE COMPACT TABLE: 🔥🔥🔥🔥
This tiny little table certainly packs a punch. For it's negligible 760g, this compact table is a really useful and versatile addition to your camping furniture. Although it's slightly chunky when packed up and it's a little fiddily to assemble, the result is worth it and for any budget-conscious camper, this table is well worth the money.
Remember to visit our website for more information and to explore other camping gear recommendations: Cooking Equipment
We independently purchase and test the products displayed. When you purchase through our links, we may earn a small commission.