Are you on the hunt for a portable camping table that's as versatile as your outdoor adventures? Look no further than the Trespass Portable Camping Table. Whether you're a camper, hiker or picnic enthusiast, this table provides an outdoor dining solution on the go.    
An all-purpose portable folding table perfect for camping or picnicking in the wild.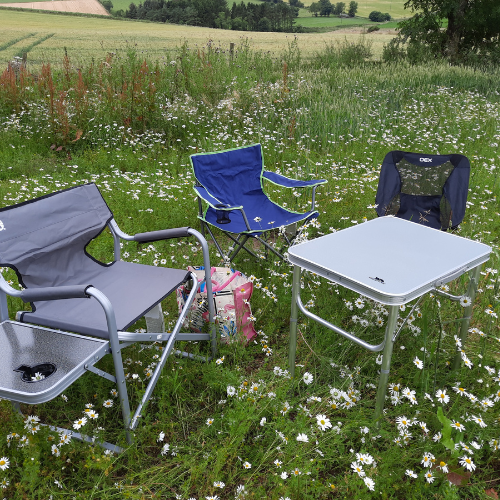 In this comprehensive review, we'll delve into the features, performance, value and our own experience using the Trespass Portable Camping Table. So let's take a closer look and discover if this table is the outdoor dining solution you're looking for!
Price: £31.99 GBP List 🔥🔥🔥🔥
---
Product Specifications:
TRESPASS PORTABLE CAMPING TABLE:
Adjustable Height: 25-60 cm adjustable height
Dimensions: 60 x 45 cm
Materials: Aluminium frame, durable acrylic table top
Weight capacity: Up to 30 kg
Carry Handle: Yes
PROS AND CONS - Our Key Takeaways
| Trespass Portable Camping Table | 🔥🔥🔥🔥 |
| --- | --- |
| 👍: Adjustable heights | 👎: Awkward to carry over long distances |
| 👍: Sturdy construction | 👎: Slightly small for 4 |
| 👍: Great value for the price | 👎: Acrylic table top |
| 👍: Easy to set up and pack down | |
At a Glance:
Trespass is a well-established UK outdoor equipment brand that originated from Scotland in the late 1930's from Glasgow in the heart of lowland Scotland. Everything is designed with the British, and particularly, the Scottish weather in mind, which makes them a great domestic choice for outdoor equipment and clothing and is the reason they continue to thrive today. The quality is solid and reliable and you find yourself returning to the same Trespass products again and again as they stand the test of time. We're hoping that the same will be true of the Portable Camping Table.
Taking the Trespass Portable Camping Table out of the box, we were pleased with its lightweight and compact design, making it easy to transport from car to camp or picnic spot and simple to store flat in the boot of the car or tucked away upright in the shed. The table looked sturdy and was quick to assemble and dismantle so our overall impression was positive. We were interested to see how it would fare with a gas burner as the table top is acrylic and we wanted to test whether the table could handle heat of any kind without being marked or becoming too hot as this was a key reason for purchasing this table.
Under The Microscope - putting the Trespass Portable Camping Table through it's paces.
In order to give the Trespass Portable Camping Table a thorough testing, we took it out to the fields surrounding Loch Leven on a pretty bumpy and uneven daisy field to see how it fared.
We put the chair through our rigorous testing criteria to evaluate it's overall performance and functionality, design and construction, our own user experience and value for money and overall, the Trespass Portable Table performed surprising well under all the benchmarks giving them a 4 out of 5 fireside rating.
We ranked 4 across the board as it performs well under each criteria but there are drawbacks. It could be a little larger to give more surface space and the table top is a robust plastic acrylic rather than metal and there are cheaper options out there but we believe this table will give years of service and will be used for so much more than just camping.
Under the Microscope - Our Testing Criteria
| Benchmarks | Our Fireside Rating |
| --- | --- |
| Performance and Functionality | 🔥🔥🔥🔥 |
| Design and Construction | 🔥🔥🔥🔥 |
| User Experience | 🔥🔥🔥🔥 |
| Value for Money | 🔥🔥🔥🔥 |
Performance and Functionality 🔥🔥🔥🔥
The Trespass Portable Camping Table performed exceptionally well under most of our tests but one small bugbear we had was not being able to get our knees under the table at the top ends due to the u-bend shape of the support arch. We could easily do it on the longer sides of the table but it made it harder for those perched at the end!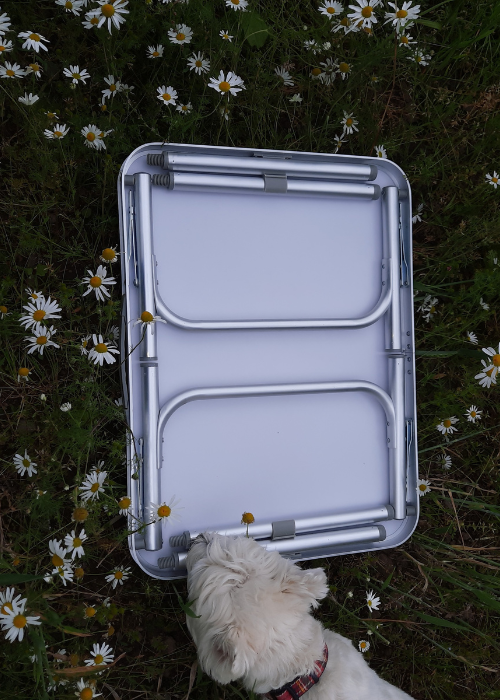 The table held up well on rocky and uneven ground and was able to carry a hefty load with no signs of stress. We were wary with the acrylic table top and although there were the inevitable scratches and dents that come with cooking outdoors, the table top remained in pretty good condition.
Design and Construction 🔥🔥🔥🔥
The design of the Trespass Portable Camping Table proved to be both practical and durable. Easy to assemble and dismantle, light to carry and thin when folded up makes this table a great option for car camping and picnicking. It slides easily into the boot taking minimal space lying flat and everything else can get packed on top.
The table offers extra leg struts, which simply screw into the existing legs, to give height taking it from 25 cm (great for kids who need a play table) right up to the maximum of 60 cm which is perfect for cooking on or eating at. Once dismantled, the legs fit neatly back under the table for minimum fuss.
The aluminium frame gives the table great support and the click in place corner supports give the table a solid and reliable feel. The aluminium frame and the carry handle makes taking this table from car to camp a breeze.
User Experience 🔥🔥🔥🔥
We took this table to one of our favourite fields behind Loch Leven for a spot of breakfast and lunch and we were really pleased to see how sturdy the table was on such uneven ground. Once we had given it a proper shuggle and got it into place, we starting prepping breakfast and found there was ample room for all our cooking equipment.
We wanted to trial how well the acrylic table top stood up to having either a single burner stove or a small gas stove on it as we were slightly concerned if the burner got too hot, it would melt or damage the table top and we found no issues with either. Even placing hot dishes directly onto the table top didn't cause any marks.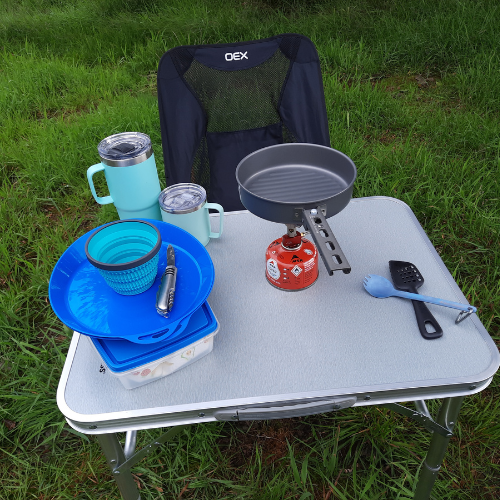 The table was sturdy and well built and the extra height made it perfect for eating your breakfast from or cooking your lunch on! The finish of the table was high with no jagged metal edges to catch your skin on and both assembly and dismantling of the table was quick and easy.
Comparison 🔥🔥🔥🔥
Compared to other camping tables in the market, the Trespass Portable Camping Table stands out with its lightweight and sturdy design. Its quick and easy setup and adjustable height options give a definite advantage for campers seeking efficiency and varied use. While it may not have the highest load capacity to others on the market, nor have a metal table surface , its stable construction and versatility make it an excellent choice for a wide range of outdoor activities.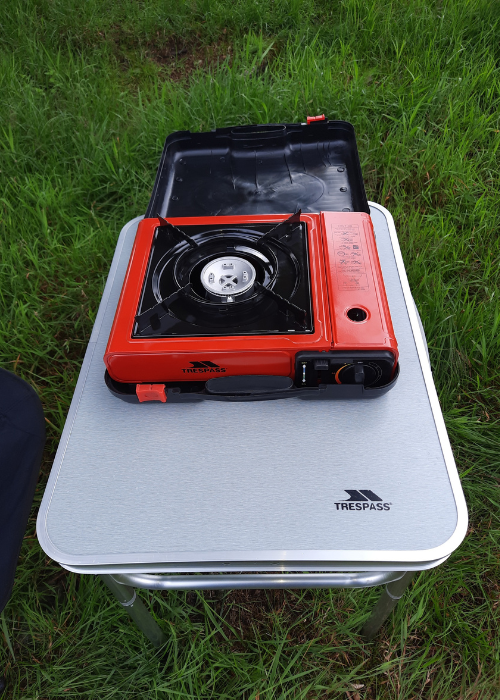 Value for Money 🔥🔥🔥🔥
The Trespass Camping Table offers great value for it's price. It's lightweight, yet sturdy design means that it can be used in a variety of different ways from camping to picnicking to a handy outdoor garden table. It proved reliable, easy to set up and dismantle, well built and hardy so a good addition for your outdoor gear collection.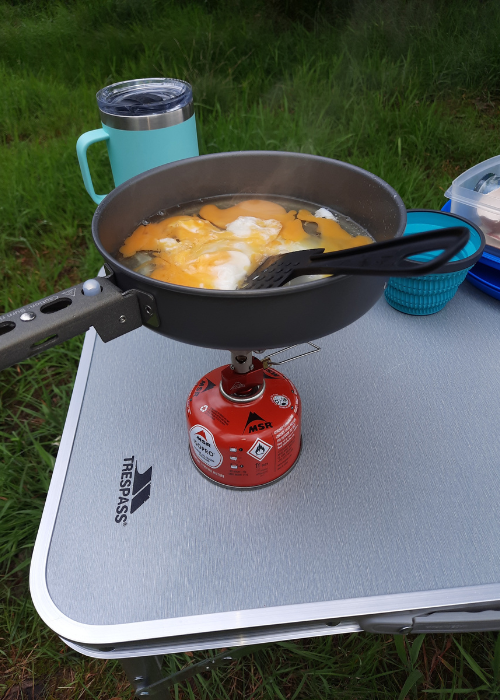 Got some questions about the Trespass Portable Camping Table? We've got you covered! Check out these frequently asked questions for valuable insights, tips, and practical information to help you make the most of your camping table.
How many people can the Trespass Portable Camping Table accommodate?
We found the Trespass table accommodated 3 comfortably with plenty of space for plates, cups and beakers etc. Four would have been a squash but that's personal preference as to how many extra bits and pieces you like to have on the table.
Can the Trespass Portable Camping Table support a camping stove?
Yes, we tested it using both the MSR Pocket Rocket 2 Burner and we also tried it out with the Trespass Portable Camping Stove. The PocketRocket is obviously much smaller so plenty of room for it but we also found that the Trespass stove left plenty of room for prep. Neither heated or damaged the surface of the table.
How easy is the Trespass Portable Camping Table to set up?
It takes all of about 3 minutes to set up the Trespass Portable Camping Table. As the table is height adjustable, you can add extra height with the 4 support legs which easily screw in and out. Click the table supports into place and you're ready to go!
Our Final Verdict on the TRESPASS PORTABLE CAMPING TABLE: 🔥🔥🔥🔥
The Trespass Portable Camping Table proved to be a reliable and versatile addition to our outdoor gear collection. Its lightweight, stable design, and easy setup make it an excellent choice for camping and was ideal to pop in the back of the car as it takes up minimal space. It could easily be kept in the porch of larger tents as a handy table for food prep or outdoors with a gas stove. Once you start using a camping table, you question how you ever managed without one before and the Trespass table has certainly reinforced that idea.  For convenience and functionality, I will be using this again and again on our camping trips to come.
Remember to visit our website for more information and to explore other camping gear recommendations: Cooking Equipment
We independently purchase and test the products displayed. When you purchase through our links, we may earn a small commission.