Everything seems to always taste so much better when it's been cooked outside. Even the most simple omelette has an entirely different flavour when it's been is pulled together on a portable stove and enjoyed out in the foothills. To create this little piece of heaven, you need a stove that can deliver the goods. Read on to discover if the Trespass Gastro can work it's magic.
A high performing ultra-light camping stove that packs a punch for value that can't be beaten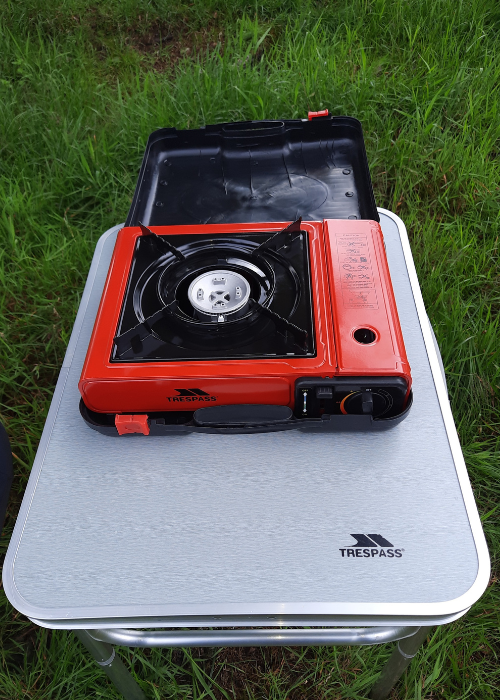 In this comprehensive review, we'll delve into the features, performance, value and our own experience using the Trespass Gastro Stove. So let's take a closer look and discover if this portable stove will become one of your cooking regulars.
Price: £19.99 GBP List 🔥🔥🔥🔥🔥
---
Product Specifications:
TRESPASS GASTRO CAMPING STOVE:
Dimensions: 34.3 L x 28.4 w x 13.3 H cm
Weight: 500 g
Materials: Stainless Steel and heat resistant plastic
Fuel Type: MSF - 1a butane gas canister
Heat Output: 2200 watts
Gas consumption: 160g/h
Boil Time: Took 5 mins 15 secs to boil full pot of water
Ignition: Integrated ignition
Run Time: 1 hour 20 mins
PROS AND CONS - Our Key Takeaways
| Trespass Gastro Camping Stove | 🔥🔥🔥🔥 |
| --- | --- |
| 👍: Excellent price point | 👎: Limited wind protection |
| 👍: Generous pot range | 👎: Cartridges not included |
| 👍: Sturdy and stable | |
| 👍: Ultra lightweight and portable | |
At a Glance:
The Trespass Gastro comes in a carry case which on first inspection, is not the most robust of cases but looks like it will suffice for storing in the boot of the car. The cartridges are not included but can easily be purchased from any camping or outdoor outlet.
We were blown away by how light this stove felt and slightly concerned that it wouldn't have the stability or durability to cook on so were keen to test this out. Having tried several smaller single burners and portable stoves, we wanted to see how well it would perform in windy conditions and whether it would require some form of wind break.
Under The Microscope - putting the Trespass Gastro Camping Stove through it's paces.
In order to give the Trespass Gastro Camping stove a thorough testing, we took this portable stove for a day out in the Southern Uplands. One of our favourite camping spots is Tam Waldie's Brig which is semi-sheltered from the winds coming off the hills but exposed enough to give the Trespass Gastro Stove a good run for it's money. We then took it up the back of the Lammermuir hills to push it further.
We put the Trespass Gastro through our rigorous testing criteria to evaluate it's overall performance and functionality, design and construction, our own user experience and value for money and overall, the Gastro performed well across all categories and excelled in Value for Money, with 5 out of 5,  giving them a final 4 out of 5 fireside rating.
Under the Microscope - Our Testing Criteria
| Benchmarks | Our Fireside Rating |
| --- | --- |
| Performance and Functionality | 🔥🔥🔥🔥🔥 |
| Design and Construction | 🔥🔥🔥🔥 |
| User Experience | 🔥🔥🔥🔥 |
| Value for Money | 🔥🔥🔥🔥🔥 |
Performance and Functionality 🔥🔥🔥🔥🔥
From a performance point of view, the Trespass Gastro blew us away! The combination of how portable and easy this stove is to use makes it a real pleasure to cook a meal on. Add to this the fact that it performed consistently well in windy conditions without the flame blowing out or boiling time impacted. An added bonus is that it takes a couple of seconds to wipe clean for minimal fuss.
Functionality is key with this stove as it's as simple as they come with a fuel cartridge compartment, a single dial for simmer control, a fuel lock and a ring for cooking on. What's great is that it takes no time at all to set up - you simply lock the canister in place and ignite the hob and then get cracking! It takes even less time to turn it off and pop it away (once cooled).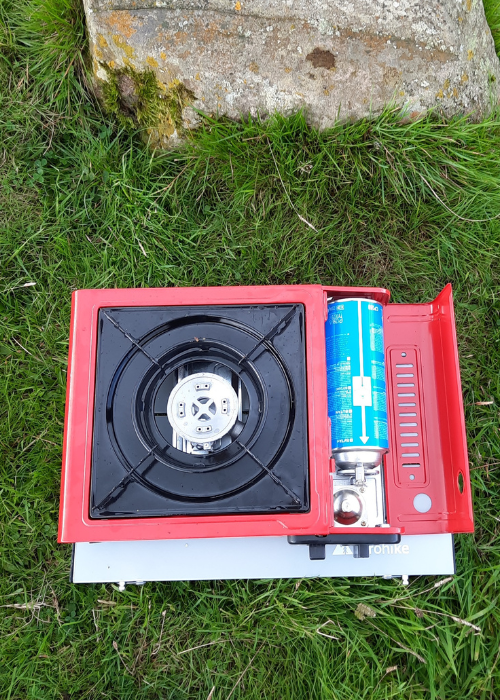 Design and Construction 🔥🔥🔥🔥
The design of the Gastro stove is highly simplistic and it's focus is to provide a portable, reliable and efficient platform for campers and backpackers to cook a meal on outdoors and it certainly achieves that. There is nothing complicated about this stove from it's auto-ignition, to single dial for simmer control, to the no-nonsense carry case. It is incredibly easy to use and this makes it very appealing for those looking for a quick and easy way to make a cup of tea when pitching a tent.
Despite the fact that it only weighs 500 g, the Gastro is made from durable stainless steel and also heat resistant plastic. The single ring has ample surface space for frying pans to kettles and can be easily lifted out - once cooled- to be wiped clean. It also has an integrated fuel lock system which ensures the canister stays in place while cooking but also forces the user to make sure that it is unlocked to fit back into the carry case.
User Experience 🔥🔥🔥🔥
Having tried out similar portable camping stoves, we were interested to see if we could find one that stood out above the others. And we certainly did with the Gastro. Not only is it one of the lightest in it's class, which makes it so easy to carry for car to camp spot, it is also incredibly fuel efficient as it manages to cope with windy conditions far better than it's counterparts.
Like similar models, it comes in a plastic carry case shaped like a suitcase, which isn't the most robust, but still handy for storing in the boot of the car, and it's less bulky and cumbersome than the Bistro Elite. The auto-ignition is handy as there is no extra button to push in to get going and the cartridge is simple and quick to install.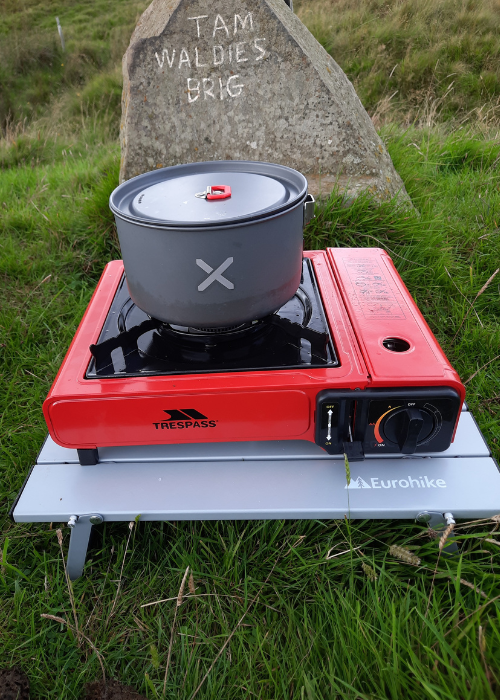 We found the ring to have plenty room to accommodate larger pots and pans and due to the fact that it seems to handle windy conditions well, we found boil time was reduced significantly which meant greater fuel efficiency. The simmer control was reliable and functional and it cooked evenly so no burn spots.
Comparison 🔥🔥🔥🔥🔥
The Gastro beats most other portable gas stoves in this category for sheer effectiveness, portability and value for money. When compared directly against the Campingaz Bistro Elite, which comes in at a similar price point, the Gastro took top spot as it was lighter, had a quicker boil time, was more fuel efficient and coped much better in windy conditions.
Value for Money 🔥🔥🔥🔥🔥
This single burner stove is an absolute stalwart in the single ring stove arena. With impressive boil time and good simmering control, and the fact that it weighs half a kilo, there is nothing not to like! It is incredible value for money and one of the best single gas stoves that we've tried in it's class.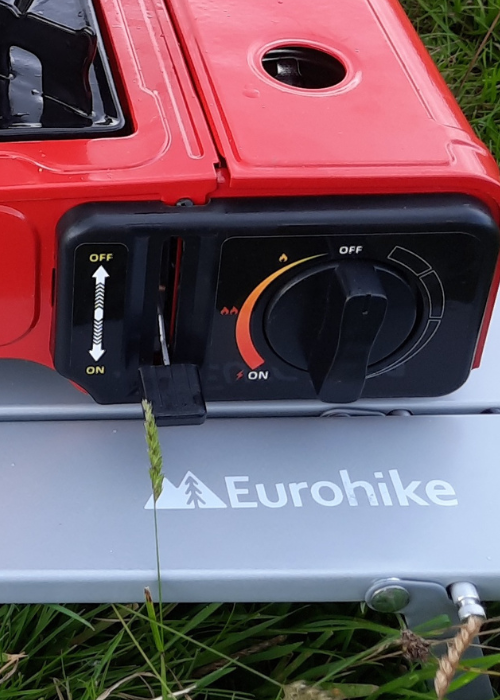 Got some questions about the Trespass Gastro Camping Stove? We've got you covered! Check out these frequently asked questions for valuable insights, tips, and practical information to help you make the most of your portable stove.
How does the Gastro Camping Stove cope in windy conditions?
Surprisingly well! We were expecting a more diminished performance in the wind, but the Gastro kept on going even with stronger gusts blowing in. The slight lip around the ring gives extra protection.
How long does a standard gas canister last with this stove?
Trespass recommend about 1 hr 20 mins worth of use but this depends on how you are using the stove and in what conditions - the windier and colder it gets, the harder the stove has to work.
Can I use this stove for cooking more elaborate meals?
We certainly did - in fact we had some spring rolls on the go one afternoon so you can be as adventurous as you choose!
Our Final Verdict on the TRESPASS GASTRO CAMPING STOVE: 🔥🔥🔥🔥
The Trespass Gastro Camping stove, like it's counterpart the Campingaz Bistro Elite is a great budget friendly gas burner that packs a real punch. It gave us excellent output even in windy conditions and a very quick boil time. It's much lighter than some of the other models in it's class, which makes it an excellent portable camping stove and with a large surface area to cook on, it's a great choice for any budget-conscious campers that are looking for a reliable and cost-effective single camping stove.
Don't hesitate to make the Gastro part of your outdoor cooking equipment - we will definitely be bringing it along!
Remember to visit our website for more information and to explore other camping gear recommendations: Cooking Equipment
We independently purchase and test the products displayed. When you purchase through our links, we may earn a small commission.