Single Burner Stove
BEST FOR: Hiking, camping, trekking, touring, school expeditions
This is the perfect, focused burner for anyone looking to cook a real meal or have a decent cuppa when you've found your ideal spot out on the hills.
We took this incredibly compact and lightweight single burner stove up onto the Ochil hills with a strong, brisk wind blowing to test how well the MSR PocketRocket 2 could handle itself and it didn't let us down - scrambled eggs and a cup of tea served up in a couple of minutes!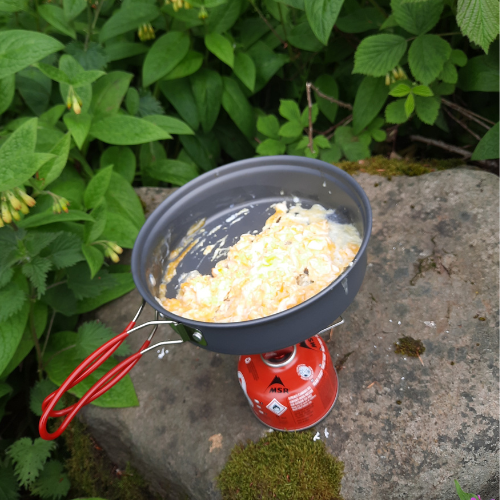 HIGH PERFORMANCE DESIGN:
The MSR PocketRocket 2 is an exceptionally light, single burner stove which works in tandem with a screw on gas canister. It's an improved and lighter version of the original PocketRocket, all parcelled up into a tiny package which packs plenty of punch.
POT SUPPORTS:
The lighter high performance stainless steel design includes new folding pot supports which cleverly rotate and fold back down against the body of the stove making it incredibly sleek and compact.
The 3 folding pot supports create a solid base for your stowaway pot such as the MSR Alpine 475 ml, or a small, hard anodised frying pan such as the OEX Frysta without any issues even in wind.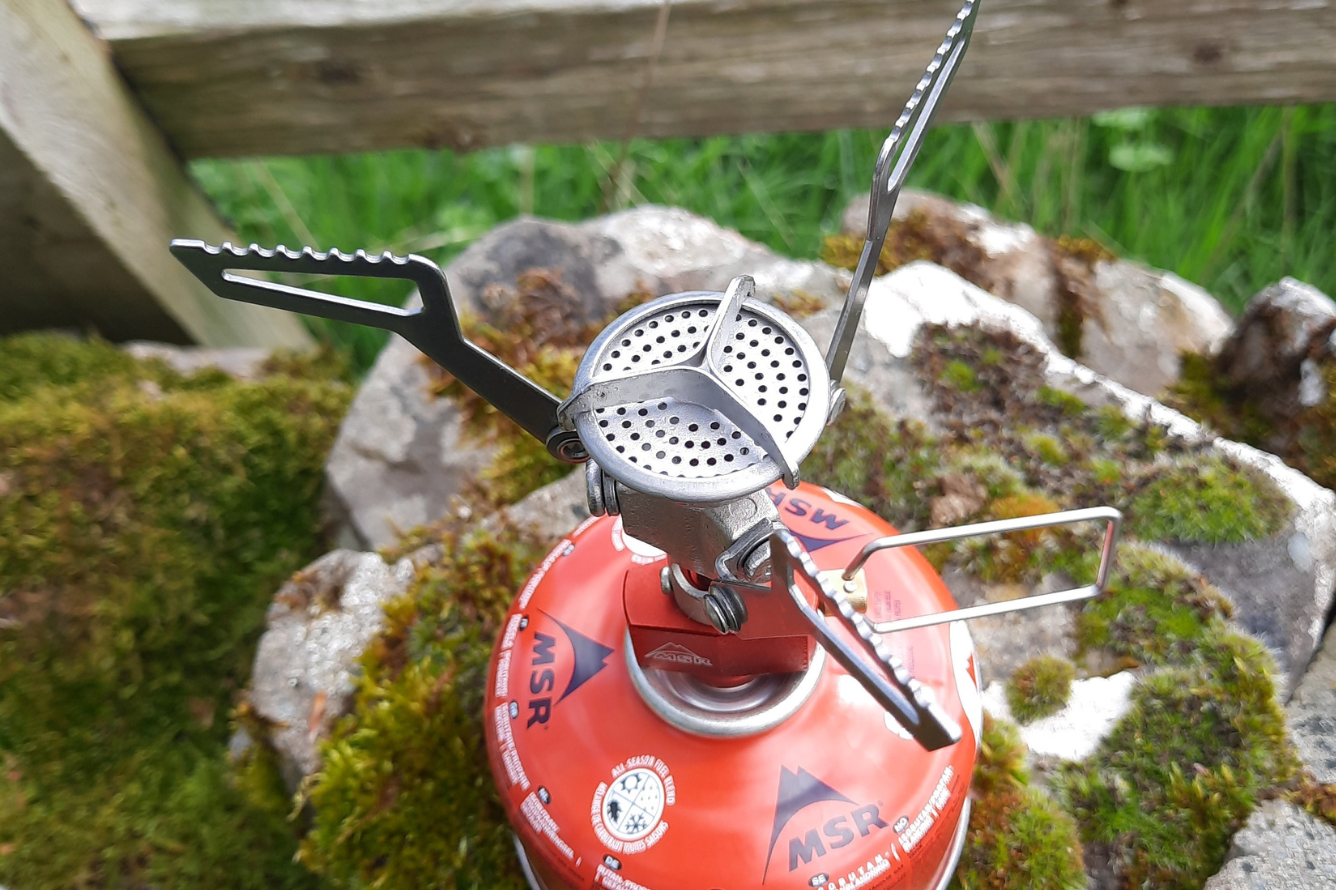 The size of this stove is minimal and it can easily be stored in your pocket, in the side of a backpack or within your cooking pot to free up even more space.
BOIL TIME:
I used the MSR Alpine 475 ml Stowaway pot to make my tea and using probably half the pot, it only took a minute or so to boil. The focused burner pushes and controls the flame to give a concentrated heat, and to be honest, it does sound a bit like a rocket - certainly gave the dogs a fright!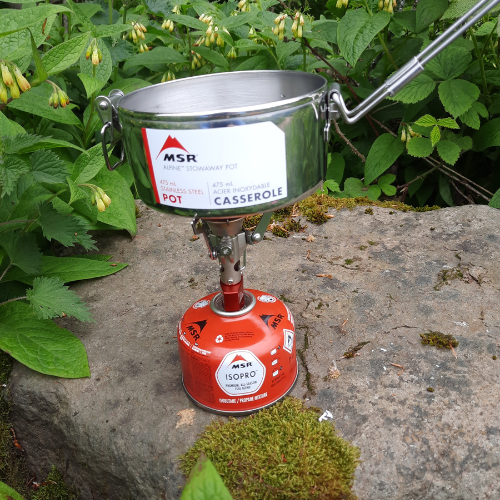 I then swapped over to the OEX Frysta, a splash of oil and threw in a couple of eggs, and again, it was ready in a couple of minutes. The folding pot supports held the weight evenly and well and it never once felt unstable even when I was stabbing the eggs with my pen knife, (the Ranger Swiss Army Knife from Victorinox),  which is not highly recommended - that's what happens when you forget the forks!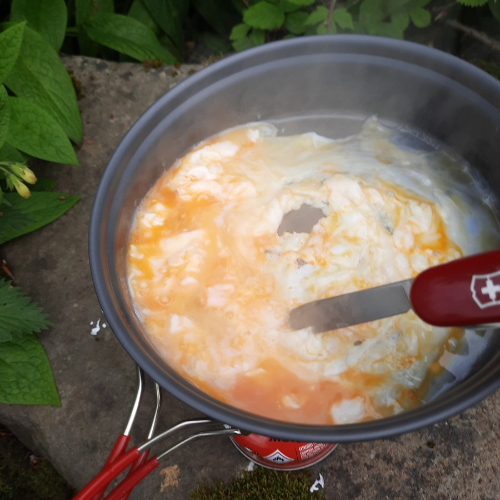 WIND PROTECTION:
The MSR PocketRocket 2 stove holds up well in breezy conditions. The WindClip wind shield protection ensures you have a continuous, solid flame to cook with.  In very windy conditions, the stove will burn through fuel much quicker but it can cope admirably well on a breezy day.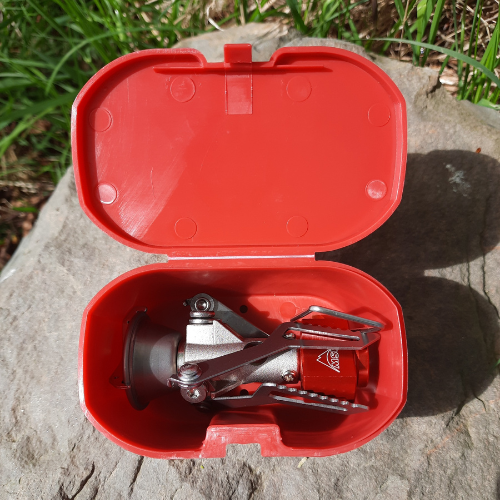 HARD SHELL CARRY CASE:
The PocketRocket comes in a convenient hard shell carry case which is miniscule - measuring a tiny . The support arms easily fold down against the body of the stove and these fit snuggly into the carry case which again fits snuggly into your pot! Reminds me of those wooden painted dolls that all fit inside each other!
FUEL CANISTER:
The PocketRocket 2 stove works in tandem with a screw on gas canister and is best paired with the MSR IsoPro, as featured, although it's compatible with any standard gas canister. Unlike liquid fuel stoves which are better for extended periods out on the hills or camping in freezing conditions, the PocketRocket 2 meets all the requirements you need for a short, warm-ish weather trip as it gives you enough juice to boil water for your tea and make a decent meal.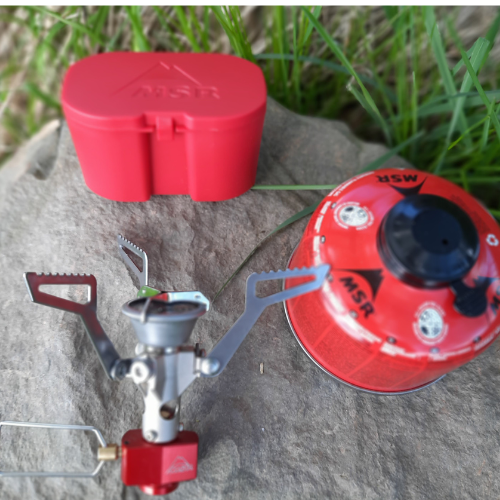 WHAT WORKS FOR US:
speed of boiling water for a cup of tea
couple of scrambled eggs ready in a few minutes
folds away into compact carry case easily and snuggly
ultra lightweight - can be carried in your pocket or inside your stowaway pot
folding pot supports cool down fairly quickly to repack
precision flame control for simmering
wind resistant
WHAT NEEDS IMPROVED UPON:
Burns fuel fairly quickly in a strong wind
Not suitable for freezing conditions or extended camping trips
WHAT YOU NEED TO KNOW:
WEIGHT: 73g (2.60 oz)
SIZE: 8cm long
MATERIAL: Stainless Steel
WIND PROTECTION: Windclip windshield
CASE:  Hard shell carry case included
PAIRS WITH: MSR ISOPRO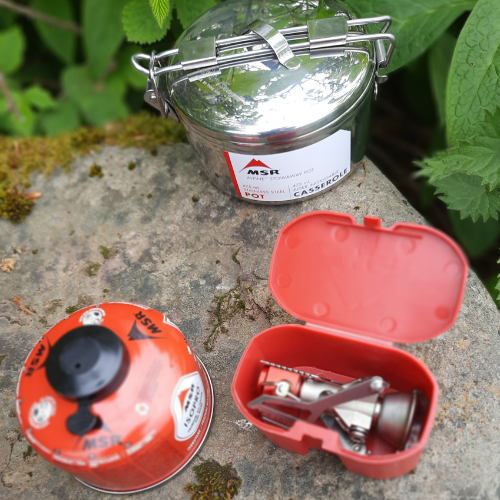 FINAL VERDICT ON THE MSR POCKETROCKET 2
The MSR PocketRocket 2 compact canister stove fits as part of a light kit with minimum weight and is barely noticeable in your pack - perfect for backpacking and hiking. This next generation pocketrocket packs a powerful punch with it's precision flame control which allows for simmering if you're heating up soup, to a more concentrated flame when you need a fast result.
The robust pot supports offer excellent stability, even in breezy conditions, and this powerful stove, folds back down into an exceptionally tiny packed size which can fit literally in your pocket.
The lighter high performance design of the MSR PocketRocket 2 makes this exceptional value and is perfect for hikers to campers to teenagers completing their Duke of Edinburgh Awards and for anyone who enjoys a really good, hot cup of tea when they've set up camp. Enjoy!