Looking for an lightweight, wind and waterproof winter coat that works in the city as well as it does in the country? Then look no further as you might have found it with the Trespass Audrey Coat. Designed with the outdoors in mind, this well fitting and comfortable coat is a winter essential for those looking for a coat that gives warmth, style and reliability. Read on to discover if it's the right fit for you!
An extremely competent and comfortable women's coat that keeps you warm and dry whatever the Scottish weather throws at you.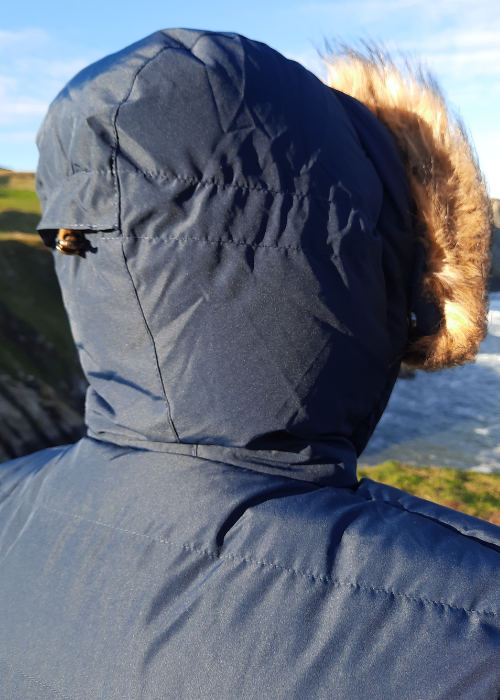 In this comprehensive review, we'll delve into the features, performance, value and our own experience using the Trespass Audrey padded coat. So let's take a closer look and discover if this down jacket will become part of your outdoor gear collection.
Price: £68.99 - £74.99 GBP List 🔥🔥🔥🔥
---
Product Specifications:
TRESPASS AUDREY PADDED COAT :
Fabric: 100% Polyester
Insulation: ColdHeat insulation which captures body heat
Length: Knee length for added warmth
Pockets: 2 x side hand warmer pockets
Hood: Adjustable hood with removable faux fur trim
Fit: Fitted at waist with plenty upper body mobility
Size: Size up if planning on wearing thick jumpers underneath
PROS AND CONS - Our Key Takeaways
| TRESPASS AUDREY COAT | 🔥🔥🔥🔥 |
| --- | --- |
| 👍: Exceptional warmth-to-weight ratio | 👎: No internal pockets |
| 👍: Durable & weather resistant shell | 👎: Need to size up for comfort |
| 👍: Comfortable with plenty mobility | |
| 👍: Excellent price point | |
At a Glance:
I was really keen to see how well the Trespass Audrey performed over a particularly cold and windy weekend out on the clifftops on the East coast of Scotland. The first thing that you notice is how light this coat is. For it's longer length, you would expect a bit more of a heavy or bulkier coat, but it's super-light giving the impression that it's been designed with outdoor enthusiasts in mind.
The material felt robust and certainly gave the impression that it would be able to stand up to strong wind and light rain so looking forward to putting the Audrey to the test. Overall, it's an attractive piece of gear.
Under The Microscope - putting the TRESPASS AUDREY COAT through it's paces.
In order to give the Trespass Audrey Coat a thorough testing, we took it out to the clifftops of St Abbs Lighthouse on an incredibly windy, cold yet sunny day and evening.
We put the Trespass Audrey through our rigorous testing criteria to evaluate it's overall performance and functionality, design and craftsmanship, our own user experience and value for money and overall, the Audrey performed solidly across the board giving them an average 4 out of 5 fireside rating.
Under the Microscope - Our Testing Criteria
| Benchmarks | Our Fireside Rating |
| --- | --- |
| Performance and Functionality | 🔥🔥🔥🔥 |
| Design and Craftsmanship | 🔥🔥🔥🔥 |
| User Experience | 🔥🔥🔥🔥 |
| Value for Money | 🔥🔥🔥🔥 |
Performance and Functionality 🔥🔥🔥🔥
The Trespass Audrey performs exceptionally well in the wind and I can truly say this with first hand experience on top of the clifftops in 36mph gusts of wind! Despite the bitingly cold wind, the coat kept me extremely warm and as it does right up to the chin, you don't need a scarf to protect your neck area.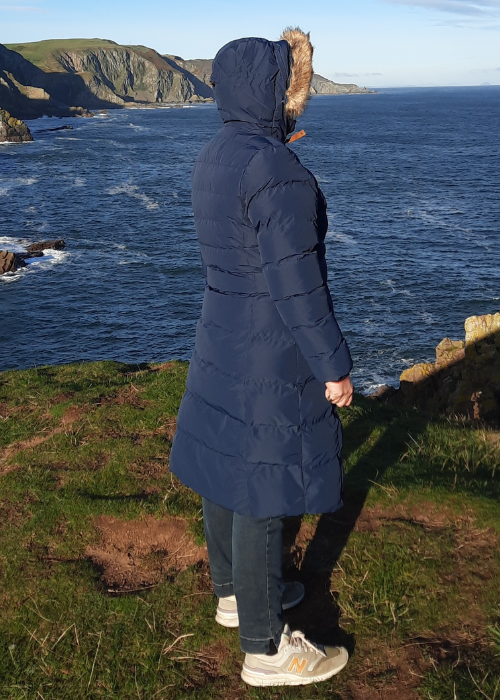 The Audrey uses ColdHeat technology which effectively captures your body heat and helps maintain your body temperature within the coat. It's longer length also adds to it's effective heat control and the Tres-Shield fabric protects you from the wind and light rain.
From a functionality point of view, the Audrey does extremely well. It's comfortable to wear, lightweight and extremely warm. It could do with some internal pockets and if you want to layer up, then you will definitely need a larger size but it's a great all round winter coat.
Design and Craftsmanship🔥🔥🔥🔥
The design of the Audrey coat is fairly simplistic but the fitted waist gives it a bit of flare and sets it apart from other more dull and featureless padded coats. The faux fur trim, which is removable, is a good addition at brightening up this coat and the 2-way zipper makes it so much more practical for when you are driving, sitting or just need to get into your jean pockets!
The pockets, although long are not deep and the fact that there are no internal pockets to store valuables is a design flaw that could easily have been rectified. Having said that, the coat is well made, with attention to detail on the stitching which looks robust and as this is a figure fitting coat, the stitching needs to be reinforced to maintain the longevity of the coat.
User Experience 🔥🔥🔥🔥
Wearing the Trespass Audrey on the clifftops at St. Abbs Lighthouse was a great experience! The wind was pounding and despite the sun shining, the wind chill meant it was around 4° and very brisk. The extra length of the coat gave excellent wind protection on your legs as it provided not only warmth but also comfort and despite the force of the wind, you felt completely cocooned inside this cosy coat.
There was plenty of stretch with the coat and it didn't feel tight or prohibitive in any way. Having said that, I was only wearing a thin base layer and had I been wearing a thick jumper, I think it would have been a tighter fit. I bought one size up from my normal size and there wasn't much room to spare.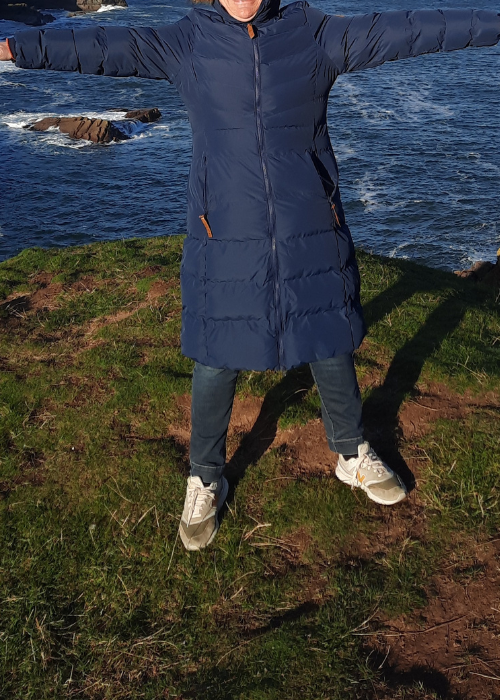 I did notice that although the pockets look quite large, they are not very deep and it was a squeeze to get my phone in and closing the zip. There are no internal pockets which is frustrating as I would have preferred to carry my phone and cards inside the jacket. The wrists are elasticated which is great at keeping cold wind out and the 2-way zipper is handy for when you need to get into your jean pockets without having to undo the coat. All-in-all, a very comfortable and cosy coat.
Comparison 🔥🔥🔥🔥
The Trespass Audrey is fairly simplistic in its design and maybe lacks some of the extras that women's coats within this category take as standard such as internal pockets but when compared in criteria such as warmth and wind proofing, the Audrey gives you great value for money in comparison to the North Face Flare Parka which is double the price.
Value for Money 🔥🔥🔥🔥
The Audrey padded coat is excellent value for money as it combines great functionality and warmth at an affordable price. For a winter coat that works as well in the city as it does on the clifftops and is as light as a feather, you certainly get your moneys worth.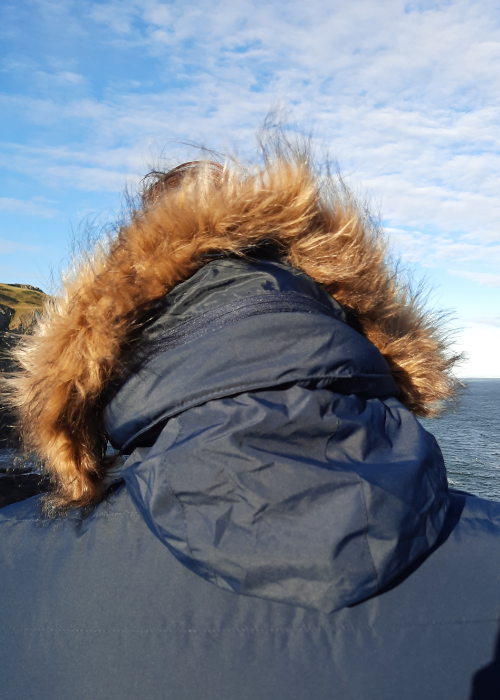 Got some questions about the Trespass Audrey Coat? We've got you covered! Check out these frequently asked questions for valuable insights, tips, and practical information to help you make the most of your Trespass padded jacket.
Is the Trespass Audrey coat waterproof?
The Trespass Audrey coat has a waterproof rating of up to 2000mm so will effectively keep dry during light showers and snow. The fact that it is windproof helps maintain your body temperature when out in the cold.
Is the faux fur trim removable from the hood?
Yes, the faux fur-trim can be detached from the hood if preferred. The hood is also adjustable with a drawstring toggle hidden under a discreet flap at the back of the hood.
Is the Trespass Audrey true to size?
The Trespass Audrey is a fairly tight fitting coat so if you want to wear thick layers underneath, it's best to go one size up.
Our Final Verdict on the TRESPASS AUDREY COAT: 🔥🔥🔥🔥
The Trespass Audrey coat is a great winter coat that will not only keep you super-cosy and dry but is also incredibly lightweight. The figure flattering form of the coat makes this not only a stylish option for city wear but excellent for outdoor activities with it's longer length. It's padded fabric will keep the wind and the rain out and the adjustable hoods makes sure you stay snug in chilly winds. For it's price point, the Audrey coat is a solid investment that won't break the bank but will keep you warm over the winter months.
Remember to visit our website for more information and to explore other camping gear recommendations: Gear Analysis
We independently purchase and test the products displayed. When you purchase through our links, we may earn a small commission.