The Ozark Trail Mummy sleeping bag left us feeling cold, damp and disappointed on a starry summers night on the cliff tops near Fast Castle. With such a unique and wild setting, it could have been perfect but ended up being less than average and certainly wanting more than my sleeping bag had to offer!
A budget, supermarket sleeping bag that lacks the essentials to make it a camping favourite.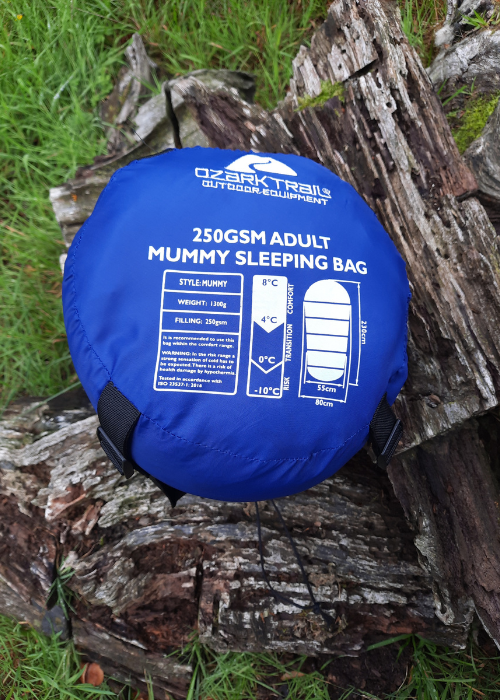 In this comprehensive review, we'll delve into the features, performance, value and our own experience using the Ozark Trail Mummy Sleeping Bag. So let's take a closer look and discover if this sleeping bag will become part of your outdoor gear collection.
Price: £20.00 GBP List 🔥🔥🔥
---
Product Specifications:
OZARK TRAIL 250gsm MUMMY SLEEPING BAG:
Dimensions: 80 cm wide( shoulder) x 55 cm (feet)  x 230 cm long (include 30 cm for hood)
Weight: 1.3 kg
Materials: SHELL - Polyester; LINING - Polyester: FILLING - 250gsm hollow polyester fibre
Style: Mummy
Compression bag: Yes
Temperature Range: 8 degrees C to 4 degrees C
PROS AND CONS - Our Key Takeaways
| OZARK TRAIL MUMMY SLEEPING BAG | 🔥🔥🔥 |
| --- | --- |
| 👍: Reasonable price point | 👎: Bulky and cumbersome |
| 👍: Easy to pack into compression sack | 👎: Very little warmth |
| 👍: Spacious and roomy | 👎: Fabric Rides up and wrinkles when sleeping |
| 👍: Good length zipper | |
At a Glance:
The Ozark Trail Mummy Sleeping Bag is by no means an ultra-light, slimline version of a sleeping bag - this thing is big and bulky and will definitely take up a huge amount of space in a backpack. It's also not particularly light so might be best suited for a car camping excursion.
Once unrolled, it looked spacious and roomy, and the inner liner felt soft. The outer shell felt slightly shiny and slippery which is probably down to the polyester finish so was slightly apprehensive how this would stand up to night temperatures under a tarp or out in the open. We decided to trial it both in and out of the tent as the weather looked lovely and warm over the weekend.
Under The Microscope - putting the Ozark Trail Mummy Sleeping Bag through it's paces.
In order to give this sleeping bag a thorough testing, we trialled it in 2 different tents and also solo on a night under the stars to see how well it would hold up.
We put the Ozark Trail sleeping bag through our rigorous testing criteria to evaluate it's overall performance and functionality, design and construction, our own user experience and value for money and overall, we found the Ozark Trail sleeping bag to be lacking on every level for a camping sleeping bag.  
We ranked 3 out of 5 stars across the board as we found that the sleeping bag didn't excel in any category. For a sleeping bag that is supposed to be used for camping, it was seriously lacking and better served as an indoors sleeping bag.
Under the Microscope - Our Testing Criteria
| Benchmarks | Our Fireside Rating |
| --- | --- |
| Performance and Functionality | 🔥🔥🔥 |
| Design and Construction | 🔥🔥🔥 |
| User Experience | 🔥🔥🔥 |
| Value for Money | 🔥🔥🔥 |
Performance and Functionality 🔥🔥🔥
How  does the Ozark Trail Sleeping Bag performs under various camping conditions?
The Ozark Trail Mummy sleeping bag worked best inside the Ozark Trial 2 person tent. We used a sleeping bag liner for extra warmth and comfort and this seemed to help maintain the warmth much better than without. We made sure that on all 3 occasions, we were using a sleeping mat in order to give the sleeping bag the best platform to work on.
This sleeping bag is functional in terms that the zipper runs smoothly, the drawstring hood works and helps maintain some heat, but this is not a sleeping bag meant for the outdoors, or certainly not outdoors in Scotland!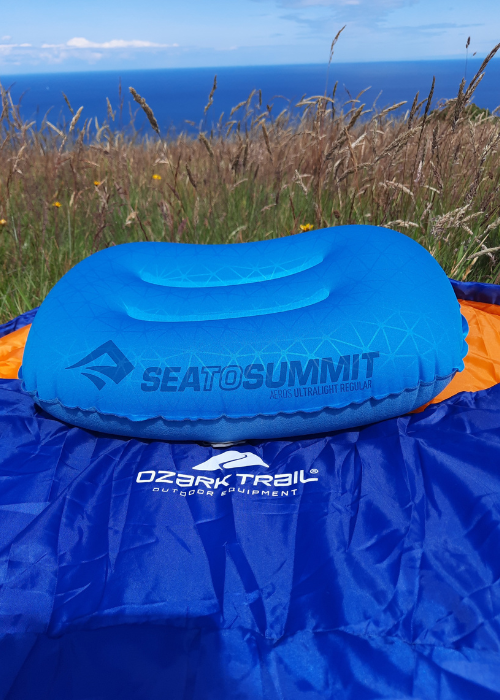 Design and Construction 🔥🔥🔥
The Ozark Trail Mummy sleeping bag is a bulky, heavy sleeping bag that does not boast any of the bells and whistles of it's more expensive counterparts. In truth, it doesn't try to be anything more than a standard sleeping bag but it's certainly not meant to be used outdoors unless you're mucking around in the garden on a really warm summers evening.
The sleeping bag is made from polyester and because there are no natural fibres in it's construction, it lacks the ability to naturally retain warmth and wick away moisture which leaves you in a rather damp and cold sleeping bag!
User Experience 🔥🔥🔥
We tried the Ozark Trail sleeping bag in 3 different locations, with 2 different tents and one night out under the stars to really give it a chance. It performed best in the Ozark Trail 2 person tent as we popped a Trespass sleeping bag liner in to give an extra layer of warmth and comfort.
Out in the open, on the cliff tops on the East coast of Scotland, although it was warm during the night, probably around 13 - 14 degrees C, I woke in the middle of the night to find that the sleeping bag was damp and cold and even though I popped a couple of blankets over the top, it never really warmed up again.
Although the sleeping bag is spacious, it rides up and gets caught under you, making it difficult to find a comfy position and leads to lots of wriggling around. This is becomes even more compounded when you add a sleeping bag liner into the mix!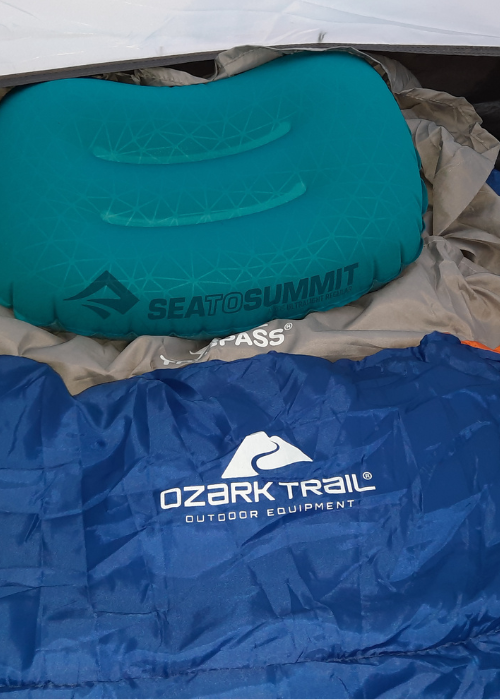 On the plus side, the zipper ran smoothly, without snagging and the drawstring hood helped keep the warmth in, but this sleeping bag is not made for colder weather and I don't think I would even risk it over the autumn months and certainly not without a shelter.
Comparison 🔥🔥🔥
How does the Ozark Trail Sleeping Bag stack up against similar options in the market?
Not particularly well! The cheaper fabrics fail to inspire confidence in the longevity of the sleeping bag and although it looks pretty decent, it feels cheap. Outdoors, it doesn't offer you the protection you need or want and it's also quite large and bulky to carry around. There are plenty options out there, that offer a superior sleeping bag that are comparable in price such as the Vango Saturn Outdoor Sleeping Bag that are worth considering.
Value for Money 🔥🔥🔥
Is the Ozark Trail Sleeping Bag a worthwhile investment?
Considering its reasonable price point, the Ozark Trail sleeping bag offers okay value for money if you were to use this in a caravan or motor home for example. It would also work well indoors as a back up for when your kids friends come to stay over. If using it as a sleeping bag for either wild camping or tent camping, it doesn't really hit the mark and there are plenty other options on the market that offer more for just a couple of quid more.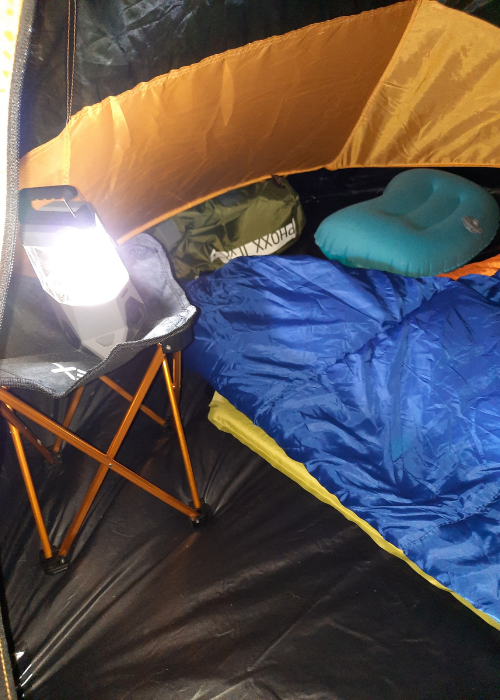 Got some questions about the Ozark Trail Mummy Sleeping Bag? We've got you covered! Check out these frequently asked questions for valuable insights, tips, and practical information to help you make the most of your Ozark Trail Sleeping Bag.
Can I use the Ozark Trail 250gsm sleeping bag for winter camping?
The Ozark Trail 250gsm is really meant as a 2 season sleeping bag - at a push 3 season but we would not recommend this for the depths of winter. It's best during spring and end of summer. It's optimal temperature range is from 8 degrees celcius to 4 degrees celcius.
Is the Ozark Trail Mummy sleeping bag suitable for tall individuals?
Our tallest tester was 6 ft 1" and he found the Ozark Trail Mummy sleeping bag accommodated his height well and that it was fairly spacious. Having the extra 30cm for the hood comes in handy.
Does it come with a stuff sack for easier packing?
The Ozark Trail sleeping bag comes with a compression sack to make packing easier. The sleeping bag is still fairly large and is by no means ultra light.
Our Final Verdict on the OZARK TRAIL 250GSM MUMMY SLEEPING BAG: 🔥🔥🔥
We found that the Ozark Trail Mummy sleeping bag ended up being just average and no more. We weren't expecting miracles at the reasonable price point, but we were expecting to be able to use it outdoors, especially during the summer months, but it lacked in warmth and comfort and ultimately in durability.
This may be an option for those looking for a sleeping bag that can be used mostly indoors such as caravans or motor homes, or even at sleep overs but for camping outdoors, or wild camping, this sleeping bag will leave you wanting so much more and reaching for extra blankets.  
Remember to visit our website for more information and to explore other camping gear recommendations: Sleeping Bags
We independently purchase and test the products displayed. When you purchase through our links, we may earn a small commission.