Are you tired of waking up with a stiff neck after a night under the stars? Look no further! The Sea to Summit Aeros Ultralight Camping Pillow is designed to provide a restful sleep on the go, making it the ideal companion for any camper, hiker or backpacker looking to minimise space and weight but still have the comfort of a soft pillow at the end of the day.
An ultralight pillow solution giving you comfort in the wild.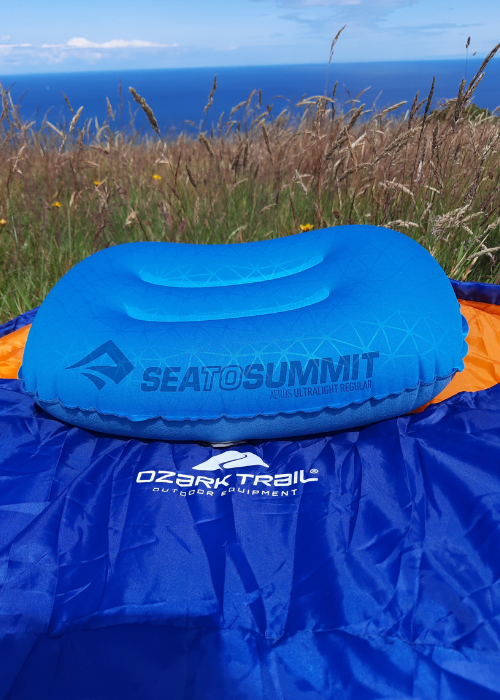 In this comprehensive review, we'll delve into the features, performance, value and our own experience using the Sea to Summit Aeros Ultralight Regular Pillow. So let's take a closer look and discover if the Aeros Ultralight really does give you a great night's sleep!
Price: £32.00 GBP List 🔥🔥🔥
---
Product Specifications:
SEA TO SUMMIT AEROS ULTRALIGHT REGULAR PILLOW:
Weight: 60 g
Dimensions: 36 x 26 x 12 cm
Materials: 20D Polyester
Valve: Inflate/Deflate Valve
Model: Inflate
Stuff Sack: Yes, with loop handle
PROS AND CONS - Our Key Takeaways
| Sea to Summit AEROS Pillow | 🔥🔥🔥🔥🔥 |
| --- | --- |
| 👍: Ultralight, compact and handy | 👎:Some may prefer traditional shaped pillows |
| 👍: Soft and comfortable fabric | 👎: Slight noise when moving |
| 👍: Easy to inflate/deflate | 👎:Higher price point |
| 👍: Able to adjust firmness | |
At a Glance:
Our initial encounter with the Sea to Summit AEROS Ultralight Camping Pillow left us mightily impressed with its compactness and lightweight design. It easily fit into our backpacks without adding unnecessary weight or taking up any space and it could easily be hung from a carabiner clip from your rucksack if preferred. We chose the regular size which suited our needs best but there is a larger size and also a more traditional shaped pillow in the Ultralight range.
As is the norm with Sea to Summit Outdoor equipment, the fabric looked to be high quality. With extra features such as the curved baffles that create natural contours to help cradle your head and the scalloped bottom edge to shape naturally round your shoulders, we were really looked forward to giving this a try under the stars.
Under The Microscope - putting the Sea to Summit Aeros Ultralight Pillow through it's paces.
In order to give the Aeros a thorough testing, we took it out for the night to the sea cliff-tops near Fast Castle made famous by Sir Walter Scott's description of "Wolf's Crag" and despite the strong easterly breeze and a fair amount of drizzle, it gave me an incredibly comfortable night's sleep.
We put the inflatable through our rigorous testing criteria to evaluate it's overall performance and functionality, design and construction, our own user experience and value for money and overall, the Aeros Ultralight performed extremely well giving them a 4 and a half out of 5 fireside rating.
We ranked Value for Money as a 4 only because the Aeros carries a higher price point that some of it's competitors on the market. Everything else was a straight 5 as the pillow performed exceptionally well under the various criteria.
Under the Microscope - Our Testing Criteria
| Benchmarks | Our Fireside Rating |
| --- | --- |
| Performance and Functionality | 🔥🔥🔥🔥🔥 |
| Design and Construction | 🔥🔥🔥🔥🔥 |
| User Experience | 🔥🔥🔥🔥🔥 |
| Value for Money | 🔥🔥🔥🔥 |
Performance and Functionality
The Aeros Ultralight is a functional as they come. A couple of breaths and the pillow is up and ready to go and more importantly, it doesn't require any topping up in the night to maintain it's firmness. The pillow can be adjusted to get the right loft for your preferred sleeping position which gives great support and comfort.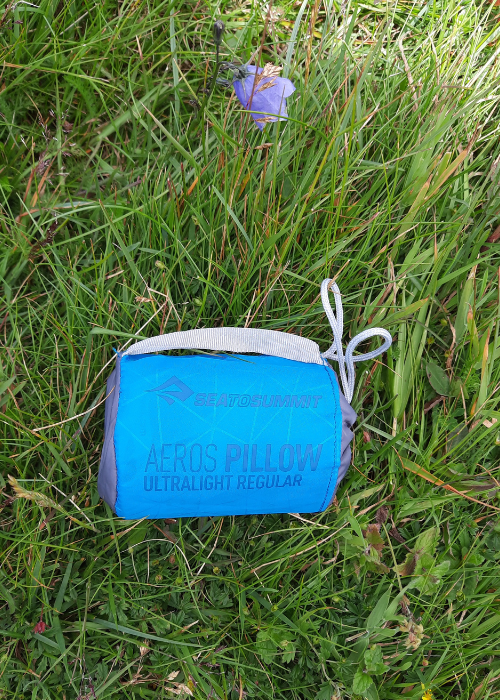 The Aeros performed extremely well on it's own within a mummy shaped sleeping bag, without the support of the PillowLock System but we would recommend pairing this with one of Sea to Summits sleeping pads if using an envelope styled sleeping bag as the PillowLock Patches will give you the traction for a slip-free sleep.
Design and Construction
The design of the Sea to Summit AEROS Ultralight Camping Pillow proved to be incredibly functional and easy to use and made for a very attractive looking pillow. The vibrant colours that Sea to Summit offer makes this a really good looking piece of equipment that more importantly fulfils the function its built for.
The Aeros is a great choice for those looking for a camping pillow that offers neck and shoulder support and superior loft for side sleepers. It can be quickly and easily inflated and deflated with the mini dual valve and you can adjust the firmness of the pillow to your own liking which always aids a good nights sleep. It takes a couple of seconds to deflate and push the air out and then it pops back into it's stuff sack by simply rolling it back up.
The pillow has a soft brushed knit exterior which makes it comfortable, and it doesn't get too hot either - not that that's a major issue in Scotland but a cool pillow makes a difference! And for those of us that like to keep our pillows in place, the Sea to Summit Aeros  can be paired with Sea to Summit Sleeping pads that have Pillow Lock patches to make sure that your pillow doesn't push out from under you during the night.
User Experience
One of the most attractive things about the Aeros pillow is how small and compact it is. You could literally lose this in your rucksack as it takes up next to no space and weighs all of 60 grams. It comes in a handy stuff sack with a loop handle and a toggle to keep the bag as tight as possible.
The Aeros Ultralight pillow takes seconds to inflate - 4 breaths and it's up and ready to go which makes such a difference when you're setting up camp and ready to crawl into your sleeping bag. We found that the Aeros sat really well at the nape of your neck, giving great support but not overly bouncy, so your neck didn't feel too stretched. The scalloped bottom edge centres the pillow to sit over your shoulders which again gives great support to the neck.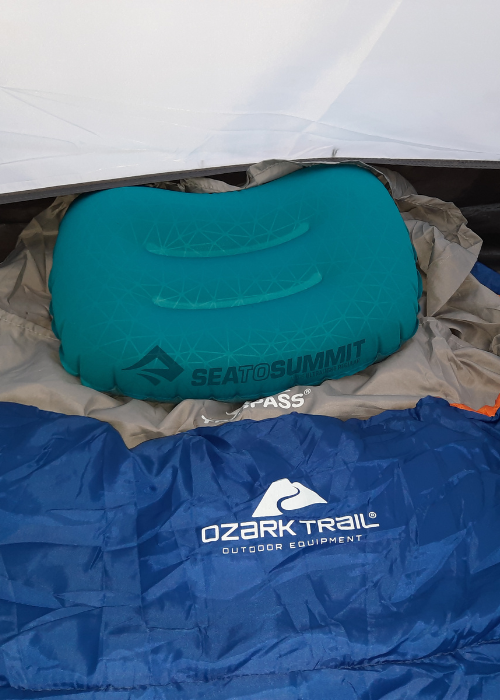 I used the Aeros inside a mummy-shaped sleeping bag liner and sleeping bag, and found that once I was zipped in and snuggled up, the Aeros didn't slip out from under me or move around much. There was a slight noise when turning over but nothing that caused any major issues and I woke up well rested (as well rested as you can with sea gulls singing the dawn chorus!) and with no sore or stiff neck.
Comparison
We took both the Sea to Summit Aeros and the Trekmates AirLite Pillow to test for a night out on the cliff tops as both were similar in costing, size, model etc and both performed exceptionally well, with the Aeros ever so slightly ahead on the comfort level and the fact that it packs down to such a small package. Don't get me wrong, the AirLite from Trekmates is only fractionally bigger, but every gram counts which is why the Aeros is such a good buy for weight-conscious backpackers and campers.  
Value for Money
The Sea to Summit AEROS Ultralight Camping Pillow is by no means the cheapest on the market. There are a plethora of other inflatable camping pillows out there but very few of them actually give you a comfortable, well built and durable pillow. Compared to basic inflatable pillows, the Aeros is an absolute Goliath in our book, as it stays inflated, is soft against your skin, is tiny so you barely notice the weight, doesn't get too hot and leaves you feeling rested in the morning.  All of this combined, make it well worth the money and we're sure that this will be a regular on our camping trips to come.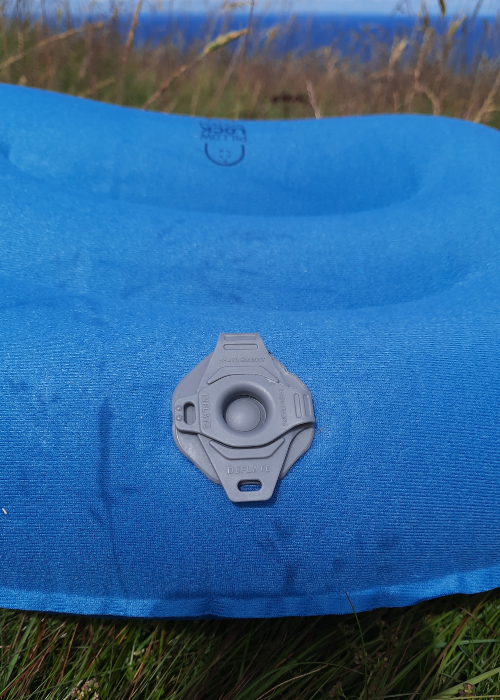 Got some questions about the Sea to Summit Aeros Pillow? We've got you covered! Check out these frequently asked questions for valuable insights, tips, and practical information to help you make the most of your camping pillow.
Is the Sea to Summit Aeros Pillow suitable for side-sleepers?
Yes, the pillow's adjustable firmness with the inflate/deflate valve allows side sleepers to find a comfortable level of support for their head and neck. You can add or release air to customise the pillow's thickness based on your sleeping position.
Does the Sea to Summit Aeros Pillow move when you sleep?
All of the Sea to Summit Pillow range come with a "Pillow Lock System" which allows you to secure your pillow to your sleeping mat to prevent slipping. The Pillow Lock patches are standard on all the Sea to Summit sleeping mats but many other brands have a similar set up.
How long does it take to blow up the Sea to Summit Aeros Pillow?
It takes about 4 seconds to blow up the Aeros Regular pillow with probably as many breaths and it takes about the same time to deflate the pillow. The whole process is super-fast and easy to do.
Our Final Verdict on the SEA TO SUMMIT AEROS ULTRALIGHT PILLOW:
The Sea to Summit AEROS Ultralight Camping Pillow is the perfect choice for campers and backpackers looking for a reliable, well built and durable pillow that is not only comfortable but takes minimal space in your rucksack. Whether you use it paired with any of the Sea to Summit sleeping pads or solo in your mummy sleeping bag, this little bundle makes the difference between a good and a great nights sleep under the stars!
Remember to visit our website for more information and to explore other camping gear recommendations: Camping Pillows.
We independently purchase and test the products displayed. When you purchase through our links, we may earn a small commission.