It's very springy - so much so, that I rolled right off it the first time I laid down - this is an age thing and not a reflection on the product itself!
It certainly seemed to amuse my son, who snorted with laughter as he tried to pick me back off the grass. My fault, as I thought I would try it out on the lush grass in the field below the ruins of Cessford Castle in the Scottish Borders, and was maybe too enthusiastic in my approach to lying on this extremely comfortable sleeping pad!
BEST FOR: Spring and Summer camping and backpacking, car camping, festival goers
The Trekology UL80 is an ultra light foldable bed rolled up into an impressively small and packable gear bag. It's perfect for summer and spring hiking or camping trips and pairs well with the Trekology Aluft inflatable pillow or the Therm-a-Rest compressible camp pillow to give a really good night sleep outdoors.
Let's dive in and see if this is your perfect sleeping pad for all your outdoor adventures!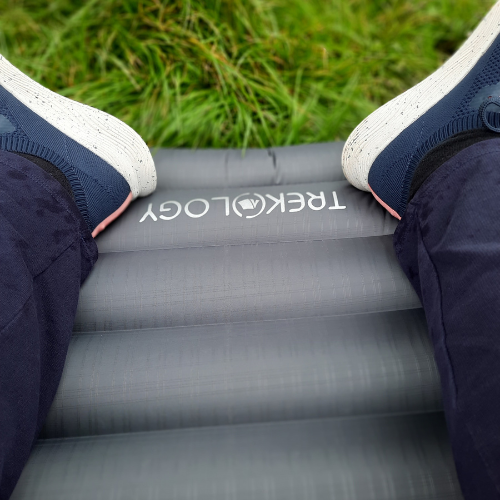 MATERIAL/ WEATHERPROOFING:
The Trekology UL80 inflatable sleeping pad is constructed from a tough, 40D RipStop nylon fabric which feels puncture-resistant and durable. There are puncture patches included but overall, we felt that the UL80 was heavy duty enough and performed extremely well on some pretty rocky terrain and would hold up against even the most challenging uneven camp floor.
If it can survive 2 small West Highland terriers jumping all over it and digging their nails in along with our 4 year old son who seemed to enjoy stabbing his fork repeatedly into it to see if it would burst, then it's good to go!
This camping air mattress has a premium water resistant coating and it held up well against the dew soaked grass underneath. The wet grass didn't seem to make much impact and we certainly didn't feel that the cold travelled through the sleeping pad in any way.
The UL80 inflatable sleeping mat is not insulated, and doesn't claim to be, and although this isn't a deal breaker for us, (we found our sleeping bag and a rug to be sufficient), this sleeping mattress is made more for spring and summer camping than for using during the depths of winter. With a R value of 1.6 - 2, it's better suited to warmer weather trips.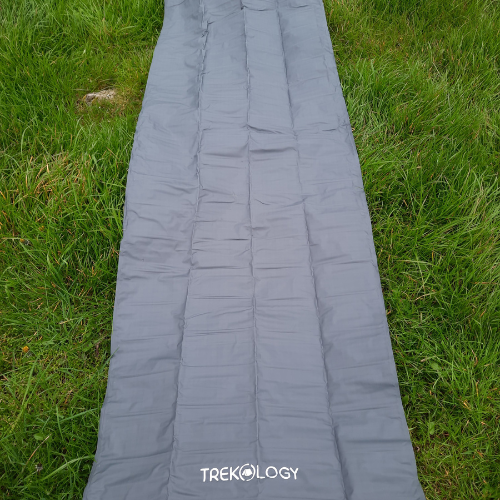 COMFORT AND LOFT:
We placed the UL80 camping mat directly onto the grass which had grown over some of the fallen stonework of the castle, to really put the UL80 through it's paces. And sure enough - it did it's job, absorbing pressure across the whole body and cushioning us from the bumpy and uneven ground below to give a great night sleep.
The comfort of this camping sleeping mat is down to it's extremely generous 4"  lofty thickness - it cuddles and cradles you, giving great support, and although a little bouncy, it can be easily adjusted to suit your needs if you prefer a less firm mattress.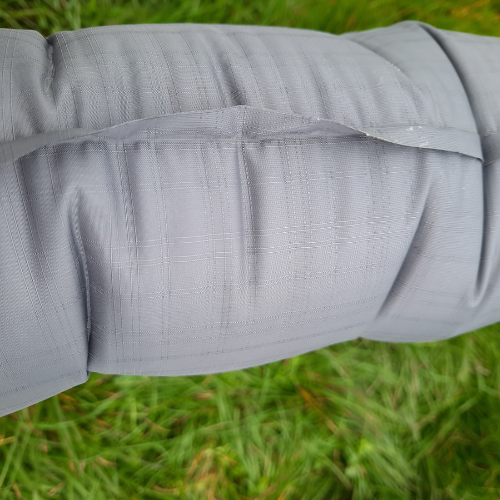 The UL80 is built with a "curved construction" which is intended to keep you from rolling off the sleeping mat and is also an impressive 75" long to cater for those who need the extra legroom. We used a couple of foam pillows for the kids to give a bit of extra comfort.
INFLATE/DEFLATE:
The Trekology UL80 has an enlarged air valve for a quick-ish inflate and a very quick deflate. We opted not to buy the pump sack and although it would have been handy, if you were on an extended hiking or camping trip for example, we had this sleeping pad fully inflated in a couple of minutes, which worked fine for a quick weekend get away.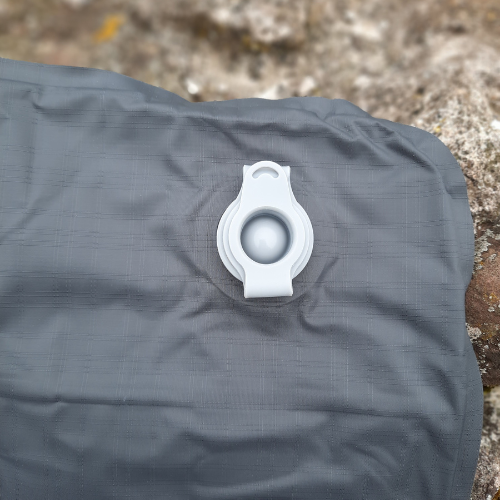 The UL80 can be purchased with a pump sack but works equally well with any standard electronic pumps if you feel it would be a welcome addition!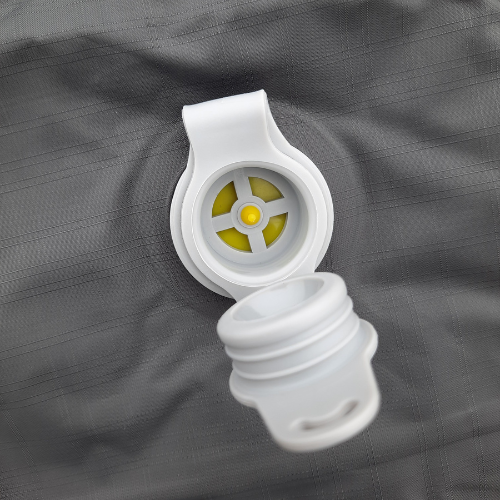 The second valve allows for a really rapid deflate as you just push the air out while folding down the air mattress  back into the decent sized carrying bag. The one-way valve allows for adjustments to the firmness of the sleeping mat, depending on how you sleep, and being a side-sleeper, I found it to be the perfect mat to give full body support.
WHAT WORKS FOR US:
solid support for side, back and front sleepers
well protected from cold and uneven grounds
handy band which makes it easy to pack away
inflates to 4 inches thick
lightweight
practical for backpacking as packs down small
curved construction to cradle your body when sleeping
heavy duty mat
deflates quickly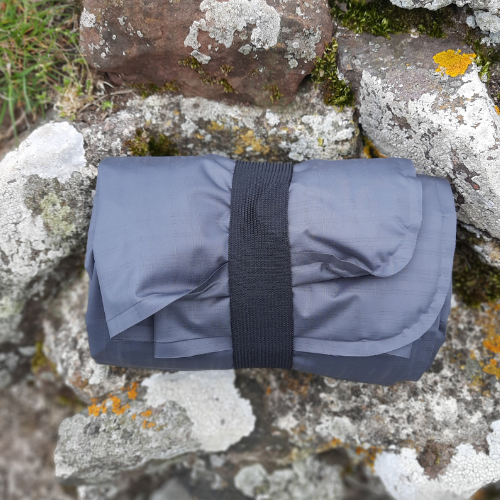 WHAT NEEDS IMPROVED UPON:
not very warm
pump sack not included
quite bouncy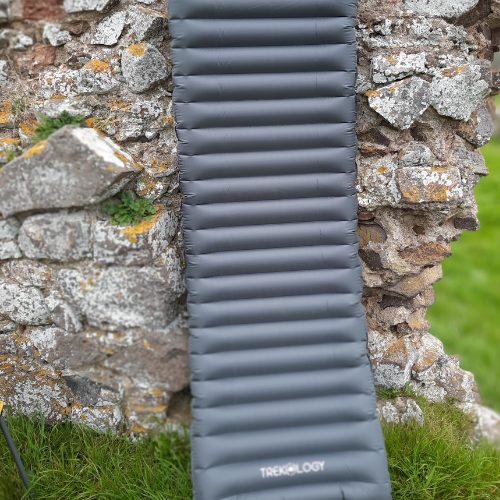 WHAT YOU NEED TO KNOW:
MATERIAL: 40D RipStop Nylon
WEIGHT: 750 g
LENGTH: 75 inches (190 cm)
PAD THICKNESS: 4 inches (10 cm)
PUMP SACK: No, but can be purchased separately
STUFF SACK: Yes
PATCHES: Yes
FINAL VERDICT ON THE TREKOLOGY UL80 SLEEPING PAD
Trekology make some truly great backpacking gear and the UL80 inflatable camping mat is no exception. As camping mats go, this ultra durable, extremely lightweight sleeping mat fits the bill on so many levels. Its compact size makes it a practical option for backpackers looking to minimise space and weight but it also caters to families looking for a little extra comfort and due to it's thickness, it keeps you well off the cold, wet ground.
The quality of the fabric and it's durability far exceed it's price point making it extremely good value for money, and we will most definitely be bringing it along as part of our camp sleep system!