Are you in search of a reliable camping chair that combines comfort and durability but is also exceptional value? Look no further! The Ozark Trail Comfort Camping Chair gives you a versatile and portable seating solution for those looking for an affordable option whether embarking on a weekend camping trip or just enjoying some quiet time in the garden.
A reliable, solid and affordable camping chair that combines comfort and durability.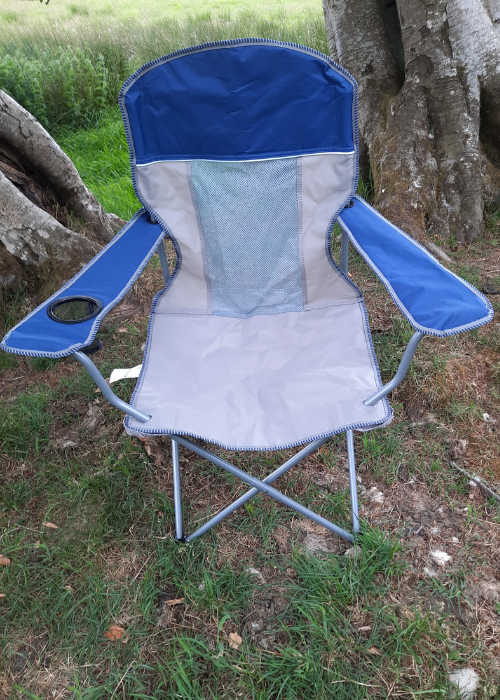 In this comprehensive review, we'll delve into the features, performance, value and our own experience using the Ozark Trail Comfort Camping Chair. So let's take a closer look and discover if the "Comfort Camping Chair" is exactly that!
Price: £14.00 GBP List 🔥🔥🔥🔥🔥
---
Product Specifications:
OZARK TRAIL COMFORT CAMPING CHAIR:
Weight: 2.3 kg
Dimensions: 81.5 x 52 x 96.5 cm
Materials: Aluminium frame, polyester fabric with mesh back panel
Weight capacity: Up to 100 kg
Cup Holder: Yes
Carry Sack: Yes, with loop handle
PROS AND CONS - Our Key Takeaways
| Ozark Trail Comfort Camping Chair | 🔥🔥🔥🔥 |
| --- | --- |
| 👍: Sturdy and solid construction | 👎:Heavy for long hikes |
| 👍: Excellent weight capacity | 👎: Limited additional features |
| 👍: Great value for the price | 👎:Bulky when folded up |
| 👍: Easy to set up and pack down | |
At a Glance:
The Ozark Trail Comfort Camping Chair comes neatly packaged in it's carrying bag with a loop handle so you can easily pop it over your shoulder which makes it easy to transport from car to camp. It might prove more challenging to transport over rough terrain or for long periods of time as it is a larger piece of equipment and this should be taken into account before deciding if it's the right fit for your trip.
On first inspection, it's quite a long chair compared to some of the others we tested, measuring 96.5 cm, and this is due to the extra long back panel reaching up to neck and head height which allows you to relax back into the chair which is a great added bonus. The steel frame is robust and well built, with a deep seat for relaxing in front of the campfire or for just watching the world go by in the back garden.  
Overall, our first impressions were positive and this has been borne out as the Ozark Trail has stayed in the garden for the last two weeks and is perfect to relax into at the end of the day or while waiting for the burgers to cook on the BBQ.
Under The Microscope - putting the Ozark Trail Comfort Camping Chair through it's paces.
In order to give the Ozark Trail Camping chair a thorough testing, we took it out to the base of the Lammermuir hills on a breezy, overcast afternoon to see how it would fare.
We put the chair through our rigorous testing criteria to evaluate it's overall performance and functionality, design and construction, our own user experience and value for money and overall, the Ozark Trail Comfort performed extremely well under some benchmarks and less well under others giving them a 4 out of 5 fireside rating.
We ranked Value for Money as a 5 as this really is exceptional value considering the the build and comfort of the chair. It ranked less well on Design and also under Performance simply due to the fact that it's slightly bulky and large to carry over long distances - not perfect for hiking but just the ticket for camping.
Under the Microscope - Our Testing Criteria
| Benchmarks | Our Fireside Rating |
| --- | --- |
| Performance and Functionality | 🔥🔥🔥 |
| Design and Construction | 🔥🔥🔥 |
| User Experience | 🔥🔥🔥🔥 |
| Value for Money | 🔥🔥🔥🔥🔥 |
Performance and Functionality
Ozark Trail Outdoor Equipment is fairly new on the UK market and is mostly sold in Asda, the UK version of Walmart. For a supermarket brand, the Ozark Trail Outdoor Equipment series offers great value with good quality products and a large range of camping essentials available from tents to sleeping bags.
From a performance point of view, we were really impressed at how comfortable the Ozark Trail Chair was, especially for our tallest tester at over 6 ft who struggles to find a camping chair where his knees are not up to his ears so he was pleasantly surprised to see how well he could recline in this chair.
The chair is simple to use and functional, without all the bells and whistles of some of the more luxurious models out there. The frame is robust and both the arms and frame are sturdy enough to push yourself up from.
As we don't traditionally have very warm summers in Scotland, it was difficult to judge how well the mesh panel would have cooled you down but one thing we are never short of is rain, and the mesh panel certainly helped dry out the chair much quicker!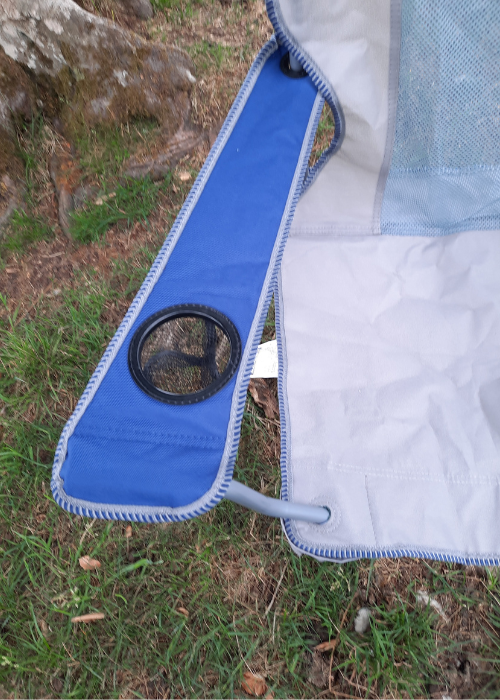 Design and Construction
The Ozark Trail Camp Chair follows a similar model to most other standard camping chairs and is similar in size and standard features. The construction of the Comfort Chair is very solid and robust and this is reflected in the weight of the chair.
One of the best features is the longer back panel which reaches up to the neck and allows for you to tip your head back and rest it on the lightly cushioned area for extra relaxation. We also found that this extra head area gave the chair a more secure feeling and gave you confidence to lean back into the chair. The chair is longer and bulkier as a result of this, but if the main use of this chair is for the garden, outdoor picnics or spending time camping, then it's the perfect choice.  
User Experience
Setting up the Ozark Trail Camping Chair, like most traditional models of camp chair, is a simple pull out and extend which takes seconds. The frame felt robust and the legs sat securely on the ground to give stability, despite the small tree roots on our camp site.
The seat was generous and fairly deep so you can push pack into the chair and enjoy the extra long back panel which gives cushioning to your head - perfect for when you want to catch some sun and relax. The mesh panel will be a useful addition for warmer days when ventilation is key, but not necessary on a rather cloudy Scottish afternoon.
The cup holder was a bonus and would fit the majority of standard water bottles, cans and thermos flasks. There is no additional storage or a second cup holder but for the low price point, I wouldn't have expected that nor is it needed.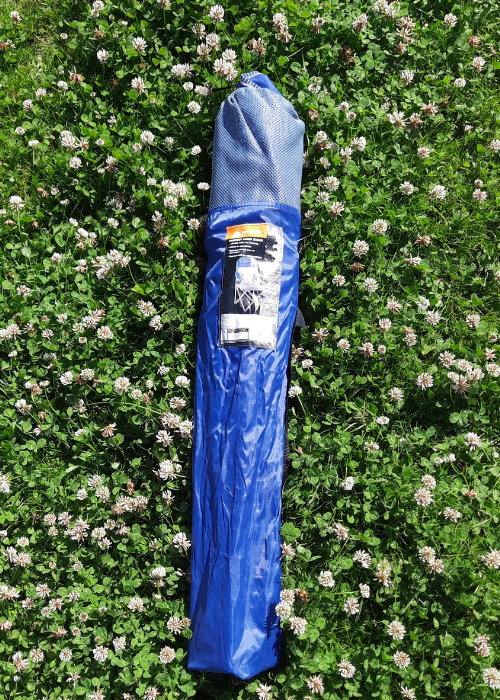 The wide and deep seat allowed for plenty of shifting around until the perfect position was found and the arm rests gave plenty of support. The chair proved to be comfortable even well into the late evening so an excellent choice for round the campfire.
Comparison
Compared to similar camping chairs on the market, the Ozark Trail Camping Chair stands out for it's exceptional value for money. The chair doesn't have all the features and comfort that some of the more expensive brands carry such as the Nemo Stargaze, nor is it as light weight as the OEX Ultra Lite Chair, but its a reliable, robust, all-round solid chair which provides excellent value for its price point.
Value for Money
There is no doubt that the Ozark Trail Camping chair offers exceptional value for its price. At only £14.oo, this chair is a no-brainer as it offers a decent level of comfort and a solid, robust frame that will see you through many a camping trip. This is perfect for those looking for a budget camping chair that doesn't break the bank but that proves reliable and functional.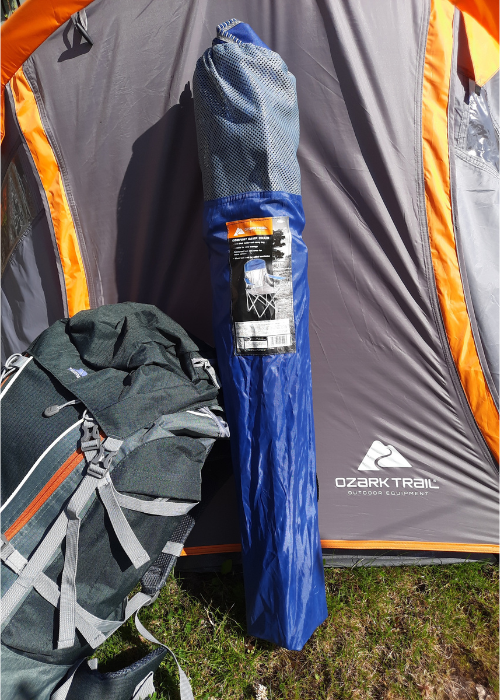 Got some questions about the Ozark Trail Comfort Camping Chair? We've got you covered! Check out these frequently asked questions for valuable insights, tips, and practical information to help you make the most of your camping chair.
Can I use the Ozark Trail Comfort Camping Chair for backpacking trips?
I would find it challenging to carry this chair long distances with a backpack and all my other kit. It is much longer than other chairs and although it's not particularly heavy, it's slightly bulky and not as portable as the OEX Ultra Lite Camping Chair for example.
Is the Ozark Trail Comfort Camping Chair suitable for tall individuals?
It's perfect for tall individuals due to the longer back and head rest panel which gives stability and ample back support to the chair. The wide seating area makes it comfortable for users of all heights and everyone can benefit from the longer back panel.
Can I use the Ozark Trail Camping Chair for other activities such as fishing?
The Ozark Trail Camping Chair is perfect for other outdoor activities such as fishing as it gives you a decent level of comfort over extended periods. It's a great option for picnics in the countryside or a day at the lakeside.
Our Final Verdict on the OZARK TRAIL COMFORT CAMPING CHAIR:
The Ozark Trail Comfort Camping Chair does live up to it's name! With a generous seat and extra back support, the Comfort Chair is actually quite comfortable!
Although not luxurious, we appreciate how simple and functional the chair is and this makes it a perfect option for those on a budget who don't want to break the bank but want a reliable and versatile outdoor chair. It's sturdy build, combined with a generous weight capacity and a longer back panel for extra support, make this a solid option for all age groups as it's simple to set up and fairly portable. While it may be slightly heavier and bulkier than others, its performance and value for money outweigh any minor drawbacks.
Remember to visit our website for more information and to explore other camping gear recommendations: Camping Chairs.
We independently purchase and test the products displayed. When you purchase through our links, we may earn a small commission.