Are you tired of uncomfortable camping chairs that leave you longing for a better option? Look no further! The Hi Gear Vegas XL Camp Chair is here to revolutionise your outdoor adventures.  Discover why this chair is a firm favourite among camping enthusiasts, those who enjoy chilling out in the garden on a summers evening and anyone who likes a really deep, comfortable outdoor chair.
The Hi Gear Vegas XL Camp Chair is the perfect companion for outdoor enthusiasts who crave comfort and convenience during their camping trips.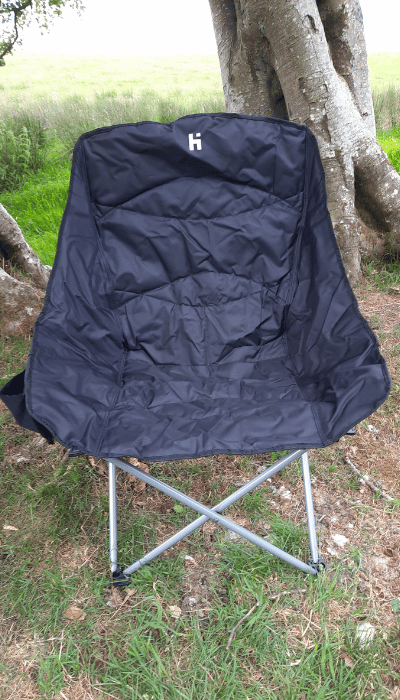 In this comprehensive review, we take a closer look at the Hi Gear Vegas XL Camping Chair and explore its features, benefits, and overall performance. So, let's dive in and discover why the Hi Gear Vegas XL Camping Chair could be the ideal companion for your outdoor adventures.
Product Specifications:
The no-nonsense Hi Gear Vegas XL Camping Chair key specifications:
Dimensions: 67 cm x 74 cm x 103 cm
Weight: 3.8 kg
Material: Alloy steel with quilted fabric
Weight Capacity: 120 kg
Cup Holder: Yes - built within the side pocket
Side Pocket: Yes
Pros And Cons - our Key Takeaways
| Hi Gear Vegas XL Camping Chair | 🔥🔥🔥🔥 |
| --- | --- |
| 👍: Sturdy and durable construction | 👎: Bulky and heavy for backpacking |
| 👍: Comfortable seating with a slightly reclined backrest | 👎: Cup holder could be larger |
| 👍: Easy to set up and fold down | 👎: Limited color options |
| 👍: Convenient side pocket and cup holder | |
At a Glance:
The Hi Gear Vegas XL Camping Chair comes well packed in a handy and durable carry sack with a sturdy carry loop. It sits easily on your shoulder for carrying and for an XL sized chair, it's reasonably light.
Once opened up, this bucket style camping chair has a solid build quality, made with a strong steel frame that inspires confidence in its durability. The design is functional and un-fussy, with sturdy legs giving plenty of support.  The seat was quilted which gave a padded feel, and although a little crinkly, it was a firm favourite around the fire.
The Vegas XL would be at home on a camping trip, a picnic in the countryside or an afternoon at the beach .
Overall, our first impressions were highly positive and this was validated having spent the evening curled up, Buddha style with the dog and a blanket over my knees!
Under The Microscope - putting the Vegas XL through it's paces.
In order to give the Vegas XL a thorough testing, we took the chair out to the lower foothills of the Lammermuirs to see how well the chair would stand up to the rigours of a fairly breezy and overcast afternoon with a touch of rain forecast for the evening.
We put the chair through our rigorous testing criteria to evaluate it's overall performance and functionality, design and construction, our own user experience and value for money and overall, the Vegas XL performed well on all 4 benchmarks giving them a 4 out of 5 fireside rating.
Under the Microscope - Our Testing Criteria Roundup
| Benchmarks | Our Fireside Rating |
| --- | --- |
| Performance and Functionality | 🔥🔥🔥🔥 |
| Design and Construction | 🔥🔥🔥🔥 |
| User Experience | 🔥🔥🔥🔥 |
| Value for Money | 🔥🔥🔥🔥 |
Performance and Functionality
The Hi Gear Vegas XL is a no-nonsense, no-frills camp chair that offers space, comfort and a decent seat for relaxing at the beach, in the countryside, round the campfire or just in the garden.
It's simple and easy to use to fold out and fold back up and comes in a functional carry sack with a sturdy carry loop. The Vegas XL weighs 3.8 kgs so this is not an ultra lightweight chair and carrying it long distances would be challenging, as it is bulky to carry,  but it works perfectly as a campsite or picnic chair.
The Vegas XL held up well with all our testers, ranging from 6 ft 1 and lightweight to a sturdier 5 ft 6 and 95 kgs. The chair felt solid and secure and didn't tip or move on uneven ground which allows you to fully relax.
Design and Construction
The design of the Hi Gear Vegas XL Camping Chair is all about functionality and comfort with just a cursory nod to aesthetics. Where it scores well is in the deep "bucket" seat that it offers rather than a plethora of extra features.
With one side pouch, which acts as a pocket and a cup-holder, you can see why the Vegas XL is so reasonably priced. Having said that, the higher backrest combined with the deeper seat allows you to fully recline and push back into the chair, giving a really comfortable seat and it's one of those chairs that allows you to curl your legs up and get cosy under the blanket.
The chair's robust build, using high-quality materials, gives you a sense of stability that the chair is grounded and not liable to tip backwards. The durable fabric resists wear and tear, making it suitable for frequent use and it's easy to wash down and keep clean - that includes tomato ketchup squeezed out a hot-dog roll.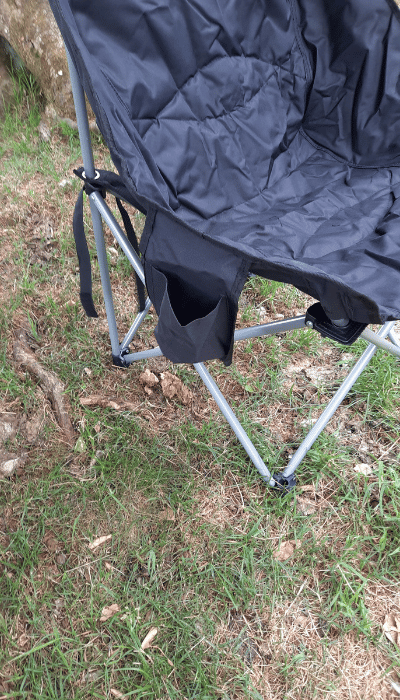 User Experience
Using the Hi Gear Vegas XL Camping Chair for the first time out wild camping, gave us a good indication on comfort, ease of use and how it felt to carry the chair to our chosen camp spot.
Once set up,  the chair was quickly snapped up by our 5 year old as it became a "throne" and, true enough, there is plenty of space in this chair for a little one to fully snuggle up. Due to the deep bucket seat, it felt comfortable even after a few hours and there was space to wriggle until you found your perfect position.
While using the chair, we did not encounter any significant challenges or issues. However, it's worth noting that due to its size and weight, the Hi Gear Vegas XL may not be the ideal choice for backpacking trips or situations where lightweight gear is essential.
Comparison
When compared to similar camping chairs in the market, the Hi Gear Vegas XL stands out in terms of comfort, and overall value.  For a low-cost, non-luxury camping chair, it certainly holds it's place in the camping chair market. Other brands come with more features such as extra pockets and cup holders and are less bulky than the Vegas XL, but it makes up for this with an attractive price and a solid, comfortable chair that will last.
Value for Money
Considering its performance, practical design, and durability, the Hi Gear Vegas XL Camping Chair offers excellent value for money. At under £50, pricing is competitive, especially when compared to other chairs in its class. Additionally, Hi Gear is well-known and well-established UK brand within the camping and outdoor equipment space so has a history of delivering decent quality products for a very reasonable price. With its long-lasting performance and comfortable design, the Hi Gear Vegas XL is definitely worth the investment.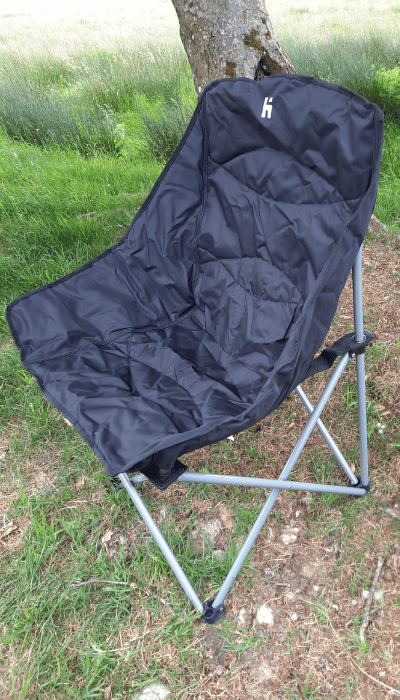 Got some questions about the Hi Gear Vegas XL Camp Chair? We've got you covered! Check out these frequently asked questions for valuable insights, tips, and practical information to help you make the most of your camping chair.
Is the Hi Gear Vegas XL Camping Chair suitable for tall individuals?
In our testing, the tallest person to use the chair was 6 ft 1 and of slim build. The Vegas XL had ample space to accommodate him and his knobbly knees! The higher backrest definitely gives an edge on comfort for taller individuals whilst giving that extra level of support to stop the feeling of tipping backwards.
Can the Hi Gear Vegas XL Camping Chair be used on uneven terrain?
Yes, the chair's sturdy construction and stable design make it suitable for use on uneven surfaces. The robust legs and frame ensure stability, allowing you to enjoy a comfortable seating experience even on challenging terrain. During our testing, the chair was set up at the back of a field with tree roots and clods of grass at our campsite and it handled well without feeling unstable.
Is the chair easy to clean and maintain?
Absolutely! The Hi Gear Vegas XL Camping Chair features a durable and easy-to-clean fabric. Simply wipe off any dirt or spills with a damp cloth, and the chair will remain in great condition.
Our Final Verdict on the Hi Gear Vegas XL Camping Chair:
After thoroughly evaluating the Hi Gear Vegas XL Camping Chair, we can confidently say that it's good choice for those seeking a comfortable, sturdy chair with a user-friendly, no-fuss design that comes at a very reasonable price point. This camping chair doesn't come with all the bells and whistles that some of it's pricier competitors do, such as the Alps Mountaineering King Kong, but if you're looking for a comfy chair to relax in front of the camp fire in, then the Hi Gear Vegas XL does exactly that.
Remember to visit our website for more information and to explore other camping gear recommendations.
Best Camping Chairs of 2023
We independently purchase and test the products displayed. When you purchase through our links, we may earn a small commission.