Looking for a camping chair with side table that fits as well at home as it does out on the hillside? Look no further! The Coleman Deck Chair fits the bill perfectly: versatile, functional and comfortable.  Discover why this chair is a firm favourite among camping enthusiasts, garden lovers and anyone who enjoys having a side table on a picnic.
A solid and functional option for those looking for a versatile chair that can be used anywhere from your back garden to cliff top camping.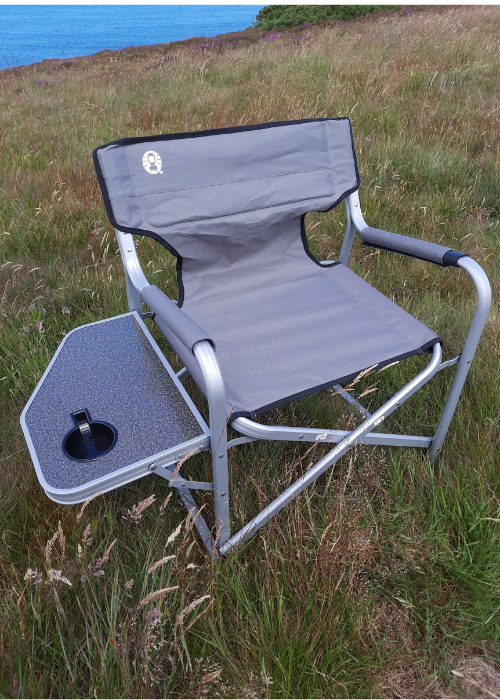 In this comprehensive review, we take a closer look at the Coleman Deck Chair and explore its features, benefits, and overall performance. So, let's dive in and discover why the  Coleman Deck Chair with side table could be the ideal companion for your countryside and back garden adventures.
Product Specifications:
The practical Coleman Deck Chair with side table key specifications:
Dimensions: 88 cm (L) x 52 cm (W) x 79 cm (H)
Weight: 3.4 kg
Material: Aluminium Frame with 600D Polyester seat and backing
Weight Capacity: 113 kg (225 lbs)
Cup Holder: Yes - integrated with side table
Side Pocket: No
Pros And Cons - our Key Takeaways
| Coleman Deck Chair with Side Table | 🔥🔥🔥🔥 |
| --- | --- |
| 👍: Sturdy and durable construction | 👎: Bulky and heavy for backpacking |
| 👍: Comfortable and spacious seat | 👎: No carry sack |
| 👍: Easy to set up and fold down | 👎: Takes up space in boot of car |
| 👍: Practical side table with coffee cup holder | |
At a Glance:
The Coleman Deck Chair with side table is not a small piece of equipment. Although it's not heavy, a mere 3.4 kg, it does take up space in the boot of the car laid flat, which isn't a game-changer for us, but more of a consideration to take into account before deciding whether it's the right fit for your trip.
The Coleman Deck Chair is solid, easy to set up and fold down again and having a foldable side table does make a difference if you're prone to needing space to put all your stuff down which is certainly the case with our teenage son. It will definitely prove a popular choice when you want a bag a chair round the fire that has somewhere to put your nibbles and a drink!
Under The Microscope - putting the Coleman Deck Chair through it's paces.
In order to give this Deck Chair a thorough testing, we took it out to the dramatic sea cliff tops surrounding Fast Castle to see how well the chair would stand up to strong
We put the chair through our rigorous testing criteria to evaluate it's overall performance and functionality, design and construction, our own user experience and value for money and overall, the Coleman Deck Chair performed well on all 4 benchmarks giving them a 4 out of 5 fireside rating.
We ranked Design as a 3 simply due to the fact that the only way to transport this chair is by using the 2 carry handles rather than a strap so it limits where, and how far you are prepared to travel with it.
Under the Microscope - Our Testing Criteria Roundup
| Benchmarks | Our Fireside Rating |
| --- | --- |
| Performance and Functionality | 🔥🔥🔥🔥 |
| Design and Construction | 🔥🔥🔥 |
| User Experience | 🔥🔥🔥🔥 |
| Value for Money | 🔥🔥🔥🔥 |
Performance and Functionality
Whether you're relaxing by the campfire, chilling out in the back garden, or enjoying a picnic in the countryside, the Coleman Deck Chair delivers on comfort and support. During our testing, we found the chair to be comfortable even after extended periods of use but not a chair that we could fall asleep in!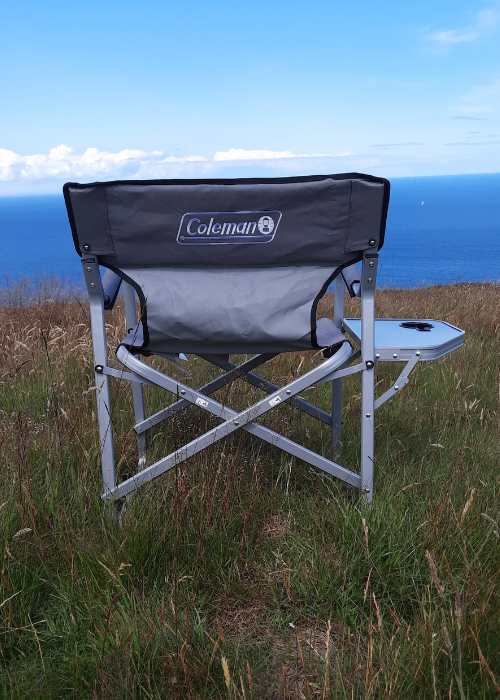 While it may be slightly heavier than ultralight camping chairs, the added stability and comfort it offers more than compensate for the minimal weight difference. However, it would be a challenge to hike with this chair due to the fact that there is no carry sack option for the model with side table. Once folded up, the two handles are on either side of the folded seat so you carry it in the style of a briefcase, which is manageable over short distances but not practical for long hikes.
Design and Construction
The design of the Coleman Deck Chair with Side Table is commendable with a heavy-duty steel frame that supports up to 225 pounds. The steel frame gives the chair a robust and sturdy feel despite the fact that it only weighs 3.4 kgs. The 600D polyester fabric is tough, tear-resistant and easy to clean and the reinforced stitching gives you the durability you need.
The chair has a solid seat and back rest which gives decent support although it pushes you to sit in a more upright position than some of the "bucket" style chairs such as the Hi Gear Vegas XL which allow you to sink right in! We found this suited our taller testers better as it gave them more room to stretch out their legs.
The integrated side table -which I now can't live without - is solid and built with the same easy "click into position" dynamic as the deck chair and can easily support books, camping gear, drinks and snacks.
User Experience:
Setting up the Coleman Deck Chair is straightforward, taking just a few seconds to unfold and click into position. The right-sided table opened out easily and again, once fully extended, felt secure and solid. The chair proved to be reliable and stable even on a slight slope and at no point did it feel wobbly or about to tip back.
The seat was spacious and although the back support panel wasn't super comfortable, you can definitely relax into this chair. The padded arm rests give reasonable support and because of the generous seat space, you feel secure and the chair feels grounded.
The side table was a major bonus and is strong enough to hold a water bottle, snacks, tablet, kindle and various mobiles. The cup holder is great if you're looking for somewhere safe to keep your coffee and easily fits most travel.
Overall, the Coleman Deck Chair is a really good option for using at home just as much as in the countryside. The only challenge we encountered was the size of the chair. Laid flat in the boot of the car it's not an issue but lugging it for long distances would not be appealing so it's more suited for car camping or short walks to your desired spot.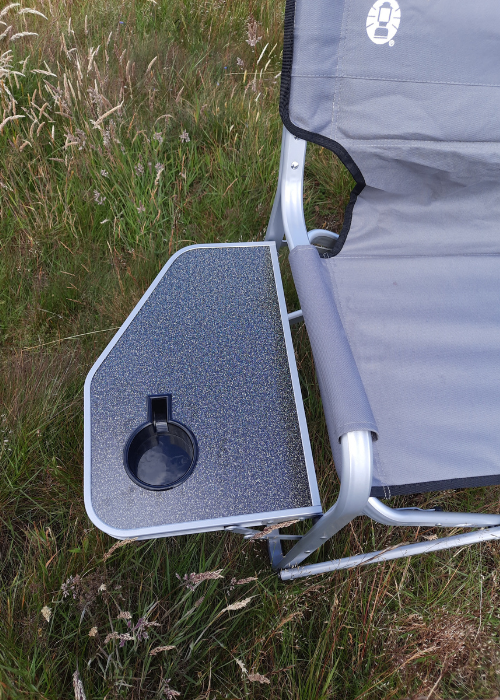 Comparison
When compared to other camping chairs with side tables in the market, the Coleman Deck Chair does well with its stability, robust fabric and overall comfort with a spacious seat. While there are lighter options available, and definitely easier to carry options, the Coleman chair's solid and sturdy build and the foldable side table is a game-changer, providing added convenience and functionality that sets it apart.
Value for Money
The Coleman Deck Chair offers pretty decent value for money for a camping chair with a table. Depending on which outlet you buy this from, at under £60, this deck chair proves a good buy considering the generous seat space, the solid frame and the  incredibly handy side table. Added to this, Coleman is well known and trusted US outdoor equipment brand that's been around for long time and has a history of delivering good quality products.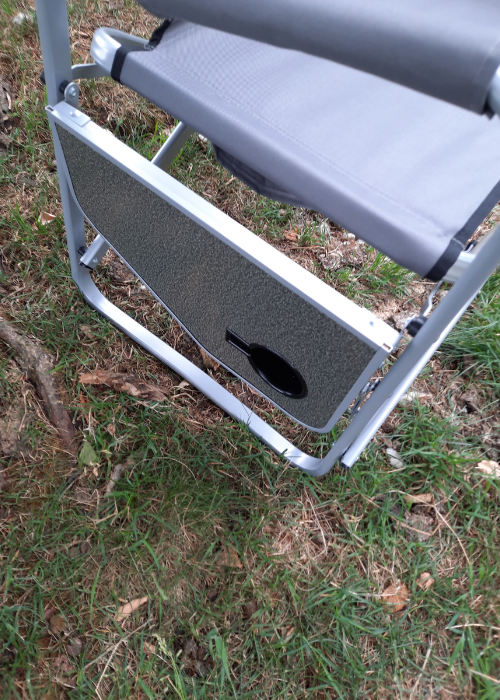 Got some questions about the Coleman Deck Chair? We've got you covered! Check out these frequently asked questions for valuable insights, tips, and practical information to help you make the most of your camping chair.
Is the Coleman Deck Chair suitable for tall individuals?
The chair provides ample seating space, accommodating individuals of various heights. Our tallest tester is 6 ft 1 and had no issues in relaxing into this deck chair. As the seat is higher than standard camping chairs, it suits taller individuals, and there is plenty of seat space to push your back into. Our smallest tester, at just over 5 ft, found it slightly easier having a foot rest to give her the height needed to fully relax into the chair.
Can the side table hold a laptop or larger items?
The side table is primarily designed to hold beverages, snacks, or smaller personal items. While it may accommodate a small laptop or tablet, it is recommended to use it for lighter items to maintain stability and balance. We certainly didn't try to overload the table and it managed well with a full water bottle, travel mug and a Kindle.
How easy is it to clean the Coleman Deck Chair?
Very easy. A quick wipe down with a damp cloth with take out most stains and the seat fabric seems to be fairly resistant to stains. As there is no carry sack or cover to keep this deck chair in, we would suggest storing it somewhere dry over the winter season.
Our Final Verdict on the Coleman Deck Chair:
After thoroughly evaluating the Coleman Deck Chair, we can confidently say that it's a good choice for those seeking a sturdy deck chair with plenty of seat space and the addition of a very useful side table. Not the easiest to transport so this is going to be a more "stay at home" or "on the campsite" type of chair for us although nothing stopping you popping it in the boot of the car for a countryside picnic.
The solid design and ample seat will make this one a winner for round the camp fire or chilling out in the garden on a summers evening.
Remember to visit our website for more information and to explore other camping gear recommendations: Camping Chairs.
We independently purchase and test the products displayed. When you purchase through our links, we may earn a small commission.