Looking for the key to a more comfortable camping experience? It's right beneath you. The OEX Traverse 3/4 Self Inflating Sleeping Mat is designed to give you the comfort and support you need for a great night's sleep outdoors. Read on to discover if this sleeping pad will become a regular in your camping sleep system.
Gear up, lay back and let this sleeping pad be your foundation for a great night's sleep in the outdoors!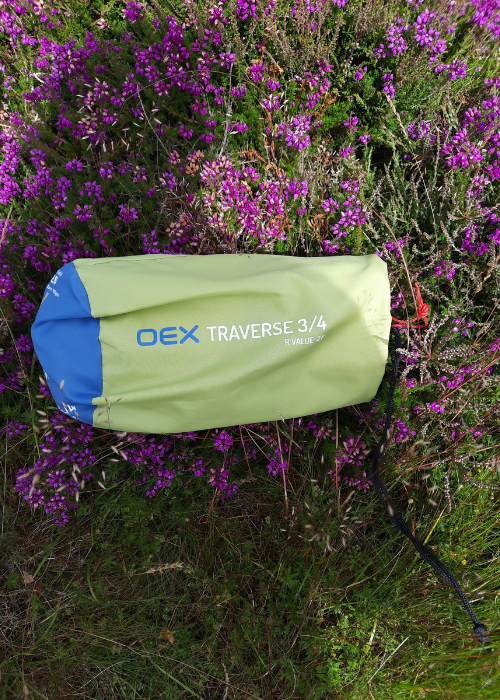 In this comprehensive review, we'll delve into the features, performance, value and our own experience using the OEX Traverse 3/4 mat. So let's take a closer look and discover if this sleeping mat will become part of your camping sleep system.
Price: £29.95 GBP List 🔥🔥🔥🔥
---
Product Specifications:
Dimensions: 120 L x 51 W cm x 2.5 cm thick
Weight: 0.7 kg
Material: Polyester Pongee with PVC Coating
R-Value: 2.6
Valve:  single self inflating valve with plastic cap
Season: 2-3 season
PROS AND CONS - Our Key Takeaways
| OEX Traverse 3/4 Self Inflating Mat | 🔥🔥🔥🔥 |
| --- | --- |
| 👍: Well made with excellent support and comfort | 👎: Not suitable for taller campers |
| 👍: Handy compression straps and bag | 👎: Slightly thicker |
| 👍: Textured fabric for anti-slip base | 👎: Slightly heavier than others |
| 👍: Reasonable price point | |
At a Glance:
We were really keen to try out the OEX Traverse 3/4 mat as we generally enjoy using the OEX range of outdoor equipment so we wanted to see if this would become part of our camping sleep system.
When we unrolled the sleeping mat, which actually sprung out once the compression straps came off, the pad had a spongy feel to it, due to the Pongee fabric so this boded well and once we had opened the valve and the pad had fully inflated, it felt incredibly comfy.
It's not the smallest or lightest sleeping pad we've seen but it's not bulky and didn't take up unnecessary space in our backpack and it's weight gives me confidence that this will offer the protection needed to keep the cold seeping through from the ground when camping outdoors.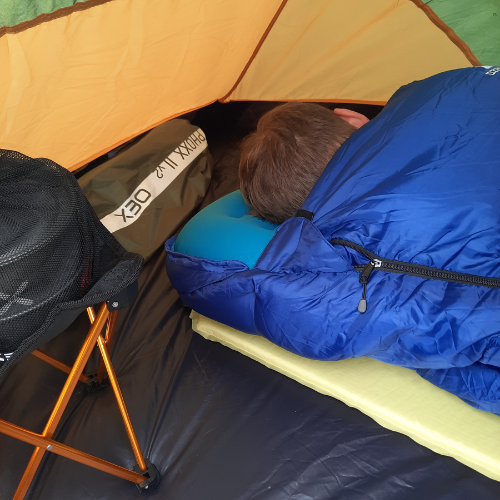 Under The Microscope - putting the OEX Traverse 3/4 self inflating mat through it's paces.
In order to give the Traverse 3/4 sleeping pad a thorough testing, we took it out for a couple of trips to see how it performed within a tent and also when outdoors.
We put the OEX Traverse 3/4 through our rigorous testing criteria to evaluate it's overall performance and functionality, design and construction, our own user experience and value for money and overall, the OEX Traverse 3/4 excelled across the board giving them a 4 out of 5 fireside rating.
We ranked 5 on User Experience as it performed really well both inside a tent and also outdoors and on both occasions was extremely easy to use and gave a comfortable nights sleep.
Under the Microscope - Our Testing Criteria
| Benchmarks | Our Fireside Rating |
| --- | --- |
| Performance and Functionality | 🔥🔥🔥🔥 |
| Design and Construction | 🔥🔥🔥🔥 |
| User Experience | 🔥🔥🔥🔥🔥 |
| Value for Money | 🔥🔥🔥🔥 |
Performance and Functionality 🔥🔥🔥🔥
How does the OEX Traverse 3/4 Self Inflating Mat perform when put to the test?
Performance-wise, this mat did it's job and more. It effectively self-inflates to give a robust, thick sleeping pad that forms a barrier between you and the cold ground. We tried this outdoors on a warm evening where the temperature was roughly 11°C and the ground was dry and it performed exceptionally well, keeping the cold at bag and staying dry. The second night, we tried in it the OEX Phoxx 2 tent and the pad proved itself again.
It has a R rating of 2.6 which hovers between a 2 to 3 season usage and I would certainly have no qualms using this over spring and summer but would probably add insulation layers if using in late autumn.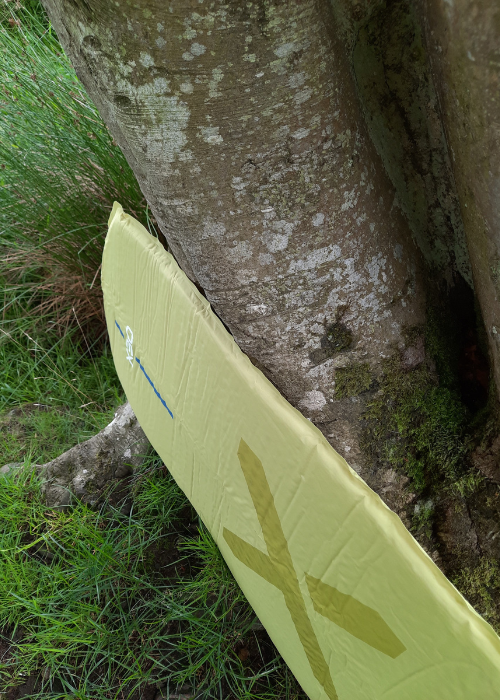 The mat is incredibly functional - you don't really need to do anything more than release the valve to let the mat self inflate. The mat is robust and the materials and fabrics used are good quality. From a height and length point of view, the mat is tapered to fit your tent better but as a 3/4 mat, it will not suit taller individuals.
Design and Construction 🔥🔥🔥🔥
The design of the OEX Traverse 3/4 Self Inflating Mat is pragmatic. Its tapered shape is a great fit for your tent and mimics a mummy styled sleeping bag. The mat is well constructed with quality materials, particularly the Pongee fabric, and this can be seen and felt when you lie back on it. Giving it a slightly dimpled texture gives the mat an anti-slip base for your sleeping bag which makes for a much better nights sleep.
The mat is slightly heavier compared to some of the ultralight options out there and doesn't pack down as small either but it's by no means cumbersome and it's relatively thin at 2.5 cm thick. The 2.6 R rating means its more than capable of performing well across spring and summer and would work in autumn with the additions of layers above and below which makes this mat is perfect for campers seeking a balance between weight and comfort.
User Experience 🔥🔥🔥🔥🔥
How was our experience using the OEX Traverse 3/4 Self Inflating Mat?
Using this sleeping pad was really simple - you can literally just unscrew the valve to allow the air to enter and the mat inflates itself, allowing you to concentrate on unrolling your sleeping bag or blowing up your camping pillow.  Adjusting the firmness is easy by adding or releasing air.
Once inflated, the mat felt surprisingly thick and spongy which gave confidence that this was going to be a comfy night! The mat itself has a contoured, textured surface which really helps your sleeping bag stay put even with an extra layer below. As a 3/4 sleeping pad, don't expect the mat to be suitable for taller campers as it will feel short and again this is a 3-season sleeping mat, so in extreme cold, an extra layer under the pad and also between the sleeping bag and pad would be more effective.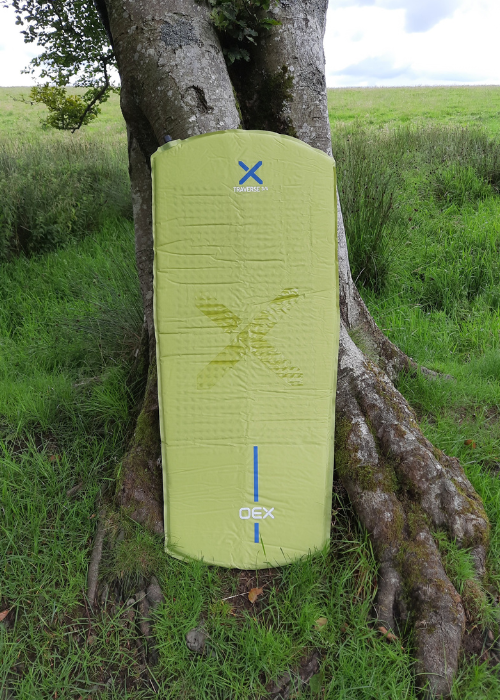 Packing down the OEX Traverse was just as easy - again, release the valve and begin folding the pad down to expel the air. The handy compression straps help keep it from escaping whilst packing it back into it's carry sack. It may not be as lightweight as some of the other options on the market, but at less than 1 kg, it does the job of keeping you warm and comfortable extremely well.
Comparison 🔥🔥🔥🔥
How does the OEX Traverse 3/4 Self Inflating Mat stack up against similar products on the market?
The OEX Traverse stands it's ground against similar products on the market due to its comfort, ease of use and insulation.  While it may take a bit longer to self-inflate compared to some competitors, once up, it offers great cushioning and warmth during the night. Because it's not a manual inflate, it doesn't ever get as pumped up as the Trekology UL80 for example, which offers superior comfort, but the OEX strikes the right balance between loft and comfort.
Value for Money 🔥🔥🔥🔥
Does the OEX Traverse 3/4 Self Inflating Mat deliver value for its price?
Considering its reasonable price point and the comfort it offers, the OEX Traverse offers good value for money. The sleeping pad is well constructed from quality materials and with good attention to detail making it robust and durable. Due to its length, it may not suit taller individuals but it's a solid option for most users seeking a comfortable night's sleep outdoors.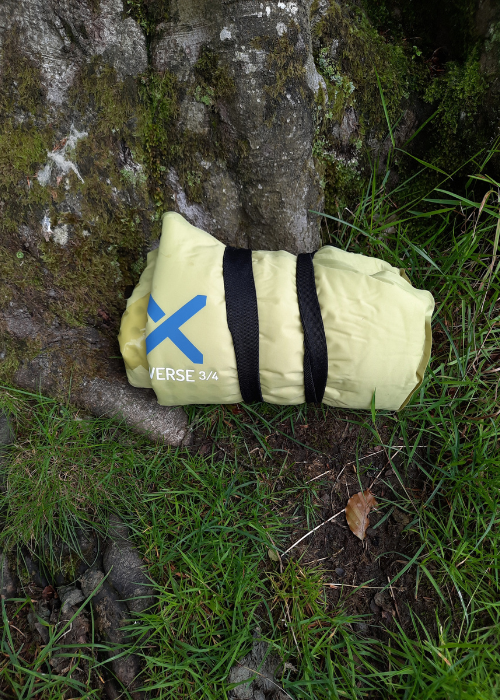 Got some questions about the OEX Traverse 3/4 self inflating mat? We've got you covered! Check out these frequently asked questions for valuable insights, tips, and practical information to help you make the most of your OEX sleeping pad.
Can I use the OEX Traverse 3/4 pad in winter conditions?
The OEX Traverse has a 2.6 R rating and is designed with 3 seasons in mind. If using in extreme conditions, it would be advisable to add a foam padding or layer to give increased protection.
Is the Traverse 3/4 pad suitable for taller individuals?
As a 3/4 pad with a length of 72", it is best suited to individuals of average height and taller campers may find it short.
Can I roll the pad up tightly to save space?
The Traverse can be folded and packed into it's compression sack. It is thicker than ultra-light pads and may not compress as small but it still remains very compact.
Our Final Verdict on the OEX TRAVERSE 3/4 SELF INFLATING MAT: 🔥🔥🔥🔥
If you're looking for a camping mat that ensures a good nights sleep under the stars without breaking the bank, the OEX Traverse deserves your consideration. While it might not suit taller individuals, it excels in most other areas. As a 3 -season pad, it combines warmth with comfort to give an excellent base for your sleep system. The value it offers at it's price point makes it an attractive option for both beginners and experienced campers as this will easily become a staple in your camping sleep system.
Remember to visit our website for more information and to explore other camping gear recommendations: Sleeping Pads
We independently purchase and test the products displayed. When you purchase through our links, we may earn a small commission.