Looking for a tent that delivers reliability, sturdiness and protection from the outdoor elements? The OEX Phoxx 2 V2 certainly does that and more.  A well-constructed tent that holds up against the driving rain and strong winds is not to be sniffed at. This tent is perfect for wild campers, weekend hikers and backpackers looking to minimise weight but enjoy the comfort and security of a well made tent.
If you're in the market for an affordable two-person tent that won't let you down in rough camping conditions, the OEX Phoxx 2 tent deserves your consideration.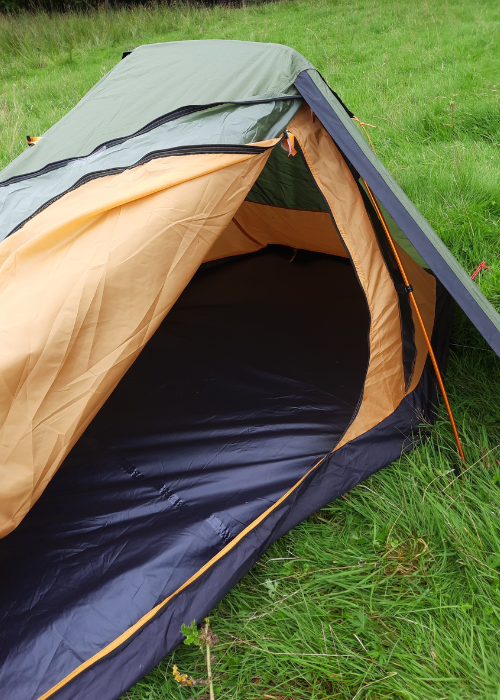 In this comprehensive review, we'll delve into the features, performance, value and our own experience using the OEX Phoxx 2 tent. So let's take a closer look and discover if this tent will become part of your outdoor collection.
Price: £96.90 GBP List 🔥🔥🔥🔥
---
Product Specifications:
OEX PHOXX 2 V2 TENT:
Dimensions of Outer Tent: 95 H x 255 L x 230 W cm
Weight: 2.1 kg
Materials: Flysheet - polyester: Inner- breathable polyester: Groundsheet- polyethylene
Sleeping Capacity: 2 person tent
Waterproof: Flysheet 5000 HH
Model: Tunnel shape
Lantern Hook: Yes
Storage: 2 storage pockets
Season Rating: 4 season
Carry Bag: Long-roll sack with buckle
PROS AND CONS - Our Key Takeaways
| OEX PHOXX 2 TENT | 🔥🔥🔥🔥 |
| --- | --- |
| 👍: Lightweight and compact | 👎: Small vestibule |
| 👍: Doors on both sides of tent | 👎: Tight fit for two |
| 👍: Pre-angled poles for sturdiness | 👎: Slight condensation in morning |
| 👍: Good price point | |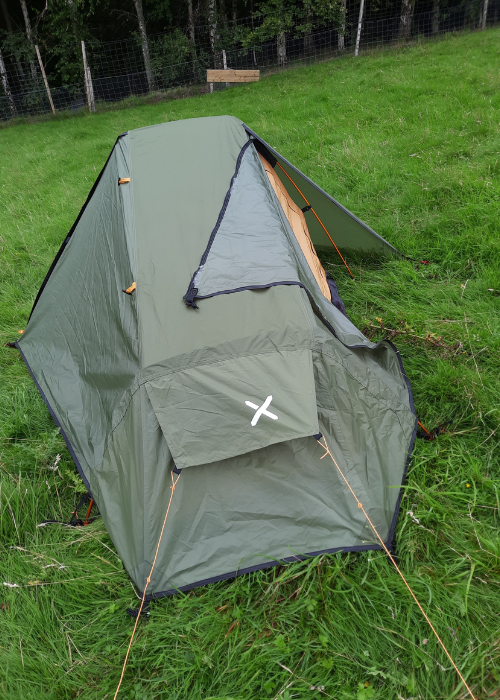 At a Glance:
Unrolling the Phoxx 2 from it's well-built long-form carry sack, I was pleased to see the overall high finish on the tent from the stitching through to the Endura pre-angled poles. The tent was ultralight at only 2.1 kg looked promising and we were keen to get this out on the hills to see how it fared in the wind and the rain.
When rolling it out, the inner tent did look slightly snug for 2 adults but would be perfect for one adult and a couple of dogs and camping gear so excited to see how easy it would be to manage it solo and how intuitive it would be to pitch.
Under The Microscope - putting the OEX Phoxx 2 tent  through it's paces.
In order to give the OEX Phoxx 2 a thorough testing, we took the tent out on a very dark and overcast day to the hills on the south bank of Loch Tay. We pitched on the foothills of Creag Uchdag, which means "Crag of Hollows" in Gaelic, which is often a breezy and wet spot.
We put the Phoxx 2 through our rigorous testing criteria to evaluate it's overall performance and functionality, design and construction, our own user experience and value for money and overall, the Phoxx 2 excelled across the board given the rain and windy conditions we pitched in,  giving them a 4 out of 5 fireside rating.
The OEX Phoxx 2 would have been in the running for 5 stars but the tent is snug for 2 adults and gear and, in our opinion, is better suited to a solo camper who would have masses of extra room for gear and dogs (optional!).
Under the Microscope - Our Testing Criteria
| Benchmarks | Our Fireside Rating |
| --- | --- |
| Performance and Functionality | 🔥🔥🔥🔥 |
| Design and Construction | 🔥🔥🔥🔥 |
| User Experience | 🔥🔥🔥🔥 |
| Value for Money | 🔥🔥🔥🔥 |
Performance and Functionality 🔥🔥🔥🔥
In terms of performance, the OEX Phoxx 2 excels in most conditions. Its waterproofing held up well during a rainy night, keeping me dry throughout. Although, I'm not sure how well it would stand up to snowy conditions so it will be worth investigating over winter.
Condensation didn't prove to be much of a problem although there was a slight sheen on the inner tent in the morning and the functionality of a door on each side of the tent made a huge difference as you're able to move in and out with less bother and create a good current of air to ventilate the tent. We also found that, for a tunnel tent, there was more than adequate head room in the tent which gave it a spacious feeling, which would be needed if two were sharing the tent.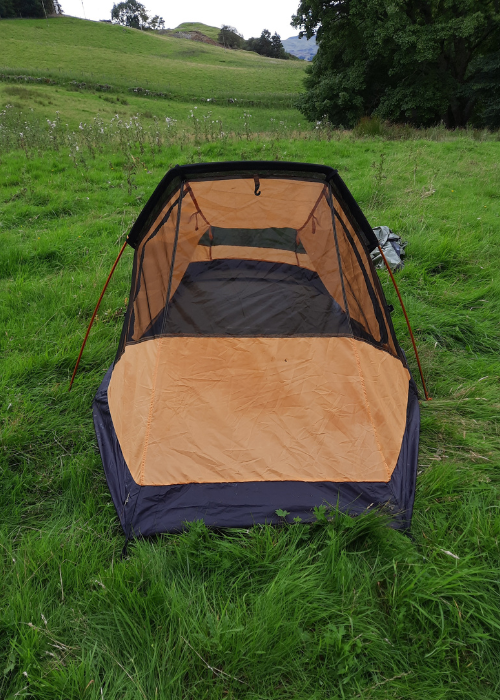 The tent's design, while cosy, might feel a bit snug for taller campers or if you have a lot of gear.  Nevertheless, for its price point, it offers solid performance.
Design and Construction 🔥🔥🔥🔥
The OEX Phoxx 2 is well-engineered and cleverly designed with little added extras that make it a worthwhile investment. The inner tent is held firm by 2 sets of Endura pre-angled poles which give the tent it's distinctive tunnel shape. The poles are locked in place by eyelets, which attach via a buckle to the outer tent. This gives the tent the tension it requires to hold upright and can be adjusted using the pull on the buckle.
With 2 doors on either side of the inner and outer tent, there is excellent air-flow as you can easily have both toggled open at the same time to get a breeze through the tent. There is a large inner mesh window on the back of the tent which is great for stargazing and another mesh window at the foot end of the tent to help with condensation.
The outer tent sits easily on top of the inner tent and can be tied using the internal cords. The 2 outer doors pitch wider, like wings, on either side of the tent, to give more room although not sufficient enough to store anything of size so it's essential to manage your expectations regarding the interior and exterior space of this tent. I slept solo so was able to put my backpack at the foot-well of the tent and I left my boots in the side vestibule.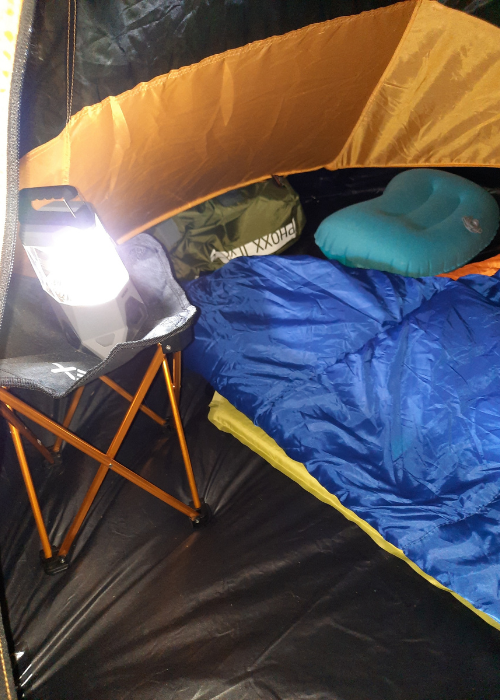 The materials used are durable and the overall build of the tent feels reliable, but you would definitely need to know the person well that you would be sharing this space with!
User Experience: Experiencing the Phoxx II first-hand🔥🔥🔥🔥
The set-up process for the OEX Phoxx 2 is fairly straightforward once you have the 2 poles clipped in place. It takes a couple of minutes to adjust to the right tension and then only another couple of minutes to finish staking out the rest of the inner tent and placing the outer tent on top. In all, the whole set-up was no more than 10 minutes.Take-down was really quick and the long-roll sack gave masses of room to roll the tent back into.  
Sleeping in the OEX Phoxx was really good fun. This may be down to the fact that I didn't have to share the tent so there was oodles of room for a solo camper and I could spread all my gear out and still have room for the dogs. From a personal perspective, it would be a snug fit to share with another adult and have space for your gear.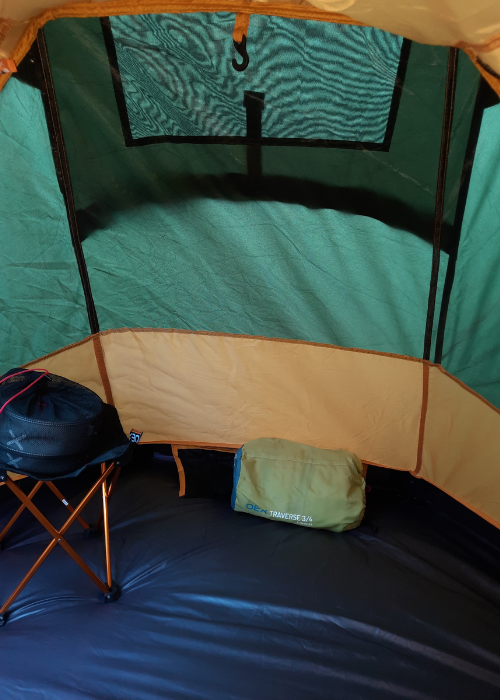 The feel and look of the tent are great and it felt very homely once the lantern was on the go and snuggled up in the sleeping bag. There was plenty of room to put up the OEX Ultralite Stool which worked perfectly for holding the lantern and my mobile.
Comparison 🔥🔥🔥🔥
When compared to other tents in its price range, the OEX Phoxx 2 holds its own. Its waterproofing and durability make it a reliable option for backpackers and weekend hikers and wild campers. However, if you prioritise more interior space then you might want to explore slightly larger tents or higher-end options.
Value for Money 🔥🔥🔥🔥
Priced competitively, the OEX Phoxx 2 offers excellent value for those seeking a reliable, lightweight and robust tent.  Its quality materials and well thought-out design make it a worthwhile purchase and if it can hold it's own on the side of a Scottish mountain, then it's definitely worth every penny!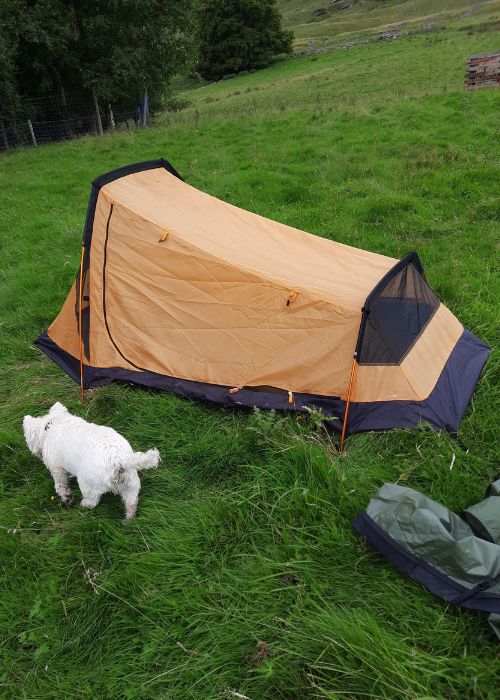 Got some questions about the OEX Phoxx II? We've got you covered! Check out these frequently asked questions for valuable insights, tips, and practical information to help you make the most of OEX Phoxx 2 tent.
Can the OEX Phoxx 2 withstand heavy rain and strong winds?
We took the tent up to the hills bordering Loch Tay and we experienced the traditional Scottish downpour pretty much 10 minutes after pitching. The tent stood up well to the rain which was coming at us horizontally due to the wind and it felt secure and grounded against the buffeting winds.
Is the OEX Phoxx 2 easy to carry on long hikes?
Yes, the tent only weighs 2.1 kg and comes in a really handy long roll sack with buckle which you can easily attach to your backpack.
Is the OEX Phoxx 2 suitable for winter camping?
OEX state that the Phoxx 2 is a 4 season tent. We have trialled this during autumn and found it to be perfectly sufficient but have not used this yet in the depths of winter. For winter camping in Scotland, considering the variations in weather and temperature, we would look for something more sturdy like a canvas tent for the colder, snowier months.
Our Final Verdict on the OEX PHOXX 2 V2 TENT:
🔥🔥🔥🔥
The OEX Phoxx 2 is a great tent in so many ways. Yes, it has it drawbacks but it depends what you really want from it. If you're looking for a mega-spacious interior with large vestibule, then you're not going to find it with the Phoxx 2 but if you're looking for a solid, well constructed, sturdy tent that copes well in the rain and the wind, then you're onto a winner.
Remember to visit our website for more information and to explore other camping gear recommendations: Tents
We independently purchase and test the products displayed. When you purchase through our links, we may earn a small commission.