BEST USED FOR: base camp pillow, backpacking, travel pillow, car campers, festival goers
A camping pillow, similar to a sleeping bag liner, is one of those items that you don't necessarily need to camp but once you've tried it, you'll wonder how you ever managed without it!
An often-overlooked part of your outdoor sleep system, the humble camping pillow can be the difference between sleeping comfortably to spending your night with a stiff and sore neck.
Travelling on the road, by air or rail often place extra strain on your neck, head and shoulders and having a compressible pillow that resembles one from home and has a great snoozing surface makes all the difference.

So let's dive in and see whether the Therm-a-Rest compressible pillow is the right pillow for your next camping or travelling adventure!

FEATURES:
The Therm-a-rest compressible pillow is the most comfortable camping pillow out there. It's soft, warm, and made from durable materials, making it perfect for any cold-weather camping trip and is perfect for car camping where space is not at a premium.
Not only is this pillow a perfect option for outdoor adventurers, the Therm-a-Rest is an excellent compressible travel pillow, great for road trips, and giving the comfort needed on flights and train journeys.
It's a simple, non-fussy pillow that does exactly what it needs to do and that makes it worth every penny.
Let's look at some of the features that make the Therm-a-Rest compressible one of the best camping pillow or travel pillow on the market.
MATERIALS:
The shape and comfort level of the Therm-a-Rest compressible pillow mimic a house pillow and although it's bulkier and heavier than some of the ultralight inflatable pillow options on the market, such as the Big Agnes Ultralight or the Trekology Ultralight Aluft 2.0, it's worth the extra ounces for the comfort value! This is part of the whole Therm-a-Rest sleeping pad production offering so works in tandem with many of their sleeping pads.
Once unpacked from the integrated stuff sack, the urethane foam filling quickly expands to a plush 4-inch thickness, giving maximum loft and able to support the neck, head and back. Due to it's size, the Therm-a-rest compressible pillow, fits well on sleeping pads and within sleeping bags, like any regular pillow, to give a extremely comfortable nights sleep.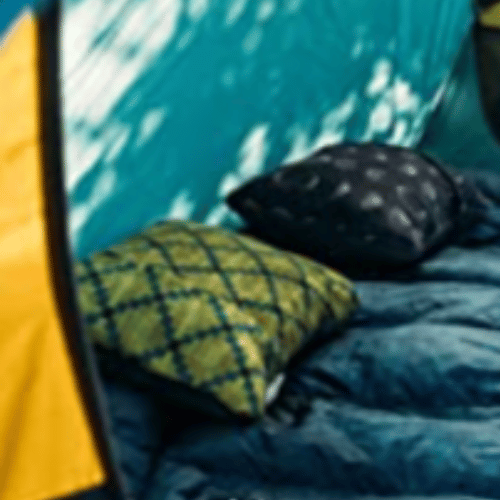 ON THE INSIDE:
Due to the soft foam inside, this compressible pillow works equally well whether you're a back, side or stomach sleeper which makes it one of the most popular camping pillows around. The foam pieces are made from fully recycled materials as Therm-A-Rest have upcycled excess foam from mattresses to use within the pillow making it a great choice for environmentally-conscious campers and travellers alike.
ON THE OUTSIDE:
The Thermarest pillow has a brushed polyester cover which is incredibly soft against the skin and cozy for colder nights in your sleeping bag. The soft insulation layer on this fluff pillow gives excellent warmth and comfort and is similar to any regular, home pillow.
The pillow also comes in a variety of patterns adding a bit of fun to your camping or travelling experience.
PACKABILITY:
This square-shaped compressible pillow is light and easily packable, thanks to its built-in stuff sack so has great versatility as either a car camping pillow, a base camp pillow or a compressible travel pillow.  Due to it's clever compact design, there is also a drawstring and cord lock which keep the pillow compressed when packed down so it can easily slip into a backpack, suitcase or travelling bag.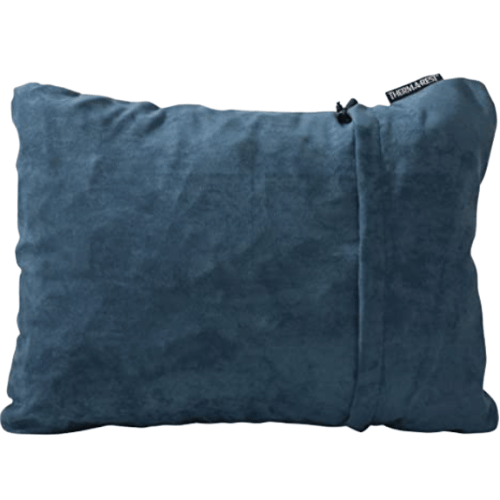 SHAPES AND SIZES:
The Thermarest compressible pillow comes in 4 different sizes from small to extra large, each expanding to 4 inches thickness.
Small measures: 12 x 16 inches expanded and weighs 7 ounces
Medium measures: 14 x 18 inches expanded and weighs 9 ounces
Large measures: 16 x 23 inches expanded and weighs 12 ounces
Extra Large measures: 16.5 x 27 inches expanded and weights 15 ounces
WHAT WORKS FOR US:
comfort factor - feels like home-from-home bedding
great for side sleepers
upcycled foam
packs small for a compressible pillow
won't pop and doesn't need inflating
WHAT NEEDS IMPROVED UPON:
slightly bulkier than an inflatable pillow
doesn't have a lock-in-place system to keep it from moving around on sleeping pad or bag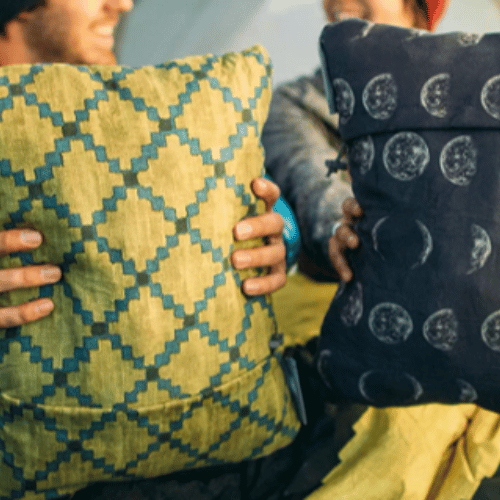 WHAT YOU NEED TO KNOW:
Size: 14" x 18" x 4" (expands out to a 4" thick pillow)
Weighs: 9oz (260grams)
Fill: Foam
Material: Brushed polyester
Shape: Square
Model: Compressible
Machine wash and tumble dry so foam expands fully
Integrated Stuff Sack

FINAL VERDICT ON THE THERM-A-REST COMPRESSIBLE PILLOW:
The Therm-a-Rest compressible pillow is hard to beat on the comfort scale and   gives a great nights sleep to campers and international travelers alike.
It may be a tad bulkier than some other pillows on the market, but considering it's size, it packs small and is incredibly easy to carry in it's integrated stuff sack.
It's an unfussy pillow that does exactly what it's supposed to do and for the price and comfort it offers, it's well worth it!