What's not to like when you look at the Yeti Rambler Travel Mug - even better, when you hold this solid, comforting mug in your hands? It has all the hallmarks of a classic - aesthetically pleasing to the eye with it's vibrant Seafoam colour, beautifully shaped and cleverly designed but is it worthy of it's rather impressive price tag? Read on to discover if the Yeti Rambler is worth adding to your gear collection.  
A well engineered, immensely pleasing travel mug that keeps your brew hot for hours!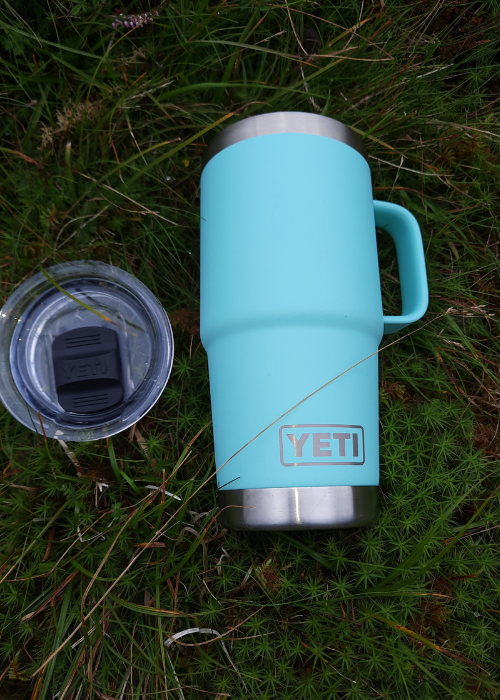 In this comprehensive review, we'll delve into the features, performance, value and our own experience using the Yeti Rambler Travel Mug. So let's take a closer look and discover if this travel mug will become your daily commute companion!
Price: £34.95 GBP List 🔥🔥🔥🔥
---
Product Specifications:
YETI RAMBLER 20 oz VACUUM INSULATED TRAVEL MUG:
Dimensions: 11.6 w x 18.9 h cm
Weight: 0.5 kg
Materials: 18/8 Stainless Steel
Insulation: Double Wall Vacuum Insulation
Lid: Stronghold™ Lid
Capacity: 20fl oz (591 ml)
PROS AND CONS - Our Key Takeaways
| Yeti Rambler Travel Mug | 🔥🔥🔥🔥 |
| --- | --- |
| 👍: Heavy duty and solid | 👎: High price point |
| 👍: Shatterproof BPA lid | 👎: Tricky to remove lid quickly |
| 👍: Lid rotates for left and right handed users | 👎: Not fully leak proof |
| 👍: Double wall vacuum insulation | |
At a Glance:
Without a doubt, the first thing that struck me was the overall appearance of the Rambler. I'm a sucker for vibrant colours and the Seafoam version reminds me of the colour of the sea off the Harris coastline. From an aesthetics point of view, the Yeti Rambler looks fantastic and this is further enforced by the feel of the mug - it's solid and feels good in your hand. I'm really looking forward to trialling the Rambler and also to see if it lives up to it's hype but my first impressions are extremely positive!
Under The Microscope - putting the Yeti Rambler Travel Mug through it's paces.
In order to give the Yeti Travel Mug a thorough testing, we made a cup of tea to go and headed out to Loch Tummel to see how long our brew stayed hot.
We put the Yeti Rambler through our rigorous testing criteria to evaluate it's overall performance and functionality, design and construction, our own user experience and value for money and overall, the Yeti Rambler excelled on the Design and Construction criteria, gaining a 5 out of 5 but we only gave a 3 on Value for Money giving them a 4 out of 5 fireside rating.
We ranked 3 on Value for Money as there are a multitude of similar travel mugs on the market that do pretty much the same thing as the Yeti Rambler but with a much lower price point. What redeemed the Yeti, in our eyes, was the superior build and feel of the travel mug that is lacking with most of it's competitors.
Under the Microscope - Our Testing Criteria
| Benchmarks | Our Fireside Rating |
| --- | --- |
| Performance and Functionality | 🔥🔥🔥🔥 |
| Design and Construction | 🔥🔥🔥🔥🔥 |
| User Experience | 🔥🔥🔥🔥 |
| Value for Money | 🔥🔥🔥 |
Performance and Functionality 🔥🔥🔥🔥
We popped some tea into the Yeti Rambler and headed up to the shores of Loch Tummel - a good 2 hr 30 min drive away to see how well the travel mug fared at keeping our brew piping hot with it's vacuum insulation wall. After a good 3 hours, the tea was as hot as when we first poured it and even an hour later, was still hot enough to enjoy.
The Yeti Rambler is not spill or leak-proof so avoid lying it on it's side for prolonged periods but upright, the Stronghold™ Lid does an excellent job of keeping your tea where it's supposed to be when driving. The fact that despite it's larger base, it will fit in most cup holders from cars to camping chairs.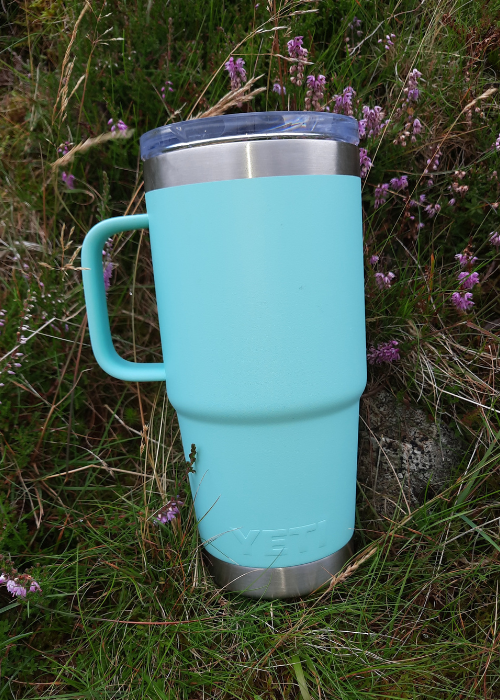 Design and Construction 🔥🔥🔥🔥🔥
The design of the Yeti Rambler is outstanding. Quite simply it looks and feels fantastic. It fits extremely well in your hands and has a heavy, satisfying weight to it that is immensely appealing. The base of the mug is wider than most, which means the mug is less inclined to tip over. The handle works well for both lefties and right handed users and the lid rotates to accommodate various placement options to suit you.
The travel mug is constructed from 18/8 stainless steel, a set of metal alloys that are resistant to corrosion and combined with their DuraCoat™ tech, the colour and finish of the mug will resist fading and peeling. It's a mug that's as stylish as it is rugged but with one small flaw with the lid.
User Experience 🔥🔥🔥🔥
Using the Yeti Rambler was not as straightforward as I assumed it would be! Firstly, I struggled to open the Stronghold™ lid which had me wondering whether this thing was so air-tight that I was never going to get in! Once opened, it did rotate easily to the various placement options for either left-handed or right-handed users but it wasn't as smooth as I had envisaged.
The dual slider took a bit of getting used to but once conquered, seemed to work very well and kept my tea from sloshing around and spilling. The major issue I had with the lid was how difficult it seemed to drink from it. Maybe I'm not seasoned enough to know the correct way to do this, but I found that my tea came rushing out all at once and ended up mostly down my jumper.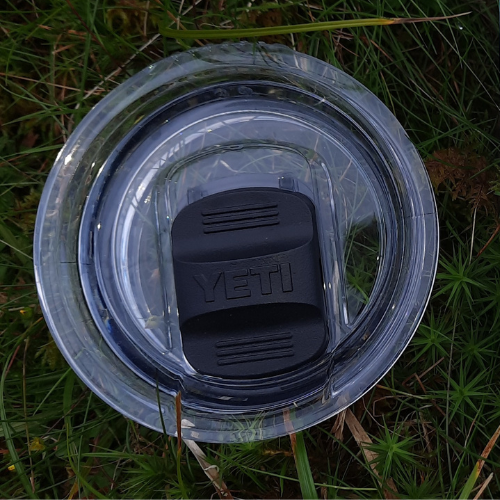 The feel and look of the travel mug are outstanding and it felt lovely having a cup of tea from my Yeti mug sitting on the shores of Loch Tummel but it was dampened somewhat by my inability to drink properly from the mug.
Comparison 🔥🔥🔥🔥
Compared to other vacuum insulated travel mugs, the Yeti Rambler stands head and shoulders above the competition with it's instantly recognisable iconic design and colours. It's superior rugged construction gives excellent performance but it's higher price point will be a deterrent for budget-conscious buyers. It's worth weighing up the price versus Yeti's strong brand reputation to see if it's the right fit for you.
Value for Money 🔥🔥🔥
The Yeti Rambler is an expensive piece of kit. For a travel mug used on your daily commute, it seems an excessive price point due to the few flaws it has. However, from the point of view of durability, excellent design and appearance, then the Yeti Rambler is worth the investment.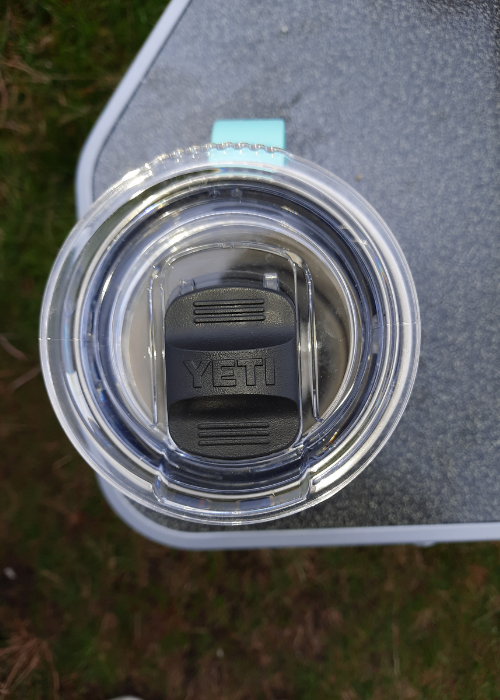 Got some questions about the Yeti Rambler Travel Mug? We've got you covered! Check out these frequently asked questions for valuable insights, tips, and practical information to help you make the most of travel mug.
How long does the Yeti Rambler Travel Mug keep drinks hot or cold?
Yeti state that the Rambler will keep cold drinks cold for 24 hrs and hot drinks hot for up to 6 hours. We found that the Rambler kept our tea piping hot for just shy of 4 hours and then it became luke-warm at 5-6 hours.
Is the Seafoam finish durable?
Yeti use a DuraCoat™ finish on all their mugs which protects against colour fading or any scuffing or scratching on the outer layer giving extended durability to the mug.
Is the Stronghold ™ Lid spill-proof?
The Stronghold™ lid is leak-resistant but not spill or leak-proof. If the travel mug is laid on it's side for extended periods of time or chucked in your bag for your daily commute, there will be some spillage.
Our Final Verdict on the YETI RAMBLER 20oz TRAVEL MUG: 🔥🔥🔥🔥
I will definitely be keeping my Yeti Rambler travel mug but I don't know if I would necessarily buy the same model again.
The Seafoam Rambler looks incredible and you are instantly drawn to it's pleasing shape and design and the solid, comfortable feel of the mug but it does have it's drawbacks. I'm not particularly bothered with how long it will keep my tea hot as I don't want to drink a cup of tea that's been stewing for over 6 hours so the fact that it stays hot for a good, few hours, is more than sufficient for me. What bothers me more is the trouble I have drinking from the lid without it spilling all over me, especially when I'm driving on the motorway. I also struggled to take the lid off and found it quite sticky which irked considering it's price tag.
It will definitely be accompanying me on my morning commute and will be a welcome member of my gear collection but if I'm honest,  I think this may have more to do with its rugged construction and stand out design and colour more than anything else!
Remember to visit our website for more information and to explore other camping gear recommendations: Gear Analysis
We independently purchase and test the products displayed. When you purchase through our links, we may earn a small commission.