We understand the importance of finding the perfect travel mug, and Stanley's reputation in crafting rugged and durable outdoor gear with clean and sleek design caught our attention. We wanted to explore whether the Stanley 12 oz Travel Mug lives up to the company's time-tested quality and delivers on it's promises. Read on to discover if the Stanley 12 oz Travel Mug will become your go-to travel mug for sipping on-the-go.
The Stanley 12 oz Travel Mug is the stalwart of the travel mug world: superbly engineered to give a leak-proof experience with a cup of tea that stays hot for hours all wrapped up in a mug that fits your hands perfectly.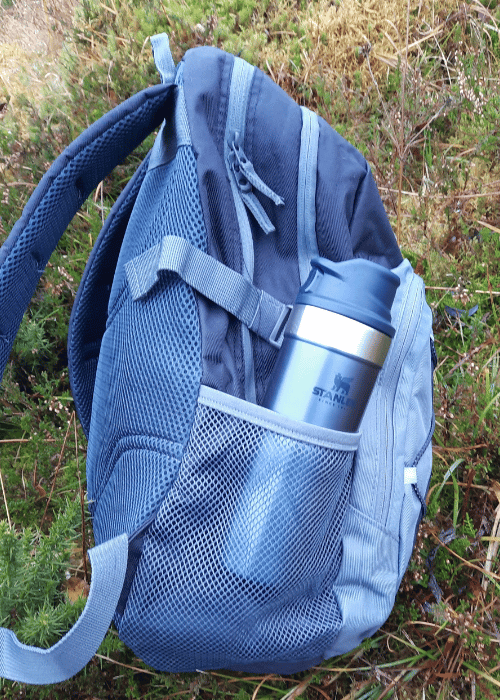 In this comprehensive review, we'll delve into the features, performance, value and our own experience using the Stanley Travel Mug. So let's take a closer look and discover if this travel mug will become your daily commute companion!
Price: £31.99 GBP List 🔥🔥🔥🔥
---
Product Specifications:
STANLEY 12 oz TRAVEL MUG:
Dimensions: 6.9 w x 21.2 h cm
Weight: 280 g
Materials: 18/8 Stainless Steel BPA Free
Insulation: Double Wall Vacuum Insulation
Lid: Trigger Action Push-button Lid
Capacity: 12fl oz (354 ml)
Leakproof: Yes
PROS AND CONS - Our Key Takeaways
| Stanley Trigger Action Travel Mug | 🔥🔥🔥🔥🔥 |
| --- | --- |
| 👍: Heavy duty and solid | 👎: High price point |
| 👍: Leak-proof | 👎: Tricky to reassemble lid |
| 👍: Impressive temperature retention | |
| 👍: Double wall vacuum insulation | |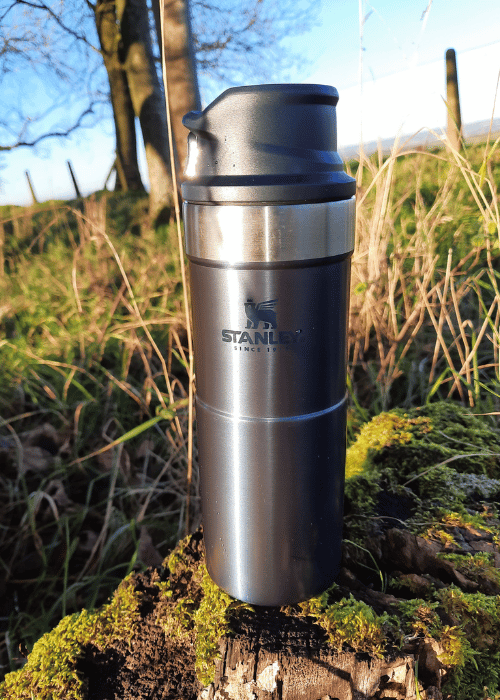 At a Glance:
The first thing that strikes you with the Stanley 12 oz Travel mug is it's sense of durability. The stainless steel body of the mug feels robust and engineered for the outdoors. It looks functional and practical with a very clean, unfussy look about it.
I wanted to try this as my go-to commute mug and also for any day hikes I was planning on during the autumn season so keen to see how well it lives up to it's reputation as "leak-proof" and also interested to see how durable the travel mug is as Stanley offer a "Built For Life" Lifetime Warranty which shows how much faith they have in their own product.
Under The Microscope - putting the Stanley 12 oz Travel Mug through it's paces.
I've been putting the Stanley Travel Mug through it's paces on a daily basis on my commute to work but to give it a good shot outside, we took it hiking in the Fintry hills when it was bucketing with rain, out to the Isle of Arran and for a quick walk in the Ochil hills.
We put the Stanley Travel Mug through our rigorous testing criteria to evaluate it's overall performance and functionality, design and craftsmanship, our own user experience and value for money and overall, the Stanley excelled on the Design and Craftsmanship and User experience criteria, gaining a 5 out of 5.
We ranked 4 on Value for Money as there are a multitude of similar travel mugs on the market as the Stanley 12 oz but with a much lower price point. What the competitors don't have, is the solid and reliable build of the Stanley Travel Mug which makes it worth every penny.
Under the Microscope - Our Testing Criteria
| Benchmarks | Our Fireside Rating |
| --- | --- |
| Performance and Functionality | 🔥🔥🔥🔥 |
| Design and Craftsmanship | 🔥🔥🔥🔥🔥 |
| User Experience | 🔥🔥🔥🔥🔥 |
| Value for Money | 🔥🔥🔥🔥 |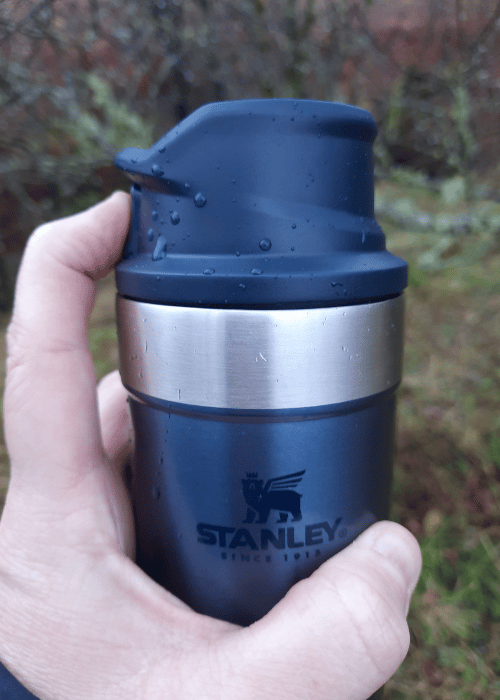 Performance and Functionality 🔥🔥🔥🔥
How does the Stanley 12 oz Travel Mug perform in the real world? In a nutshell, it lives up to its reputation. We took it through various scenarios, from my everyday commute to autumn hikes in the Fintry hills, and it kept my tea as hot as when I had brewed it.
What really helps is that it is leak-proof so whether your throwing it into your bag on the way to work or popping it into the side pocket of your rucksack, you won't find that half your coffee has soaked through your pack. The fact that it's only a 12 oz travel mug makes it incredibly packable and light so it doesn't deter you from making it part of your outdoor gear collection and knowing that it is able to (and does, as we have found) keep your drinks hot for a considerable period of time is a bonus.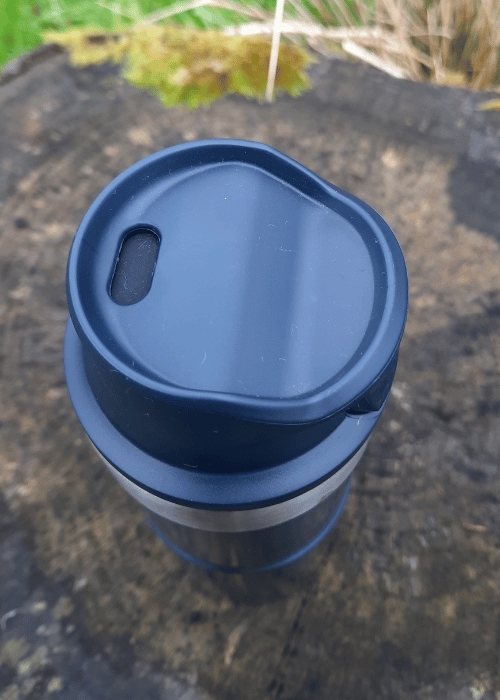 Design and Craftsmanship 🔥🔥🔥🔥🔥
The design of the Stanley Trigger Action Travel Mug is outstanding because it's so understated yet highly functional. This looks like a travel mug that was meant to last and is built with the sole purpose of keeping your drinks either piping hot, cold or even iced. It's slim form means it fits into your hand perfectly and although it's only a 12 oz mug, it has a reassuringly solid weight about it.
Whilst this travel mug from the "Classic" series overall design leans more towards function than style, the craftsmanship is evident all over this mug. From it's robust stainless steel construction, built to withstand the rigours of outdoor expeditions, to the double-wall vacuum insulation able to keep your drinks hot for up to 5 hours.
I enjoy the practical design of this travel mug because it's simple yet effective. The "trigger action" push-button has been designed well and frees up a hand whilst driving and sipping on-the-go. It can be argued that the internal mechanisms of the mug are a bit tricky to clean properly but I haven't found this to be the case as it can easily be popped in the dishwasher.
User Experience 🔥🔥🔥🔥🔥
I've been using the Stanley Travel Mug on my daily commute for the last few months and it has been with me now on countless outdoor trips and I am really appreciating it's reliability and simple functionality. Not only does it fit my hand comfortably, the Trigger Action push button on the lid makes it really easy to drink from. I was initially sceptical as I thought it might be over complicated the whole drinking from a travel mug thing, but it proved to be really easy, making a one-handed operation simple when I'm driving or out roaming the hills.
I wanted to test it's leak proof claim as this was one of the issues I had with the Yeti Rambler Travel Mug and in all the scenarios we tried it out in, from hiking, to sticking it into the bottom of my pack upside down, we never experienced any issues which is testament to the excellent and durable Stanley design.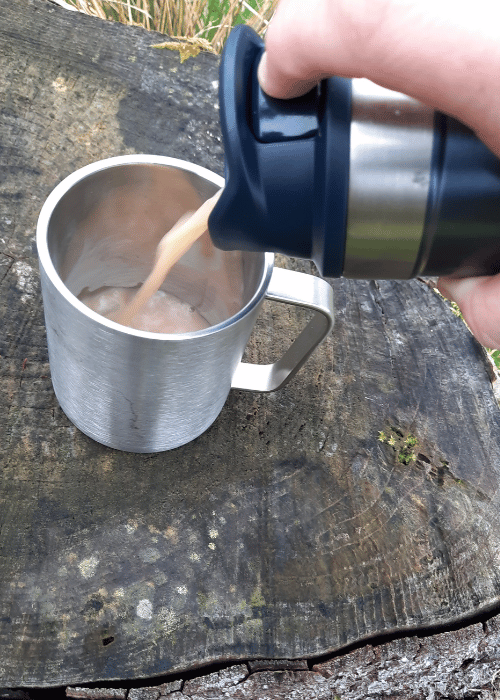 The feel of the Stanley Travel Mug is very satisfying and comforting. It's fits your hand perfectly and it has a solid and dependable feel and look to it which gives me confidence that this travel mug will stand the test of time. I dropped it once, when it was bucketing with rain and it slipped out my hand, and hit a rock and a quick once-over showed no signs of dents or nicks in the mug nor any damage to the paintwork.
Comparison 🔥🔥🔥🔥
In comparison to its competitors, the Stanley 12 oz Travel Mug holds its own. It's colour scheme may be more muted than the offerings from Yeti or from Hydro Flask but the Stanley Travel Mug is all about practicality and functionality. While there are similar options out there, not all can offer the same balance of features and durability. It's not the flashiest option but it's understated look and feel speak volumes.
Value for Money 🔥🔥🔥🔥
When you invest in the Stanley 12 oz Travel Mug, you're investing in the quality and reliability that the Stanley brand represents. The fact that Stanley offer a "Built for Life" Lifetime Warranty lets you know how serious they are about the quality of their products. While it might be a tad pricier than some generic travel mugs, the performance and longevity more than justify the price. This will be a piece of gear that will very quickly become your firm favourite for coffee on the go.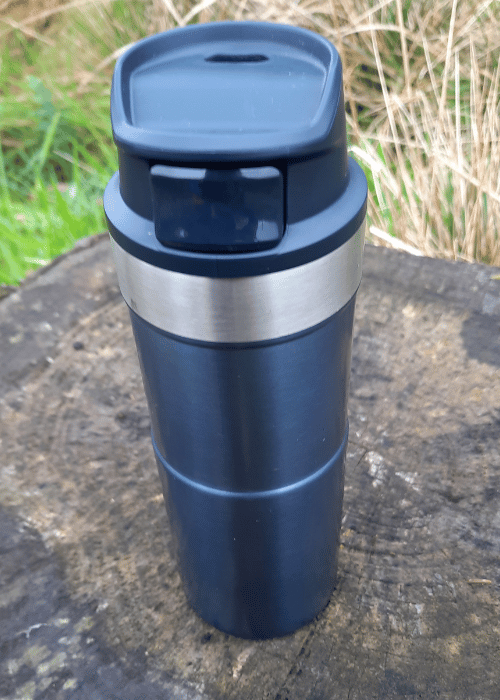 Got some questions about the Stanley Travel Mug? We've got you covered! Check out these frequently asked questions for valuable insights, tips, and practical information to help you make the most of travel mug.
Can I use the Stanley 12 oz Travel Mug for more than just beverages?
Yes, the Stanley 12 oz Travel Mug can be used for hot and cold beverages as well as a container for soup or hot food.
Is the Stanley 12 oz Travel Mug dishwasher safe?
Yes, it can be put into the dishwasher without any issue. It is also recommended to clean by hand especially round the Trigger Valve.
Does it fit in standard car cup holders?
Yes, the Stanley 12 oz is designed to fit into most standard car cup holders as it's about the same size as a bottle of water.
Our Final Verdict on the STANLEY 12 oz TRAVEL MUG: 🔥🔥🔥🔥🔥
The Stanley Travel Mug is a definite keeper for me. Having used this now over the last month on my daily commute as well as my go-to travel mug for my outdoor travels, this 12 oz mug has fitted into my life perfectly. It keeps my tea hot for the right amount of time, is easy to use as a flask which I quite often prefer when out camping and fits in my hand and car cup holder perfectly. Whilst it's not the cheapest travel mug on the market, the Stanley design and craftsmanship assures it's longevity and for delivering a reliable and robust travel mug for many more years to come.
Remember to visit our website for more information and to explore other camping gear recommendations: Tumblers and Water Bottles
We independently purchase and test the products displayed. When you purchase through our links, we may earn a small commission.