BEST FOR: Base camping, backpacking, fishing,  winter camping, car camping
The Sea to Summit Ether Light XT Extreme sleeping pad takes comfort and warmth to a whole new level. An improved version of the Ether Light XT, the Extreme takes insulation up a notch to keep you warm even in minus temperatures.
Not only is the R-value through the roof on this air mattress but the Ether Light XT sleeping pad is like sleeping on your comfiest sofa while feeling warmed from top to toe. When you sink into the 10cm thick air mattress, the Air Sprung Cells mold and conform the mat to your body shape, giving you the an extremely warm and comfortable night's sleep even on cold ground.

Let's dive in and take a closer look at the Ether Light XT Extreme to see if this is the right sleeping air mattress for you!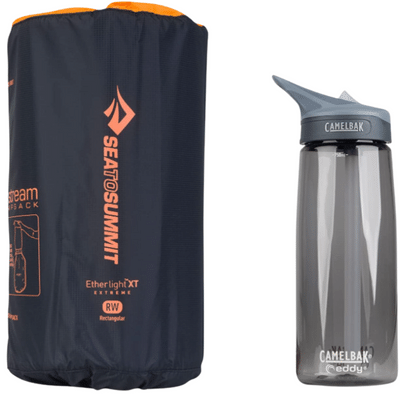 INSULATION:
One of the major plus points of the Ether Light xt extreme sleeping pad is the superior insulation it has to offer. This air mat certainly protects against cold weather and this is mainly due to the dual-density layers of Thermolite insulation which is thicker than the Ether LightXT.
The Thermolite insulation fills the air sprung cells and this internal air movement works to prevent convective heat loss and ensures you retain as much heat as possible when sleeping out in the cold weather.
The R value on the Ether Light XT Extreme is 6.2 which is incredibly high in comparison to other insulated sleeping pads on the market which are all roughly around the 4.5 r value so the Ether Light XT really delivers on the warmth front. The R value essentially measures how well your sleeping pad stops heat loss so the higher the r value, the more insulated and warmer the sleeping pad.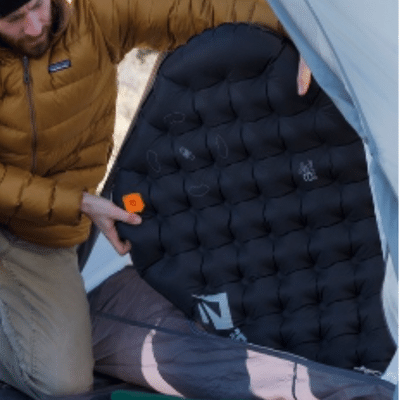 MATERIALS :
The Ether Light XT is made from 30/40D non-slip nylon fabric, a reflective fabric which prevents heat loss and radiates heat back to your body.
This sleeping pad, similar to it's lighter version, has Air Sprung Cell construction as it's core technology as each cell deforms independently, letting the mat shape to your body contours which in turn, gives you the support you require as pressure is spread evenly throughout the pad.
The Ether Light XT extreme is constructed with lots of TPU loops which effectively connect the bottom and also the top layers of fabric within the sleeping pad. These act in a similar way to springs and give larger pockets of air to the air sprung cells when inflated which offers superior cushioning and is also a bonus for side sleepers as they will feel fully supported.
INFLATE/DEFLATE:
The Ether Light XT extreme has multi-functional inflate and deflate system which inflates in a few breaths by using the integrated stuff sack - a really handy trick which also allows you to regulate how soft or hard you prefer your sleeping pad. The inflate-deflate system also holds air really well so no need for top ups in the middle of the night!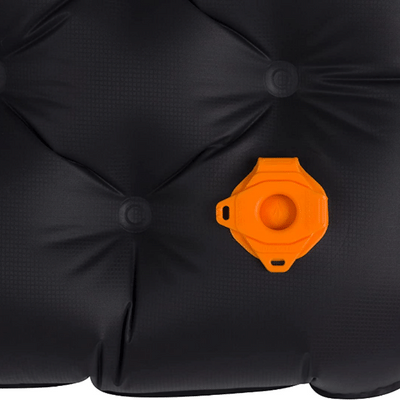 COMFORT AND STYLE:
The Ether Light XT extreme sleeping pad comes in 2 different styles to suit different body shapes and lengths - rectangular or mummy style in regular and large and all styles inflate to a thickness of 10cm.
The pad also comes with a Pillow Lock System which works in tandem with Sea to Summit's Aeros camping pillow range which attaches your pillow firmly to the pad and eliminates any mishaps during the night!
Another necessary addition to these sleeping pads are the field repair patches which gives you the assurance and confidence on extended camp periods.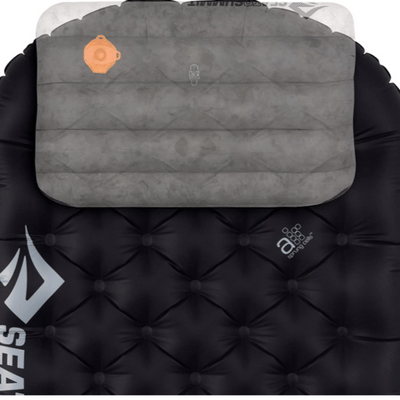 WHAT YOU NEED TO KNOW:
Style:  Mummy or Rectangular
Material: 30/40D Nylon Fabric
Insulation: Thermolite Insulation
Stuff sack / pump sack: Yes, stuff sack acts as inflation device
R Value: R - 6.2
Field Repair patches: Yes
Pillow Lock Patches: Yes
Length and Weight (Regular): 183 x 55cm - 720g
Length and weight (Large): 198 x 64cm - 950g
Thickness: 10cm when inflated
WHAT WORKS FOR US:
extreme comfort - feels like sinking into your sofa due to high R value
extreme warmth even in minus temps
great for side sleepers as deep enough to support sleeping on your side
holds air well so no need to constantly re-inflate
pillow lock system
perfect for winter camping
WHAT NEEDS IMPROVED UPON:
can make a crinkly noise when moving around in your sleeping bag
Price point
not as slim as some other sleeping pads on the market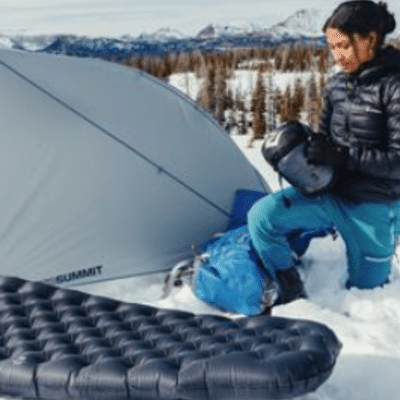 FINAL VERDICT ON THE SEA TO SUMMIT ETHER LIGHT XT EXTREME SLEEPING PAD REVIEW
The Sea to Summit Ether Light XT Extreme sleeping pad rates extremely well as an outdoor sleep system essential.
It has to be one of the most comfortable sleeping pads on the market and the insulation is hard to beat on cold weather trips.
Clever technology and features such as the integrated pump sack, Air Sprung Cells and an R value of 6.2 make this an incredibly warm and comfortable sleeping pad and although the price point may not appeal to all budgets, with a trusted brand such as Sea to Summit, you know you are buying a quality sleeping pad that will stand the test of time and plenty cold nights!