BEST FOR: Daily commute, chilling in the garden, on the slopes of Ben Lawers
We took the Yeti Rambler Tumbler 20 oz for a test drive to the shores of Ben Lawers reservoir with snow on the hills and a biting cold wind to see if it really was possible to keep your tea hot in these conditions. Turns out, after nearly 4 hours, our tea was still piping hot, making the Yeti Rambler my new go-to tumbler!
The Yeti Rambler Tumbler has proved to be one of Yeti's most popular products to date, far surpassing the demand for Yeti coolers which was what they were originally known for, and there are plenty of reasons why this tumbler has proved such a hit.
Apart from the fact that the Yeti Rambler 20 oz comes in every shade under the sun, it can also be customised with your own logo or catch phrase, all which adds to the feeling that this tumbler will be a daily part of your life rather than just a coffee mug gathering dust in the cupboard.
From the double wall vacuum insulation which keeps hot and cold drinks at the temperature you want for an extended period of time, to the solid, ergonomic feel of the Yeti Rambler in both your hands as you are chilling out in the garden,  this tumbler was made with you in mind.
We choose the Yeti Rambler 20 oz (591 ml) tumbler in Aquifer Blue and we were far from disappointed with the quality and resilience of the tumbler when we took it up the mountain. It was dropped several times on the rocks and even floated on the loch (by accident), but the outer shell held up without any cracks or dents.
The magnet component on the lid helps prevent spills and makes it easy to sip hot drinks in the car with one hand and is splash free but the Yeti Rambler is not leak proof so if it tips on it's side, it will slowly dribble.
One important thing to bear in mind here is that Yeti make no bones at all about the fact that this tumbler is not leak-proof and it isn't designed to be either so if you're looking for a tumbler that you can stash in your bag, this may not be the right choice for you.
However, take into consideration, that the Yeti Rambler  has some crazy review stats on Amazon making it one of the most popular tumblers on there, and after giving it a thorough test drive, I will most definitely be using this as my daily tea Jenny!
Let's take a closer look and see if this is the right tumbler for you!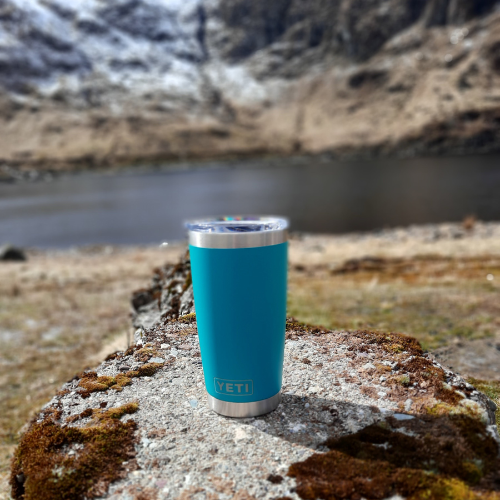 WHAT'S ON THE INSIDE:
The Yeti Rambler 20 oz has a double wall vacuum insulation which keeps your cold drinks cold and your hot drinks hot to the last sip!
For a cup of tea, the Rambler tumbler went a solid 3 hours 55 mins sitting outside on the shores of Ben Lawers reservoir with snow on the ground and a wind chill of about 2 degrees at the weekend before it got to the slightly tepid stage which we felt was pretty impressive!
The double wall creates an additional barrier preventing heat or cold from escaping offering better insulation, keeping cold and hot drinks the way you want them.
THE MAGSLIDER LID:
The Yeti Rambler tumbler comes with a MagSlider lid for easy opening when drinking. The MagSlider has a simple magnetic component which slides open to allow you to sip your drink and then slides back closed keeping drinks contained and preventing spills. This design is so much simpler than having to unscrew a cap or bottle top if driving and avoids splashes of hot coffee on your hand as you hit a pothole!
The magnetic lid stays in good working order and because you don't have to take it apart when cleaning, it holds it's own.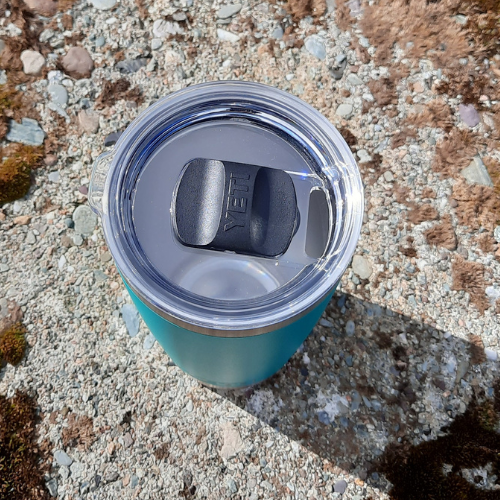 WHAT'S ON THE OUTSIDE:
The Yeti Rambler 20 oz is made from kitchen grade stainless steel which gives this tumbler a puncture and shatter resistant construction. This 18/8 durable stainless steel tumbler has a reassuringly heavy feel to it in your hand, solid and comfortable which is mainly due to it's clever design.
The Yeti Rambler tumbler has a tapered shape, slimmer at the bottom of the tumbler and filling out towards the top so fits the contours of your cupped hand in the right way.
The Yeti Rambler has a Duracoat covering which means the colour won't fade or crack or peel and Yeti added the NoSweat design which prevents condensation building up so your hands stay dry when you're using the mug. The durable stainless steel means that the Yeti Rambler is rust resistant and just keeps on going which is why this model has proved so popular.
EVERYDAY CLEANING:
What makes the Yeti Rambler tumbler stand out is how easy this tumbler is to clean properly.
The Rambler tumbler has smooth surfaces so there is nowhere for any coffee or sugary tea to lurk and it takes seconds to disassemble and run under some warm, soapy water to get completely clean.
Where the Yeti Rambler tumbler scores highly, is the fact that even the lid is easy to clean and doesn't require a brush so maintaining your tumbler is easy and an added bonus that you can pop it in the dishwasher.
WHAT WORKS FOR US:
quality materials used to ensure longevity
coat doesn't crack or flake or fade
heavy duty so won't shatter
keeps drinks hot or cold for extended periods of time
keeps hands dry with NoSweat
magnet component on MagSlider lid
fits in most standard cup holders
easy cleaning and dishwasher safe
WHAT NEEDS IMPROVED UPON:
pricey for a coffee tumbler - not budget friendly but will last
leaks if tips on it's side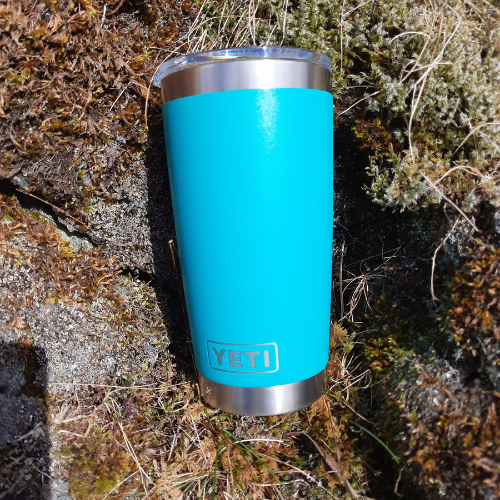 WHAT YOU NEED TO KNOW:
MATERIAL:  18/1 Stainless Steel
SIZE:  Just shy of 7 inches high, 3.5 inches across
CAPACITY:  591ml / 20 oz
INSULATION: Yes, double wall vacuum insulation
LID SLIDER: Magnetic MAGSLIDER
DISHWASHER SAFE
BPA FREE
FINAL VERDICT ON THE YETI RAMBLER TUMBLER 20 oz
The Yeti Rambler Tumbler 20 oz is an investment as it is by no means the cheapest tumbler on the market but rest assured, it will outlast many of the other cheaper options out there.
With it's tapered shape and comforting weight, we found it to be the perfect tumbler for keeping your hot or cold beverage at the temperature you need for extended periods. The spill resistant lid was sufficient for our uses and if you're looking for the perfect coffee tumbler for your daily commute, then the Yeti Rambler is slender enough to fit in standard cup holders.
All in all, you can understand why this is one of Yeti's most popular tumblers even with a hefty price tag, as it seems as this travel mug was made with your needs first and foremost.
Give it a try - we don't think you'll regret it!