BEST FOR: Camping, Trekking, Hiking, Touring, Fishing, Climbing, Expeditions


Experience the ultimate in outdoor adventure with the Victorinox "Ranger" Swiss Army Knife, boasting 21 essential functions for camping, trekking, fishing, climbing and more.

FEATURES AND BENEFITS:
The Victorinox Swiss Army Ranger Knife is packed with features and benefits that make it the perfect tool for outdoor adventures.
Its 21 essential functions, including a blade, corkscrew, bottle opener, scissors and more can be used for everything from opening canned food to disassembling your service rifle (as was, and is, it's original purpose and used by the Swiss Army to this day).
The stainless steel components are durable and corrosion-resistant while its ergonomic handle ensures a comfortable grip even in wet conditions. With this knife you can easily tackle any job around camp or on the trail without having to carry multiple tools.
It's comfortable to use and handles well and is a solid hand tool with a diverse tool set that will stand the test of time. I still have my classic SD 7 function Swiss Army Knife from 26 years ago and nothing has dulled or broken or been lost. These really are a "once in a lifetime" investment!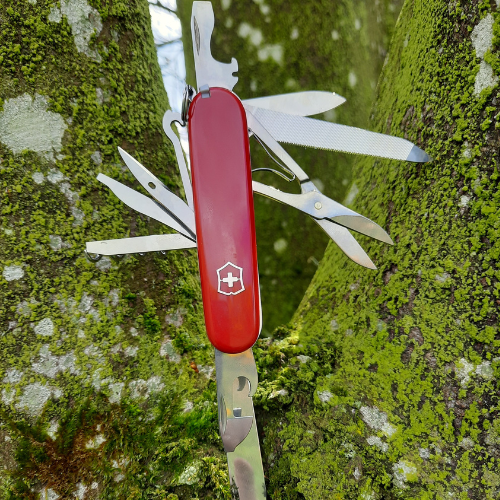 CONSTRUCTION AND DESIGN:
The construction of the Victorinox Ranger Swiss is to provide multi functionality without wasting space and this is exactly what this pocket knife does.
Every layer has a purpose from the large and small blades to strip bark , to the wood saw for gathering branches for the fire. Some tools are multi-faceted such as the can opener with a small screwdriver on it's tip, or the cap lifter which also has a screwdriver and wire stripper built in.
Victorinox Swiss Army Knives are made from first class stainless steel and this is evident in the quality of the blades, which sharpen easily and stay sharp and the wood saw which holds up really well and is comfortable to use. The blades have been hardened to give extra endurance and maintain their sharpness and the quality stainless steel is anti-corrosion.
The tools pull out via a small indent on the side with minimal pressure - on a brand new pocket knife, they may be slightly stiff, but after one or two outings, they move easily. The tweezers and tooth pick fit snugly into the top ends of the knife with the iconic red side plates creating a compact and functional hand tool.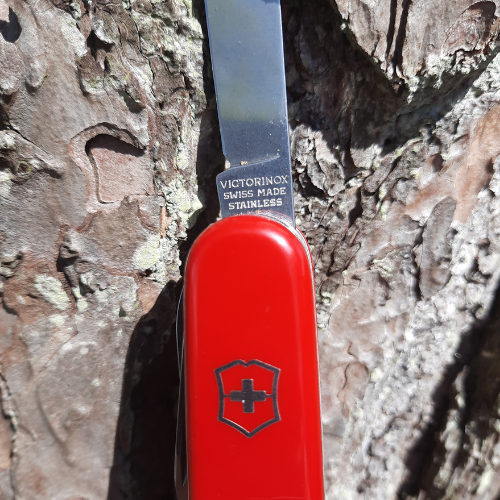 SIZE AND BUILD:
There is nothing unnecessary in this medium sized pocket knife and it needs to be that way because this is borderline between a medium and large pocket knife.
It weighs in at 118 g, which is a touch heavy for a "pocket knife" and as it's 26 mm wide, it would probably be a tad cumbersome to put on your key ring, which is why it's my weekend go-to knife for camping or backpacking.
I also, wouldn't carry it in my pocket everyday but am more inclined to keep it in the pockets of my cargo pants when off camping or attached to my backpack.
FUNCTIONALITY:
The Ranger Swiss Army Knife offers an excellent tool set. Does it have everything? No, but then nothing's perfect and in order to have one specific tool, you end up sacrificing on another. But for the 21 tools it does have (listed below), each one has a function and purpose.
This Swiss Army Knife boasts everything from a metal saw, large and small blades, a sewing awl and built in to the cap lifter, a tool for stripping wire. This compact knife will see you through most camping and backpacking situations and is more than sufficient for anything domestic.
21 DIFFERENT FUNCTIONS:
Large Blade         Small Blade
Corkscrew          Chisel
Can Opener         small screwdriver
Cap Lifter (bottle opener)    screwdriver
Wire Stripper         Reamer/ Punch
Tweezers          Toothpick
Scissors           Multipurpose Hook
Wood saw          fine screwdriver
Nail file           metal file
Nail Cleaner         metal saw
Key ring loop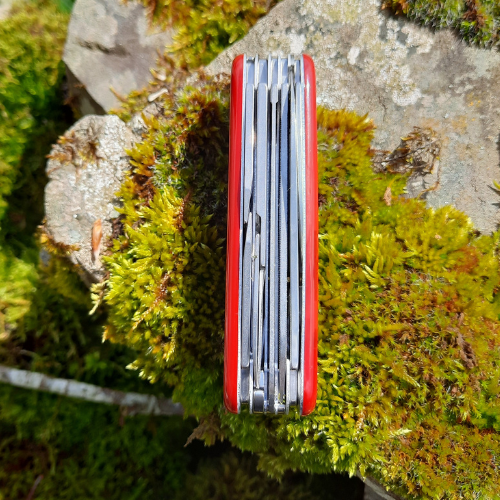 WHAT WORKS FOR US:
Diverse tool set
handles well despite larger size
affordable price
well constructed
Will last and last and last as withstands normal wear and tear
WHAT NEEDS IMPROVED UPON:
slightly bulky to be kept on a key ring
the key ring can get in the way when opening up cap lifter and smaller blad

WHAT YOU NEED TO KNOW:
MATERIAL: Stainless Steel
WEIGHT: 118 g
WIDTH: 26 mm
LENGTH: 91 mm
HEIGHT: 23mm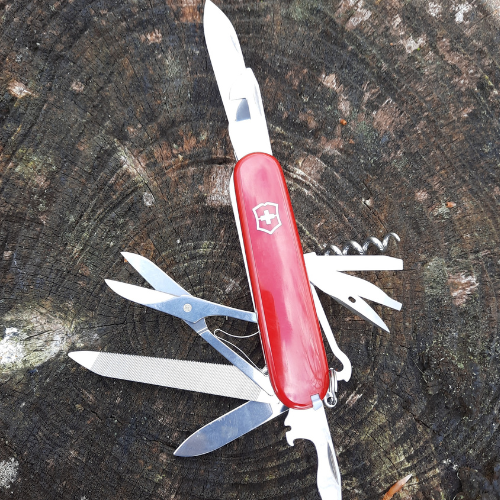 FAQ'S ON THE RANGER SWISS ARMY KNIFE:
Is the Victorinox Swiss Army "Ranger" knife legal in the UK?
Yes as long as it abides by certain laws to ensure public safety. All Victorinox knives have blades that measure 3 inches or less in length when folded up and this complies with British Knife Legislation. As long as the Swiss Army Knife remains concealed and not displayed openly in public places, where such items could cause an offence, then these pocket knifes are legal in the UK.
FINAL VERDICT ON THE VICTORINOX SWISS ARMY " RANGER" KNIFE:
The Victorinox Swiss Army Ranger Knife is an excellent choice for outdoor adventurers looking for a reliable, multi-functional tool. The Victorinox Swiss Army Ranger Knife offers superior quality at an unbeatable price and is deservedly worth the money! I know that I will have mine for another 20 years and although it may look a bit more bashed than it does now, it will be as useful   then as it is today.