BEST FOR: Hiking, camping, boating,  fishing. Protection from the rain and wind as well as shade from the sun.
An essential in your camping gear arsenal, the Wise Owl "Wise Fly" hammock rain tarp gives you the rain protection you need from a camping hammock tarp all wrapped up in a convenient waterproof carrying bag!
Part of the Wild Owl Outfitters camping and hammock sleep system, the Wise Fly is an essential part of your kit if you plan to spend the night out in the open and can be complemented with the Wise Owl SnugNet bug net and the Flare Underquilt to give you the ultimate in hammock camping!
Let's dive in and see if this is the right waterproof hammock tarp for your next backpacking or camping trip!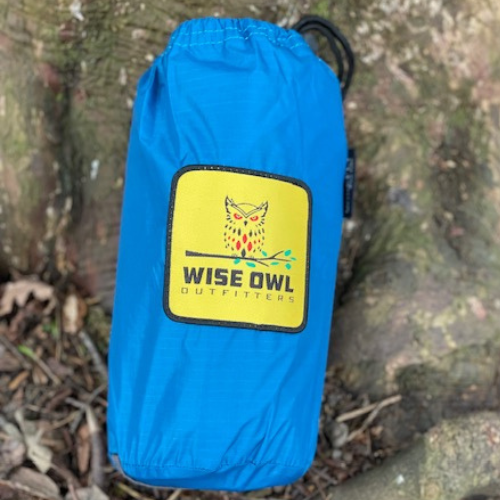 SET UP AND TAKE DOWN:
The Wise Owl "WiseFly" rain tarp is straightforward to set up and, once we had found our camping tent position, we had the tarp hung within minutes. It's always an easier job with 2 pairs of hands but even solo, it would just mean extra adjustments until finding perfect tension.
The reinforced centre seam running the length of the tarp, acts as your orientation and when both these guy ropes are taught, it's a simple, few steps to stake down the other 4 guy ropes as required.
The Wise Owl tarp comes with 4 sturdy, aluminium tent stakes in bright blue to avoid loosing them in the undergrowth and have neon attached pull cords which stop you tripping over them in the dark - very handy for late night nature visits!
Take down takes a couple of minutes and it's just as quick to fold the tarp and insert back into the stuff sack. We found that following the original creases on the tarp helps guide you when folding the tarp back up and is easier and quicker than any other method.
MATERIALS & WEATHERPROOFING:
The Wise Owl hammock tarp is constructed from a RipStop waterproof nylon fabric which gives you a heavy duty camping tarp for only 26 oz's making it one of the best lightweight tarp tents out there.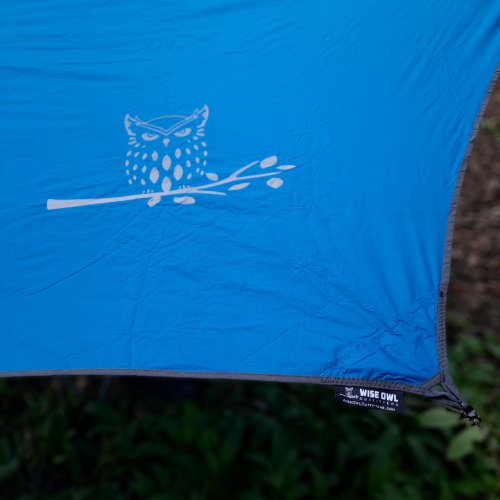 With reinforced stitching and leak-proof tapered seams and a PU rating of 3000 mm water pressure, this hammock rain fly creates an impenetrable water barrier ensuring you stay dry and protected underneath. Even under heavy and persistent Scottish rain, the Wise Fly rain tarp held it's own and kept our gear and cooking area dry. The large 11 ft by 9 ft hexagon shaped tarp gives more than adequate cover for a single hammock and gave us an excellent space to cook under.
TENT STAKES:
The Wise Fly comes with 4 aluminium tent stakes which have as 3 sided angular design that helps penetrate hard ground. Once in, they hold firm and don't move or fall out and hold the tent sturdy in high winds.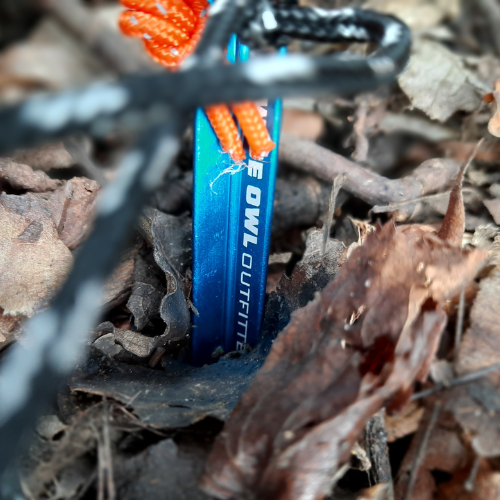 GUY ROPES:
The 6 guy ropes are made from decent cordage and allow you to adjust the line tension as required giving you the coverage you need.
CARRY SACK:
The Wise Fly rain tarp comes in a waterproof carry bag with a secure and decent strap and can easily be slipped into a backpack side pocket or carried.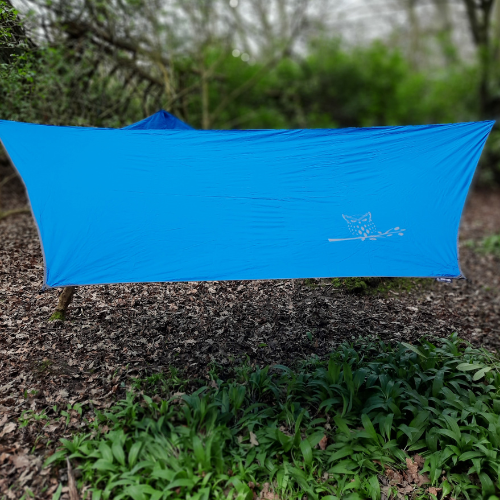 WHAT WORKS FOR US:
great coverage
robust fabric and taped seams
sheds water really well even in heavy down pours
tent stakes have hi-vis pull cords
guy ropes are decent quality
easy setup and take-down
WHAT NEEDS IMPROVED UPON:
strong winds can lift end corners of the tarp
carry case could be larger to make folding the tarp up easier
WHAT YOU NEED TO KNOW:
SIZE: 11ft x 9ft
MATERIAL: Nylon
WEIGHT: 26 oz
STAKES: 4 x aluminum  tent stakes
GUY ROPES: 6 x 10ft guy ropes
CARRY SACK: Yes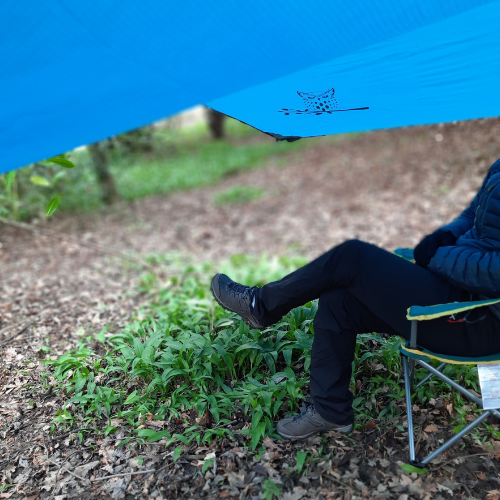 FINAL VERDICT ON THE WISE OWL OUTFITTERS HAMMOCK TARP
The Wise Owl Outfitters "Wise Fly" camping hammock tarp is an accessibly priced rain tarp which is incredibly well made from the excellent taped seams and corner stitching, to the robust and Ripstop nylon fabric.
It offers reliable foul weather protection while being lightweight enough to use while hiking or backpacking. The hammock tarp also easily doubles up to give shade on a sunny day or giving you extra privacy if needed.
The Wise Owl Outfitters camping tarp is a great buy- very well priced and value for money as this tarp is hard wearing and will last.