BEST FOR: HIKING, CAMPING, OUTDOORS AND WINTER ACTIVITIES, CLIMBING AND SKIING

The Salty Dog Beanie from North Face is a well made, durable and cosy beanie with classic industrial styling giving a city look when pounding the streets in winter and perfect fit for all outdoor activities from skiing to hiking to camping.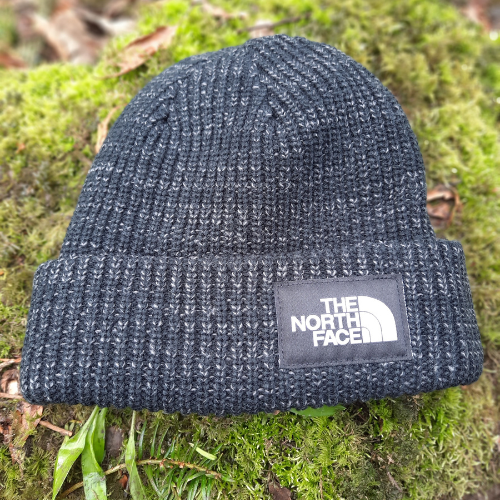 WHAT'S INSIDE AND OUT:
The Salty Dog is made from 100% acrylic knit fabric which gives this style of beanie it's traditional, vintage "dock" look, enhanced by the versatile cuff.
The knit fabric is soft to the touch which is surprising as you expect it to be slightly rough or coarse similar to the traditional dock beanies. The jersey lining adds another layer of comfort making it really snug and cosy.
The Salty Dog is a mid-weight beanie, due to the chunky knit fabric and lining which makes it ideal for outdoor activities and winter use. The beanie is windproof and fits perfectly under waterproof jackets which makes it the ideal beanie for a long hike in the hills.
This beanie is warm so works well in winter and colder climates but would be too hot for general use during summer. Having spent the night outside in our sleeping bags, the Salty Dog kept us warm but not overheated to become uncomfortable.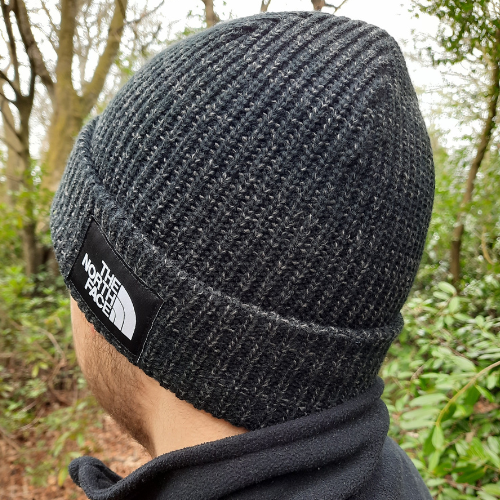 FIT:
The Salty Dog comes in one size but with two fit options: a shallow fit or a mid length fit.
This rugged, pull on beanie gives a secure and snug fit and we tried it with a full head of hair and a shaven head and the results were exactly the same - the beanie stayed in place.
Although it may be slightly snug on larger heads, we found the fit comfortable without being sweaty and even on a larger head, the beanie still held it's shape well.
WHAT WORKS FOR US:
snug fit
windproof
comfortable
Retains it shape
Easy to care for
Two fit options
fits well on full head of hair and shaved heads
WHAT NEEDS IMPROVED UPON:
Quite pricey for a beanie but robust and durable so will last- you get what you pay for and this is a high quality and well made beanie
Might be slightly snug on larger heads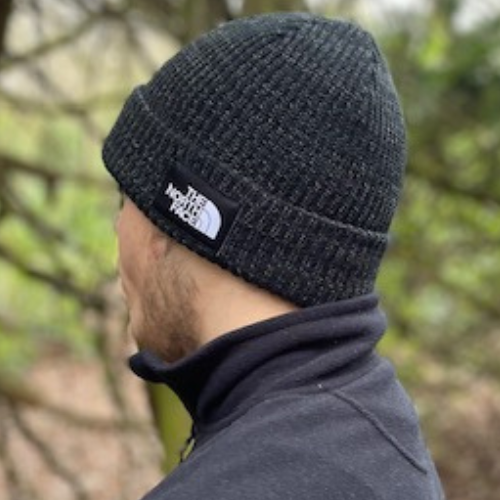 WHAT YOU NEED TO KNOW:
STYLE: Classic Dock style pull on
FABRIC: 100% Acrylic Knit Fabric
LINING: Jersey lining
CUFF: Yes
FIT:  Shallow fit and Mid length fit
BRAND SHOP: Yes, The North Face Logo
FINAL VERDICT ON THE NORTH FACE SALTY DOG BEANIE BLACK:
The North Face Salty Dog Beanie is exactly what you would expect from North Face - a beanie that is well made from quality materials. This pull on beanie is soft yet durable and offers a secure fit while being extremely comfortable.
Definitely worth it for keeping cosy outdoors in winter and early spring.