PRICE: $168.95
BEST SUITED FOR:   Snowboarders, downhill skiers, resort
Introducing The North Face Freedom Insulated Pants : the perfect combination of flexibility, warmth, comfort and value for a resort-styled pair of ski or snowboarding pants.
The Freedom Insulated pants are perfect for a day on the mountain, featuring unbeatable value for skiers and riders alike from any skill level. With high level breathable performance, the Freedom Insulated are tough, durable and functional and offer a great option for snow pants.
Let's dive in and see if the Freedom Insulated are the right pants for you!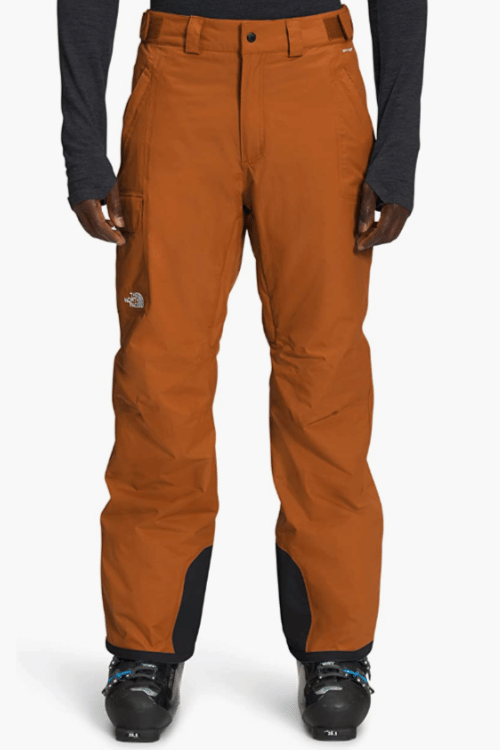 KEY FEATURES:
The North Face Freedom Insulated pants offer an array of essential features that give excellent value for the more budget-focused skier.
North Face have given the Freedom Insulated snow pants a long lasting and durable design, matching many of the higher priced brands on the market which has made it incredibly popular for resort riders.
With quality materials that feature superior mobility and flexibility, the Freedom Insulated are perfect for downhill skiing and snowboarding.
The 2 layer DryVent fabric shell is loose enough to allow freedom of movement combined with articulated knees, the Freedom Insulated pants are flexible and durable. The 2 layer construction has a soft exterior as well as being waterproof and breathable.
There are plenty of extras such as reinforced hems to protect against the sharp edges of your skis, board edges or on your boots and StretchVent gaiters with gripper elastic help keep the snow out and the warmth in.
There are 2 secure zip hand pockets and one larger cargo pocket with a velcro closing on the right upper thigh for storing essential items though this might not be as secure as an inside jacket pocket for storing your phone.
Let's drill down on why these pants have proved so popular within the ski resort community.
WARMTH :
The North Face Freedom Insulated pants are extremely warm with 60 g Heatseeker eco to give ample insulation against biting winds on the slopes but not with the addition of extra bulk. The synthetic insulation is made from 90% recycled polyester and provides lightweight compressible warmth.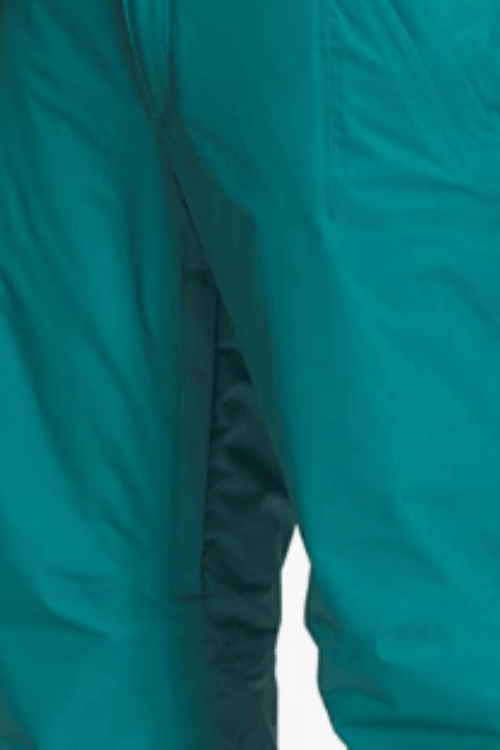 BREATHABILITY:
North Face have introduced several different Technologies to eliminate the issue of overheating to make the Freedom Insulated as breathable as possible so there is no excess build up of moisture.
The "Chimney Venting System", part of the DryVent Technology, makes sure you stay cool in any level of activity by allowing air to rise through the stretch mesh gaiters and escape through the inner thigh vents. The mesh lined zippered vents are both on the upper inner thigh and although the vents may not be as long as some of the other big ski brands on the market, they do the job. This makes for continuous air flow throughout the pants and does a more than adequate job of dumping heat when you need it most.
WATERPROOFING:
The Freedom Insulated pants block out snow, wind and rain effectively and with an added DWR finish (durable water repellent), the North Face Freedom insulated give reliable all-day waterproofing against rain and wet snow.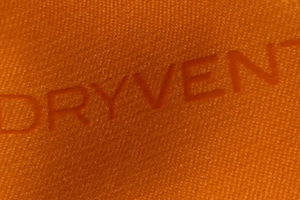 The DryVent 2-layer shell fabric is engineered to be waterproof and combined with the DWR coating, gives ample protection against the elements.
For added protection, the Freedom Insulated have full seam sealing to ensure that you stay warm and dry even in wet weather.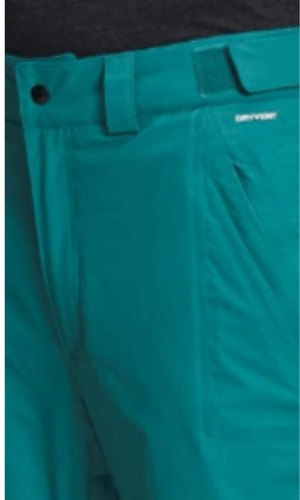 COMFORT AND FIT:
The Freedom Insulated come with adjustable velcro waist tabs that allow to dial in the right fit for you and with a more relaxed fit than many similar items on the market, the Freedom Insulated also allows you the extra room to layer up if required.
Both the women and men's Freedom Insulated pants have belt loops to get the perfect fit and and come in a huge range of sizes.
The North Face Freedom pants are light and comfortable, with enough room in the thighs and knees for full mobility.
WHAT WORKS FOR US:
waterproof and breathable fabric
durable and robust shell with soft interior lining
sealed seams for added protection
secure zip hand pockets for storage
gaiters with gripper elastic to lock out wet snow
reinforced kickpatches
cargo pocket with hook and loop closure
huge range of sizes
adjustable waist tabs to dial in perfect fit
long life span
Chimney venting system for moisture control
WHAT COULD BE IMPROVED UPON:
could be too warm in spring season and warmer weather
relaxed or slightly baggy fit at waist and through leg might not suit all
WHAT YOU NEED TO KNOW:
Best For: Resort
Insulated: Yes- 60 g Heatseeker Eco recycled insulation
Waterproof: Yes + DWR Finish
Taped Seams: Partially
Vents: Yes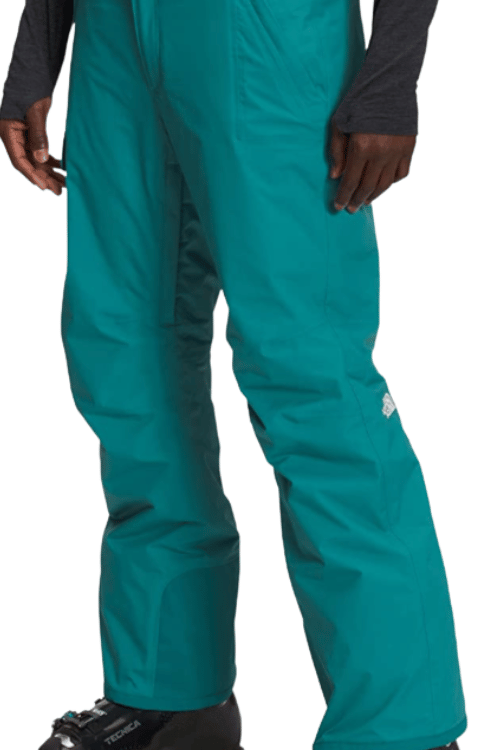 FINAL VERDICT ON THE NORTH FACE FREEDOM INSULATED PANTS
The Freedom Insulated pants are light and comfortable while being tough and durable. Carrying no extra bulk, these North Face pants will keep your legs warm even in wet weather and because of the breathable exterior fabric, you have reliable all day waterproofing.
The Freedom Insulated snow pants have excellent mobility for skiers and boarders due to the 2 layer stretch shell.
The benefits of these North Face Freedom snow pants far outweighs any negatives when you take into consideration the excellent value these waterproof pants have to offer. Most similar items, or any kind of leveled up version on the market have a much higher price tag so this makes these North Face pants unbeatable value.
We also have a range of snowboarding and ski pants and jackets to browse through before making your final choice. Don't forget your gloves or socks!