L-Shaped, 3 Room, 16 x 16 ft Tent
If you are looking for a spacious and comfortable family camping tent, to enjoy the great outdoors in, then look no further than the Ozark Trail.  This 3 season tent is perfect for families, or large groups of friends, who want a quick and easy set up with loads of floor space and room dividers for varied sleeping arrangements.  With an L-shaped format, giving masses of room to create separate sleeping areas, the Ozark Trail 12 person tent gives you the living space you need for your camping trip and with large, awning for extra outdoor space, this is a great camping tent for it's price point.
We've broken it down to give you a thorough analysis of the Ozark Trail 12 person tent from set-up to take down, the pros and the cons and a summary of What You Need To Know to give you a clear picture of whether the Ozark Trail is the right tent for you!
Let's dive straight in!
SET UP:
The Ozark Trail 12 person family tent has a fairly easy setup system and can be done solo or with an extra pair of hands to help. This cabin style tent comes with pre-attached poles which extend and click into place. The steel tent poles fit into place without much effort and the awning and rain fly assemble quickly.  From start to finish, the whole setup process takes not much more than 15 minutes to have the Ozark Trail 12 person tent pitched and secure. For such a large camping tent, being able to set-up in such a short period of time makes this a perfect option for families who are looking for a near instant setup.
ROOM SPACE:
The Ozark Trail 12 person family tent is an L-shaped, 3 room tent with two internal room dividers which create separate sleeping areas to suit families who need a little space of their own or a large group who need defined living spaces.  Each room divider fully closes to ensure complete privacy which is an excellent additional feature to the Ozark Trail and creates defined rooms which gives the tent a more "home from home" feel.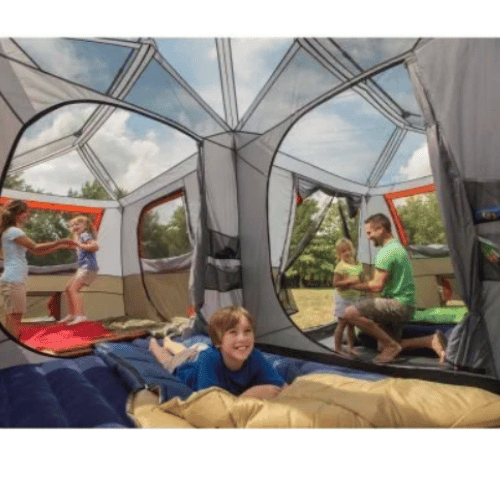 Each room has plenty of space to move around in, even with a queen air bed in each, and for storing extra gear. With a peak height of 6'10", and the straight wall design, the Ozark Trail feels cavernous and with doors that are 6 ft high, there's no bending or stooping required!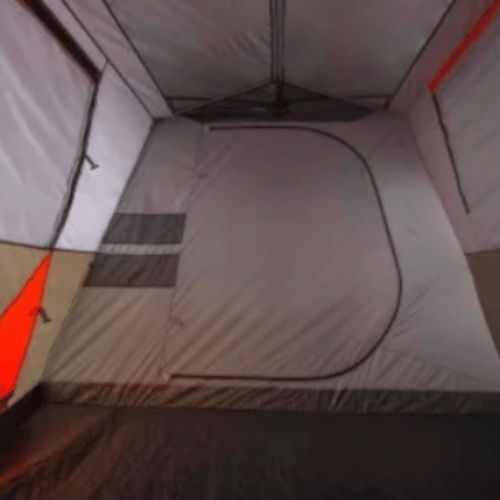 The main living area, which branches off onto the outside awning, can be used as a sleeping area or can be used as a huge internal space to sit, eat and relax in and due to the robust "tub" floor, you can bring your outdoor gear in without worrying about rips and tears.
FLOOR SIZE:
The floor size of the Ozark Trail tent measures 192 square feet which is mammoth and there is additional outside space under the awning for a couple of chairs and some extra gear.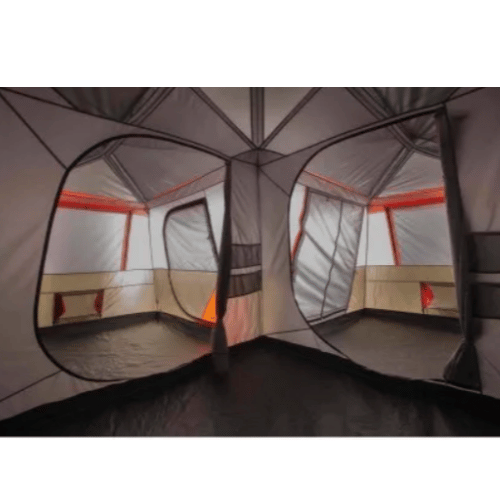 The floor size can easily accommodate a large family and can take up to 12 people in sleeping bags and even with queen air mattresses or cots in place, there is still room to move freely around the tent.
VENTILATION:
With 7 large, meshed windows on all sides of the Ozark Trail, there is a natural flow through of air circulating through the 3 separate rooms which provide excellent ventilation and prevent a build up of stuffy and humid air.
Not only do the windows give a really spacious and airy feel to the tent, but they are fully closeable in case rain comes your way. Added to this, there is a large, oversized ground vent which can accommodate an air conditioner if required for those extra stuffy nights.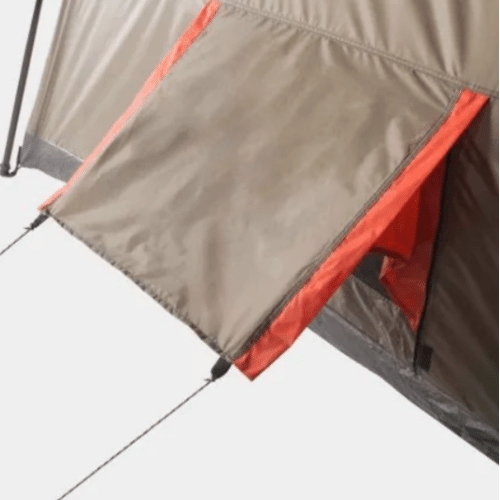 There are even external flaps, with electrical cord access, to cover the large ground vents allowing air to circulate while everything is safely sealed up.
AWNING/ RAIN FLY:
The large, front awning gives excellent, additional floor space and you can easily fit 2 camping chairs to relax in underneath it. It adds an extra layer of protection on wet days, somewhere to store muddy boots and dirty gear, and also an extra place to rest in the shade for those lovely hot summer afternoons!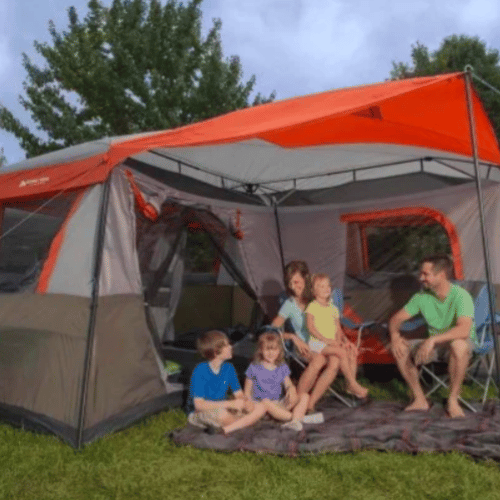 STORAGE SPACE:
Storage space is ample with a gear loft and good storage pockets spread out over the tent to keep all essentials tidy and out the way.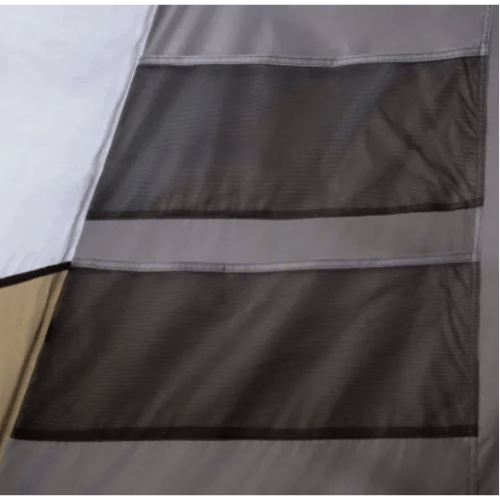 There is also a lantern hook to give that cosy atmosphere!
MATERIALS & WATERPROOFING:
The Ozark Trail tent and rain fly are made from 68D coated polyester to give solid protection against the rain. The 6" tub 1000D floor offers an extra layer of protection from moisture underfoot and also gives superior protection from and rips and tears that may occur associated with packing and unpacking your camping gear.
For added security, all seams are fully taped and sealed to give extra leak protection.
TAKE DOWN:
The Ozark Trail fits back into it's carry sack easily enough although it may not be the most elegant repack ever! Disassembling the tent is straight forward and again can be done solo or with an extra pair of hands which is pretty impressive for a tent of this size and weight! The carry sack has wheels which is an added bonus considering the weight of the tent.
WHAT WORKS FOR US:
3 large rooms with two internal room dividers which give excellent privacy. Masses of floor space and large windows all round the tent give the Ozark Trail a spacious, roomy feel.
Steel poles pre-attached to the fabric of the tent make for a quick setup.
Two doors allow easy entry and exit without disturbing other members on your camping trip.
Comfortably fits three queen airbeds.
WHAT COULD BE IMPROVED UPON:
One feature that could be improved upon is the lack of lantern hooks - with only one available, we feel this could benefit every room.
The Ozark Trail is heavy so this tent is aimed at car camping or stationary camping which might not appeal to everyone.
WHAT YOU NEED TO KNOW:
STYLE: Cabin style instant tent
WEIGHT: 55 lbs
HEIGHT: Max 6'10 FT
PITCHED: 16 x 16 FT
ROOMS: 3
DOORS: 2
FLOOR AREA: 192 square feet
BED SPACE: 3 x queen airbeds or 12 x sleeping bags
WINDOWS: 7
SCREEN ROOM:  NO
TENT STAKES: YES
CARRY SACK: YES
FINAL VERDICT:
The Ozark Trail 12 person tent is a great tent for family camping. It provides a multitude of features that make it a well-built, sturdy, three room family tent with ample space for a large family or a group of up to 12 friends.
What makes the Ozark Trail an excellent option for us, is the easy instant setup with pre-attached poles, simple take-down, the large, roomy interior with extra outside space under the awning, the great living space and the lovely airy feel about the tent.
All in all, if you're looking for a 12 person tent, you can't go far wrong with the Ozark Trail.
Happy Camping!