In the realm of 30L backpacks, the OEX Vallo Flow comes out as a capable day pack with incredible value for backpackers or hikers on a budget. For a basic rucksack, with a spacious main compartment, the Vallo Flow does it's job well as a hybrid backpack for urban or outdoor use. Does it's incredibly low price point mean comfort and craftsmanship have been compromised? To a certain extent yes, but this rucksack is worth consideration for outstanding affordability.

A capable day pack with incredible value for backpackers or hikers on a budget.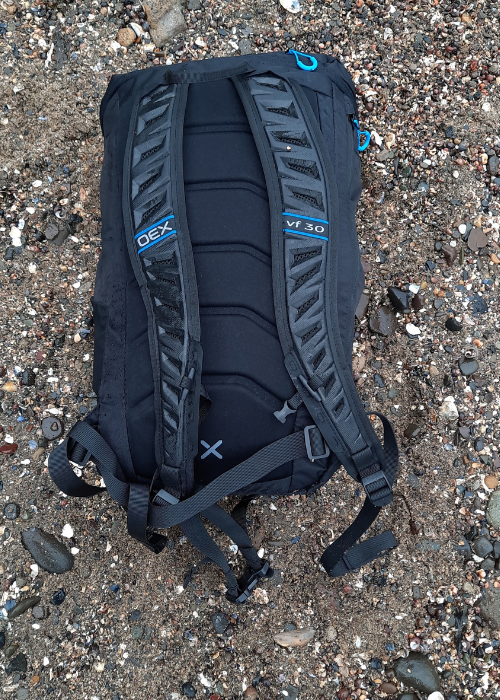 In this comprehensive review, we'll delve into the features, performance, value and our own experience using the OEX Vallo Flow 30L backpack. So let's take a closer look and discover if this travel mug will become your daily commute companion!
Price: £20.00 GBP List 🔥🔥🔥🔥🔥
---
Product Specifications:
OEX VALLO FLOW 30L RUCKSACK:
Dimensions: 48.5 L x 25 W x 16 H cm
Capacity: 30 litres
Weight: 600 g
Material: Durable Ripstop Nylon
Hydration Compatible: No
Adjustable Straps: Yes
Pockets: Multiple, including padded laptop side pocket and stretch mesh panel
Ventilated Back Panel: Yes
Hip Belt: Padded and adjustable
Max Load: 10.5 kg
PROS AND CONS - Our Key Takeaways
| OEX Vallo Flow 30L | 🔥🔥🔥🔥 |
| --- | --- |
| 👍: Very spacious | 👎: Not hydration bladder compatible |
| 👍: Excellent price point | 👎: No rain cover |
| 👍: Padded internal laptop section | |
| 👍: Comfortable and durable | |
At a Glance:
We were curious to see what the OEX VALLO FLOW 30L Backpack had to offer considering it's extremely low price point and to analyse whether this would impact on it's functionality, comfort and overall durability. From a first look, the day pack seemed to be well constructed with reinforced stitching to protect seams and a durable fabric.
It looked to be spacious with plenty of pockets but we did notice there was no H20 hydration outlet and only one stretch mesh pocket for water bottles. There was, however, a padded laptop pocket for those using this as a commute bag. We were looking forward to taking this out and seeing how well it performed for such an incredible price.
Under The Microscope - putting the OEX Vallo Flow Rucksack through it's paces.
In order to give the OEX Vallo Flow Rucksack a thorough testing, we took it out hiking through the forests of Peebleshire and along the shorelines of the Firth of Forth.
We put the Vallo Flow through our rigorous testing criteria to evaluate it's overall performance and functionality, design and construction, our own user experience and value for money and overall, the Vallo Flow excelled on the Value for Money criteria, gaining a 5 out of 5 but we only gave a 3 on Design and Construction giving them a 4 out of 5 fireside rating.
We ranked 3 on Design and Construction as the Vallo Flow is more basic than some of it's counterparts in this category as it lacks H20 compatibility and extra pockets but for £20, it'still a good investment.
Under the Microscope - Our Testing Criteria
| Benchmarks | Our Fireside Rating |
| --- | --- |
| Performance and Functionality | 🔥🔥🔥🔥 |
| Design and Construction | 🔥🔥🔥 |
| User Experience | 🔥🔥🔥🔥 |
| Value for Money | 🔥🔥🔥🔥🔥 |
Performance and Functionality 🔥🔥🔥🔥
The Vallo Flow 30L is has a very spacious main compartment - it certainly feels like you can pack and pack and still have room for more! There is ample room for using this as a day pack for hikes and equally for an overnight stay if you pack well.
Performance-wise, the Vallo Flow was comfortable and the adjustable straps allowed you to find your best fit which helps when the backpack is fully loaded. The moulded back panel gives some support and ventilation which is adequate for a day's hike.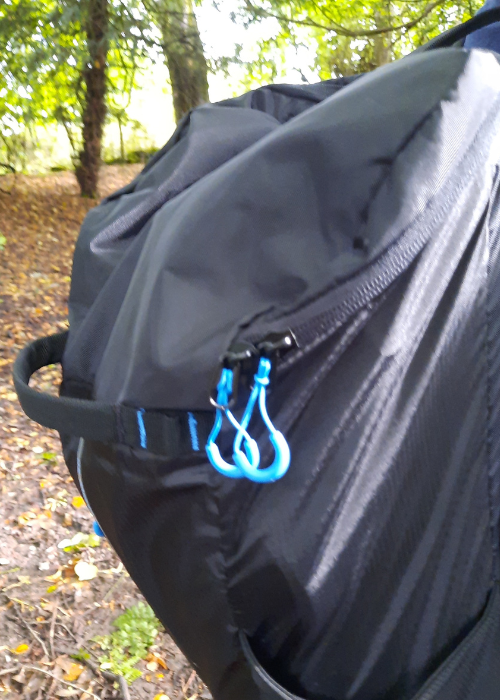 While the rucksack looked and felt durable, it is more basic than others in it's size bracket and for me this is more for using on a day out in the country than extended hiking. If you are looking for a rucksack for college or Uni, then this would work extremely well with the padded laptop pocket.
Design and Construction 🔥🔥🔥
The design of the OEX Vallo Flow leans more towards functionality over aesthetics which is no bad thing as long as it does the job required. This rucksack is practical and robust with double stitching to ensure seams don't burst and having stuffed a fair amount of strange shaped objects into it, such as the Trangia kettle, and stretching it to it's limits, the stitching held well.
The rucksack is made from a durable ripstop nylon and is water resistant so will hold out in light showers but would become wet in heavier rain. The zippers are well made and robust and there are multiple attachment points to allow customisation of the backpack. There is padding to back panel which gives a certain level of comfort and the straps are easily adjusted.
There is plenty of space in this 30L rucksack and having multiple compartments with separate access means not having to rummage through your entire bag to find what you're looking for which is always a bonus!
User Experience 🔥🔥🔥🔥
We've used the OEX Vallo on many occasions in different environments and have found it to be a great day sack for out walking on the beach or for longer hikes in the hills. It was great to see how much we could actually stuff inside the main compartment and I particularly like the top stash pocket which is handy for all your valuables but doesn't impact on your space in the main body of the bag.
The adjustable straps made it comfortable to wear for long periods of time and the grab handle is useful for when you just want to pick it up and go. If you're using this as your day bag for work or college, the padded laptop side pocket is perfect.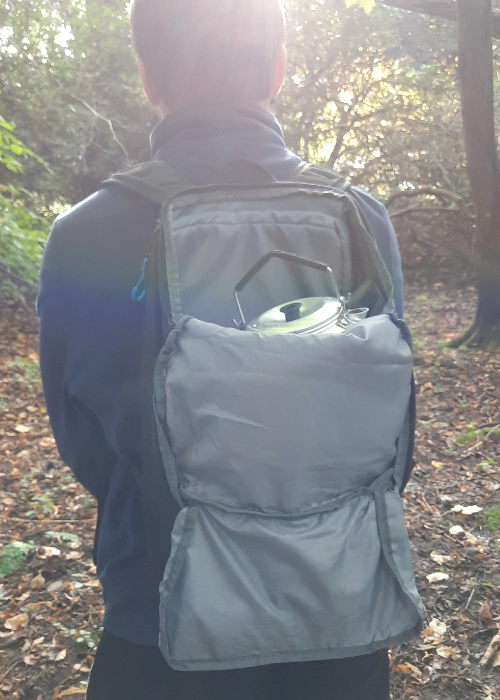 The Vallo Flow is not as high-spec as many other backpacks of the same size and doesn't have a multitude of specialised features, but if you're looking for a rucksack that's both comfortable and practical, then this works a treat.
Comparison 🔥🔥🔥🔥
When compared to similar backpacks available in the UK, the Vallo Flow 30L backpack holds it's own. While it may lack some extra pockets, and has no hydration bladder such as the Berghaus 24/7 Plus 30L, it still offers plenty of handy features and plenty of capacity which makes it worth consideration.
Value for Money 🔥🔥🔥🔥🔥
The OEX Vallo Flow 30L Backpack offers excellent value for its price in the UK market as there really isn't much these days that you can buy for £20.00. The rucksack is not cheaply made and is robust and well stitched with plenty of good features that make this well worth your £20 investment.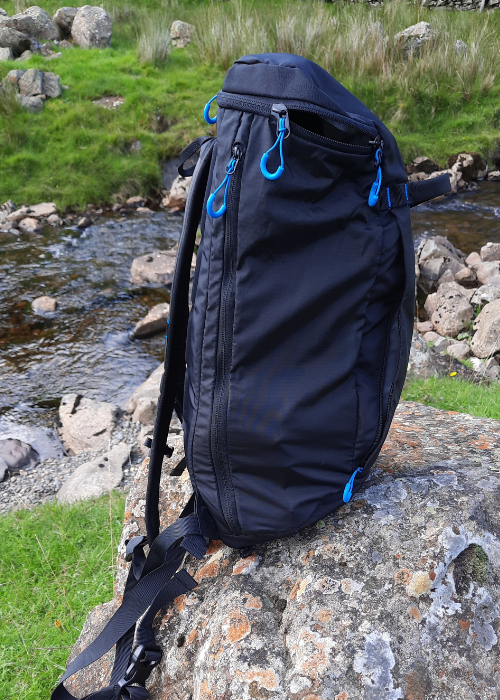 Got some questions about the OEX Vallo Flow 30L Rucksack? We've got you covered! Check out these frequently asked questions for valuable insights, tips, and practical information to help you make the most of your backpack.
Can the Vallo FLow be used for camping and hiking as well as for commuting?
The Vallo Flow is a great option for a day hike as it's light and comfortable and has the capacity to hold the necessary gear. It's also perfect for city living or students as it has a padded side laptop pocket.
Is 30L too big for a day pack?
30L rucksacks give you the capacity to carry an extra layer of clothing, food and some essential gear which is the perfect weight for day hikes.
Is the Vallo Flow waterproof?
The OEX Vall Flow is made with durable ripstop nylon which is water resistant so is capable of coping in light showers but would require a rain cover and a dry sack for heavier downpours.
Our Final Verdict on the OEX VALLO FLOW 30L RUCKSACK: 🔥🔥🔥🔥
If you're in search of a dependable rucksack that works in both an urban and rural landscape and doesn't break the bank, then the OEX Vallo Flow deserves your consideration. It's not the most high-spec version of a day pack in it's category but it fulfils it's function admirably. There is plenty of space in the large, main compartment and it's handy having a padded side pocket for your laptop. The stitching is robust and the moulded backpanel makes this a comfortable pack to walk with. You will need a rain cover and a dry bag if you're planning on using this across the seasons but for £20, the Vallo Flow is a great option for both your urban commute or a day hike round Loch Lomond.
Remember to visit our website for more information and to explore other camping gear recommendations: Gear Analysis
We independently purchase and test the products displayed. When you purchase through our links, we may earn a small commission.