BEST FOR: long distance running, road running, marathon training
The Hoka Arahi 6 Women's are great for long distance runners who are looking for a well structured stability shoe giving great natural support.
The stability features of the Hoka Arahi 6 make this an excellent choice for runners who have flat feet or who are prone to overpronation, as they help keep your natural running form even when you're tired and pushing through to the finish line.
Let's dive in and see if the Hoka Arahi 6 women's are the right running shoes for you!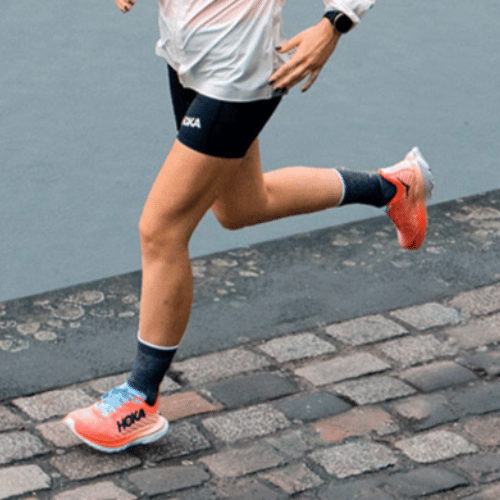 FEATURES:
I prefer running longer distances at a slower tempo and the Hoka Arahi 6 are the perfect running shoes for this as the minimal weight of these shoes help combat my foot and lower leg fatigue and help me conquer long runs in maximum stride. The Arahi 6 are surprisingly light for such a well cushioned shoe but I felt there was enough support and firmness to the shoe to give me the stability I was looking for and not feel the road through my foot!
With the unique combination of features such as the J-Frame and Meta-Rocker midsole, the Hoka Arahi 6 is truly a trusted way to take training to the next level but at a price point which not everyone might be comfortable with. That said, the Hoka Arahi 6 are well worth the money and they will last the duration, no matter how many miles you put them through!
MIDSOLE:
The midsole of the Hoka Arahi 6 is constructed from a generous amount of CMEVA foam which is the reason behind the superior cushioning you feel. The foam also gives excellent shock absorption which means less foot fatigue and allows you to keep on pushing through the last few miles on your run! As a result of excellent shock absorption, there is less stress on the knees and lower limbs and your feet feel supported even when you've been pounding the road for miles.
META-ROCKER MIDSOLE:
The Meta-Rocker midsole is designed to help encourage runners to tip forward making for a faster heel-to-toe transition for a speedier pace to your run and they certainly do this.
The Hoka Arahi 6 is a great option for those of us that suffer from flat feet as the cushioning helps cradle your foot without being too heavy or cumbersome and also has great arch support for a running shoe, without pinching or pushing your foot into an awkward position allowing for a really smooth ride.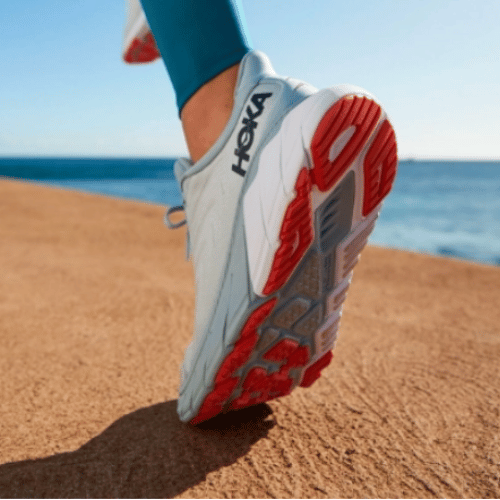 J-FRAME:
The J-Frame, Hoka's signature support technology gives these stability shoes the ability to overcome and combat overpronation by placing firmer foam in the shape of a J running from the medial side to the lateral side of the shoe. The J-Frame, which wraps the heel, essentially gives additional support and helps guide the foot naturally to get the best result from your running. This frame helps prevent excessive inward roll without interfering with your natural gait cycle as opposed to some of the more standard neutral runners on the market.
UPPER:
The lightweight upper part of the Hoka Arahi 6 has been remodelled to include arrow-shaped panels in the upper which reduce the weight of this running shoe even further.
Hoka have also given the shoe a thicker and plusher tongue with more padding, which creates a really comfortable fit.
The upper mesh is made from breathable fabric, creating a natural flow-through of air so there is no build up of moisture within the shoes and the toe box on the Hoka Arahi 6 is generous and easily accommodates those of us with wide feet.
One of the bonus points for us is the pull tab on the shoe for easy access- a nice little extra which just makes live simpler!
WHAT WORKS FOR US:
great arch support
combats overpronation
well cushioned to give a smooth ride - felt super comfortable
super lightweight
wide width
great breathability
pull tab to get running shoe on easily
longevity and durability- these running shoes will last and last
WHAT NEEDS IMPROVED UPON:
built for long distance runners so doesn't have the bounce and energy return for those runners looking for speed and tempo running
price point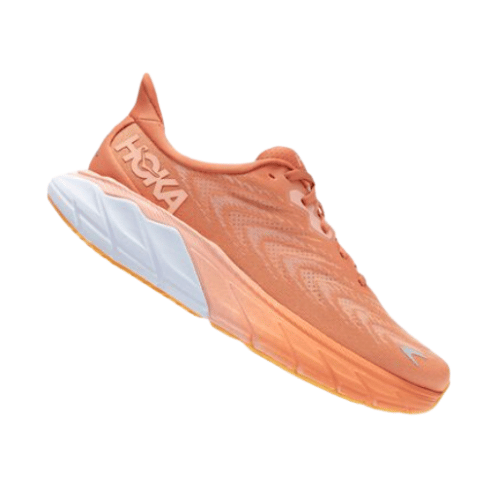 WHAT YOU NEED TO KNOW:
Weight: 222g
Heel-toe drop: 5mm
Material: synthetic and mesh recycled materials
Sole: rubber
Midsole: CMEVA Foam
Type: stability, long distance training, road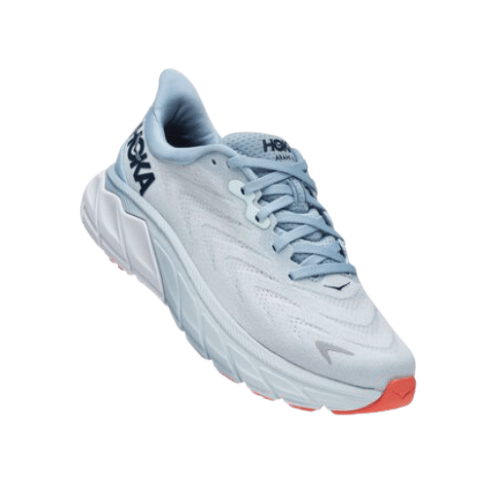 FINAL VERDICT ON THE HOKA ARAHI 6 WOMEN'S:
The Hoka Arahi 6 womens are great stability shoes for runners looking to cover long distances. They are lightweight, comfortable, and supportive, giving you cushioning where needed without being cumbersome and over-corrective.
For those of us looking for a reliable running shoe to put the miles in with, these are a great option to partner up with and the Arahi 6 will go the distance!