If you are looking for a spacious and comfortable family camping tent, to enjoy the great outdoors in, then look no further than the Core 9 Person Instant Cabin tent.
This three season tent is perfect for families and large groups who want to enjoy the convenience of an instant cabin tent without compromising on space or comfort.
We've broken it down to give you a thorough analysis of the Core 9 person instant cabin tent from set-up to take down, the pros and the cons and a summary of What You Need To Know to give you a clear picture of whether the Core 9 person instant cabin tent is the right tent for you!
Let's dive straight in!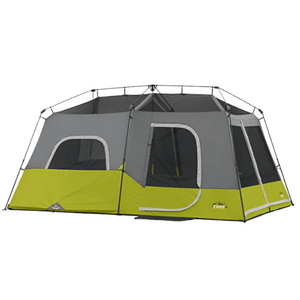 SET UP:
The Core 9 person is an instant cabin tent that has a setup time of minutes,  either solo or with another pair of hands. With a pre-assembled frame, and with telescoping steel poles permanently attached to the inner tent, putting up this 9 person instant cabin tent is straightforward and can be done in under 5 minutes.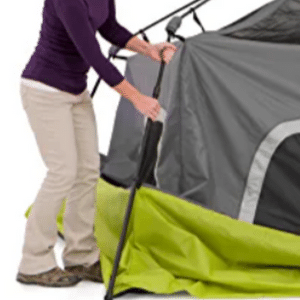 With the addition of 20 x steel 7 " tent stakes, and the removable rainfly, you can have the Core 9 tent fully pitched and secure all under 10 minutes with time to spare. So if, you're looking for ease and speed of setup, then this instant cabin tent is hard to beat.
ROOM SPACE:
The Core 9 instant cabin tent has a multiple room capability depending on what  your group dynamic is. There is a detachable room divider which allows you to create 2 separate sleeping areas, each of which can easily accommodate a queen size mattress.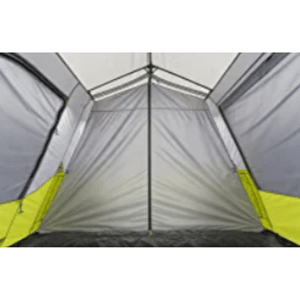 The room divider can equally be rolled up to create one large living space and with the tall, almost vertical walls, there is a roomy and spacious feel to this instant cabin tent.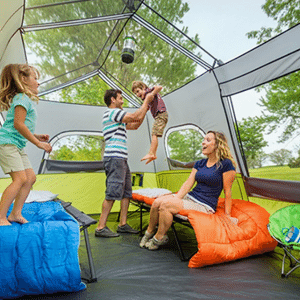 The oversized mesh ceiling panels are perfect for stargazing on clear nights and the large number of mesh windows and the large T shaped zippered door at the side of the tent, allows plenty of natural light during the day making this a pleasant, liveable tent for the whole family to enjoy.
FLOOR SIZE:
The Core 9 person instant cabin tent pitched is 14' x 9' which gives a floor area of 126 square feet. This is a great size for an instant cabin tent geared towards a large family or large group of friends.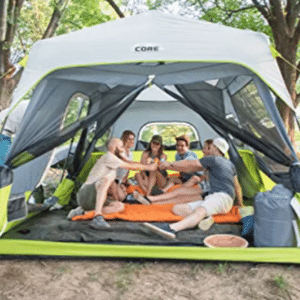 Considering the floor size, it is possible to fit 9 sleeping bags in the tent, but counting additional gear, it would be less of a tight squeeze with fewer campers sharing, and there would be ample room for everyone's gear.
VENTILATION:
The Core 9 person instant cabin tent has excellent ventilation due to the large, oversized mesh ceiling panels which allows hot air to escape and the adjustable air intake vents placed lower on the ground which circulate cool air throughout the tent.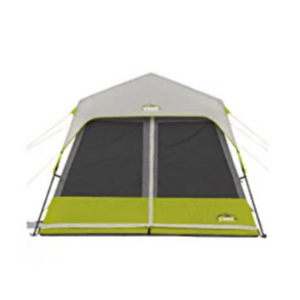 Combined with 6 mesh windows, this 9 person instant cabin tent avoids an unpleasant build up of stale air and condensation. The large T shaped door and the lower air intake vents allow for superior air flow throughout the tent body.
RAIN FLY:
The removable rain fly on the this instant cabin tent is fully taped with extra wide, thick tape to ensure maximum protection from the rain. The rain fly covers the very top of the tent and you may need to stand on your tip-toes to reach it! Made with H20 Block Technology, the rain fly is made from water repellent fabrics to give as much weather protection as possible.
The rain fly can be left off to enjoy the large mesh ceiling for stargazing and this can also help hot air escape and bring cool air into the tent during the warmer seasons.
STORAGE SPACE:
There are conveniently located storage pockets throughout this instant cabin tent but if you were to have 9 people sharing, a few extra pockets or gear lofts would help keep everything in it's place. The interior organization throughout the tent body is good but with no vestibule, it can be snug with 9 bodies and additional gear.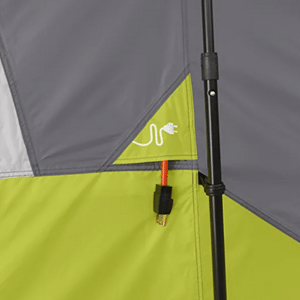 The Core 9 instant cabin tent also has a handy electronic access port for car camping and a lantern hook in the center of the tent where the room divider is placed.
MATERIALS & WATERPROOFING:
The Core instant cabin tent is made of 68D polyester fabric and the floor material is Durable 125 gsm P.E which is sturdy and robust. This instant cabin tent has heat sealed seams to ensure maximum protection against rain and also a fully taped rainfly. The tent stitching is strong and robust for an instant cabin tent so will withstand repeated setup and takedowns.
It also boasts H2O Block Technology, which is essentially water repellent fabric on the tent walls and rainfly to protect against the elements.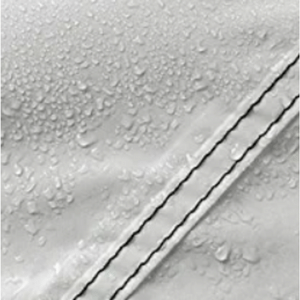 The large mesh windows also have rain panels which roll down and fix under the windows to give extra security.
TAKE DOWN:
Take down is as straightforward as setup with the Core 9 person instant cabin tent and can be done solo or with an extra pair of hands to help unlock the tent poles and fold the tent back into the generous sized carry bag. It may take a couple of minutes more to pack down the tent and also take the rain fly off as you need to be tall enough to reach it with ease which is not the case for me but luckily for others in the team!
WHAT WORKS FOR US:
Masses of floor space and large windows all round the tent give the Core instant cabin tent a spacious, roomy feel and the full mesh ceiling makes star-gazing fun with the family.
Steel poles pre-attached to the fabric of the tent make for a quick setup.
Comfortably fits two queen airbeds.
Fully taped rainfly
Tall, vertical walls and center height of 6'5"
WHAT COULD BE IMPROVED UPON:
More storage pockets - as always, large groups of friends or family come with lots of essentials and having extra storage makes a big difference to keeping the tent tidy.
The Core 9 person instant is heavy so this tent is aimed at car camping or stationary camping which might not appeal to backpackers and hikers. You need space to fit the carry bag into the boot of your car so be prepared!
WHAT YOU NEED TO KNOW:
STYLE: Cabin style instant tent
WEIGHT: 31 lbs
HEIGHT: Max 6'5 FT
PITCHED: 14 x 9 FT
ROOMS: 2
DOORS: T-shaped zippered door
FLOOR AREA: 126 square feet
BED SPACE: 2 x queen airbeds or 9 x sleeping bags
WINDOWS: 6
SCREEN ROOM: YES
TENT STAKES: YES, 20 x 7"
CARRY SACK: YES
FINAL VERDICT:
The Core 9 person instant cabin tent is a great tent for family camping.
For the price point, this is an affordable choice for families looking for an instant cabin tent that the whole family can enjoy but that doesn't break the bank. This 9 person instant cabin tent offers exceptional value as the tent is well constructed, sturdy and robust, and made with durable materials.
What makes the Core 9 instant tent an excellent option for us, is the easy instant setup with pre-attached poles, simple take-down, the large, roomy interior, full mesh ceiling for stargazing, the simple room divider and the exceptional ventilation.
All in all, if you're looking for a large, family tent, 9 person instant cabin, then you can't go far wrong with the Core 9 person instant cabin tent!
Happy Camping!