These 100% waterproof and windproof Guide gloves from Black Diamond are the warmest gloves on the market right now which makes them perfect for frigid days out on the slopes.
When dealing with harsh mountain conditions, you need a glove that not only keeps your hands warm, but dry as well, and these abrasion resistant Guide gloves are not only extremely warm but tough and robust enough to handle the coldest and wettest conditions the mountains can through at you.
The Black Diamond Guide Gloves give exceptional warmth in cold conditions and their superior workmanship makes the price tag worthwhile.

Let's dive in and find out what these Guide gloves have to offer!
MATERIAL:
The Black Diamond Guide Gloves are exceptionally well made gloves and they merit the price tag due to the high spec materials used throughout the glove.
With a Gore Tex insert which offers waterproofing and wind proofing, the Guide gloves combine tough goat leather palms with a woven nylon shell with 4-way stretch. This gives them the flexibility and dexterity required to work in tandem with a goat leather shell.
With palm patch foam padding on the knuckles for impact protection, the Guide gloves are also great for snowboarders dragging as they offer superior protection against rips and tears with the abrasion resistant fabric shell.
With a mix of Gore Tex, Plus Warm Technology, a 4-way stretch nylon shell, the Guide Gloves offer the optimal balance between function and warmth.
The Guide gloves excel in cold temperatures and are an extremely tough and durable pair of gloves and although they may seem slightly bulkier than other models on the market, they still have all the dexterity needed on the mountains.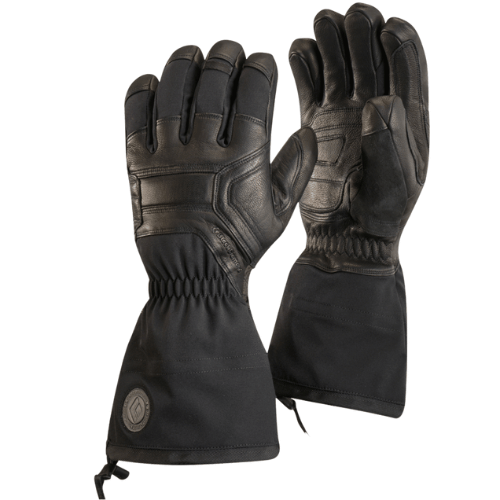 INSULATION:
The 170g of PrimaLoft Gold Insulation combined with the 100g boiled wool liner  in the Black Diamond Guide Glove traps your body heat, retaining the warmth. The Plus Warm Technology and the breathable Gore Tex insert allow moisture to be wicked away regulating the heat and ensuring that even in the coldest and wettest conditions, the Guide gloves give superior protection against harsh mountain conditions, keeping your hands warm and dry. The Guide gloves offer superior insulation and are one of the warmest ski gloves on the market.
LINER:
The removable liner, which is kept in place by velcro to stop slippage, features 170g PrimaLoft  Gold on the outer portion of the liner and boiled wool 100g fleece palm lining on the inner liner. This essentially gives the removable liner moisture wicking properties from both sides ensuring that your hands stay not only dry, but avoid being clammy and damp.
Having a removable liner makes drying out your Guide gloves a quick and easy task and the boiled wool liners offer a soft and cosy feel to the inside of the glove.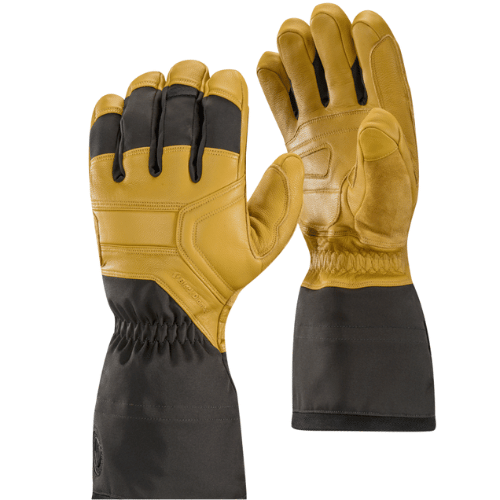 STYLE:
The Black Diamond gloves are an gauntlet glove with a long cuff to the mid-forearm with an adjustable drawcord which allows you to cinch the straps in and stop snow creeping into your gloves again protecting your hands against the cold and wet snow.
WHAT WORKS FOR US:
Tough goat leather palms which give superior durability in harsh mountain conditions.
Woven nylon shell with stretch gives dexterity needed and allow for control of ski pole or mountain equipment.
Removable liner with superior insulation and Warm Technology
Molded Eva foam padding on knuckles for impact protection - great for snowboarders when dragging.
Breathable Gore Tex insert to give 100% waterproofing and windproofing
Nose wipe on thumb

WHAT COULD BE IMPROVED UPON:
Ski gloves or snowboard gloves that are extra-well insulated are often bulkier and less pliable - the Guide gloves are slightly bulky and this can cause minor issues with dexterity when undoing buckles or moving straps but this is more than made up for in being the warmest ski gloves out there.
The Guide gloves are stiff to begin with, compared to other ski gloves on the market and do take time to break in - probably 5 days to a week depending on your usage, but once they are broken in, the leather is soft and supple.
Price point - fairly hefty price tag attached - not in everyone's price range but worth it as will see you for seasons to come.
What You Need to Know
WATERPROOF: Yes, Gore Tex
WINDPROOF: Yes
INSULATION: PrimaLoft Gold Insulation, 100g boiled wool fleece
SHELL MATERIAL: Goat Leather and Nylon 4-way stretch
REMOVABLE LINERS: Yes
STYLE: Over cuff
TEMP RANGE: -29/-12C (-20/10F)
FINAL VERDICT FOR BLACK DIAMOND GUIDE GLOVES:
The Black Diamond Guide gloves are an excellent option if you are looking for a durable glove that excels in cold conditions and protects you from harsh mountain conditions. From the removable liners, to the palm patch foam padding to the woven nylon 4-way stretch shell, the Guide gloves have so much to offer and with superior workmanship, you can be assured that these gloves will stand the test of time and see you through season to season.