If you're looking for a functional, reliable and powerful headlamp, then the upgraded and fully redesigned Black Diamond ReVolt 350 delivers on all fronts.
The versatile ReVolt 350 headlamp is a well constructed, compact head torch with added and improved features such as proximity and distance modes, improved optical efficiency with a brighter light giving more peak intensity, brightness memory option to lock in your chosen brightness level, easy lens mode selection and a battery life tracker and instant transitioning between the rechargeable mAh lithium ion battery and standard AAA batteries.
With a sleek profile, and a wide, comfortable wraparound head band which keeps the ReVolt 350 headlamp securely in place, this lightweight, functional headlamp pumps out a maximum of 350 lumens, has a maximum reach of 80 m and an updated user interface which allows for maximum flexibility between batteries and also for easy lens mode selection.
The Revolt 350 is an all-round solid head lamp from Black Diamond Equipment, built to withstand rain and sleet from any angle, and would be best suited to hikers, hill walkers, climbers and campers.
Let's dive in and look at what the Black Diamond ReVolt 350 headlamp has to offer and whether it's the right headlamp for you!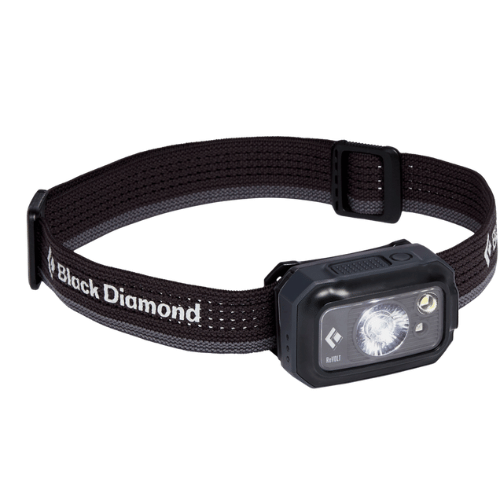 POWER SETTINGS:
The ReVolt 350 headlamp is a versatile and powerful headlamp emitting 350 lumens on max setting which most hikers and climbers will find more than enough to suit their needs.
The ReVolt 350 has a brightness memory option which allows you to set the light's brightness so when you restart the ReVolt 350, it automatically powers up at the chosen brightness you switched off at. This is a great feature when you're on the move in the dark.
The PowerTap Technology allows you to transition seamlessly between full and dimmed power and allows for instant brightness adjustment with just the tap of a finger on the side of the lamp.
Black Diamond have revamped many elements of the Revolt and the Revolt 350  now has improved optical efficiency which gives a much brighter light with more peak intensity, allowing for more reach and covering a larger area of light for hiking in the dark or around your campsite.
The ReVolt 350 has a max distance or reach of 80 meters, which allows for spotting landscape features and also a proximity lighting setting, giving a larger pool of light and a wide, even beam for hiking down from the mountains.
MODES:
The ReVolt 350 has eight different lighting modes, from several red night vision settings, proximity and distance modes and lock mode.
The instant brightness adjustment settings allow you to choose the brightness level that works best in your environment and makes for a smooth transitioning from day to nighttime use. With a couple of taps, you are able to increase the brightness without having to hold down the main button.
The user interface on the ReVolt 350 allows for an easy lens mode selection via a second switch for maximum flexibility.
BATTERIES:
The ReVolt 350 headlamp is powered by a BD 1800 rechargeable mAh lithium ion battery with a reliable charging socket that charges into any standard USB port. This rechargeable headlamp also runs on standard AAA alkaline batteries which gives instant transitioning between alkaline cells and the rechargeable battery- an excellent feature for extended hikes and camp outs when the rechargeable batteries have run low.
Another great feature the Revolt 350 has to offer is the ability to track your battery life with a 6-setting, three LED battery meter which sits on the side of the ReVolt 350 unit. This battery life readout is an excellent bonus as it avoids been caught out and having to swap batteries out in the pitch black!
The Revolt 350 battery compartment can be a bit tricky to open but when you've done it once, it's straightforward and is compact and lightweight.
WHAT YOU NEED TO KNOW:
Bulbs: LED
Power Source: BD 1800 Rechargeable mAh lithium Ion
Batteries: Yes 3 x standard AAA batteries Alkaline
Lumens: 350
Distance: 82 m
Weight: 90 g
Modes: Red night vision, dimming, strobe, proximity, distance, lock mode
Settings: Brightness memory, three LED battery meter, instant brightness adjustment settings, Dual Fuel interchangeable batteries
Perfect For: Climbers, hikers, hill walkers, wild campers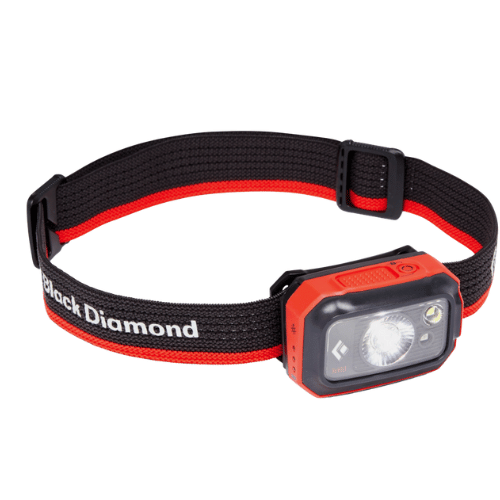 FINAL VERDICT ON THE BLACK DIAMOND REVOLT 350 HEADLAMP
The ReVolt 350 headlamp is a solid choice for any hiker or climber looking for a functional and well designed headlamp.
With upgraded designs on key elements of the headlamp such as the brightness memory option, proximity and distance modes, the three led battery meter, the multifaceted optical lens design with improved optical efficiency to the Dual Fuel ability to transition seamlessly between the rechargeable mAh lithium ion battery to standard AAA batteries.
Black Diamond Equipment have ensured that the Black Diamond ReVolt is a multi-functional headlamp with an easy user interface including a second switch for instant transitioning between different lens modes such as red night vision. The improved optical technology gives a brighter light giving even more peak intensity and also a wide, even beam.
Storm proof tested to withstand rain and sleet from any angle, the ReVolt 350 is all-round solid headlamp that delivers.
Happy Hiking!